3D Touch is a new experience for iPhone lovers, so all techies are trying to use 3D touch on all iOS device, that has. But it's not possible because its hardware features added only on iPhone 6S, iPhone 7/7 Plus, iPhone 8/8+, iPhone 10 and newer models. But some third-party apps or tweaks make your iOS like 3D touch featured on iPhone 5S/5, iPhone 6/ 6 Plus. Here I tried to help or fix 3D touch not working on iPhone X, iPhone 8 (Plus)/ iPhone 7 (Plus).
Let's enable 3D touch using below troubleshooting guides and enjoy some very essential 3D touch operation that will make your device faster with less finger tap on the screen. For Access in-depth options without launch app from home screen by force Touch.
At this point, you mark these three points, if your Pressure Touch won't responding to your iPhone.
1) Hardware display problem
2) Wrong settings
3) Insufficient pressure on the screen.
Steps on 3D Touch not working on iPhone 8 (Plus), iPhone 7  Plus/ iPhone X/8/8 Plus/ iPad Pro 9.7": iOS 11/ iOS 11.1/ iOS 11.2.2 or later
→ Check for new Updates (Go to the Settings > General > Software Update) Update notify does not come to your iPhone, Manually update your iPhone with latest iOS 11.X version.
→ Force Restart: iPhone 6S or Later (Press and Hold Sleep/Wake + Home button until you see the apple logo on screen),
For iPhone 7/7 Plus users (Press and Hold Sleep/Wake + Home button until you see the apple logo on screen), For iPhone 8/8 Plus or iPhone X restart guide is here.
Fix 1: 3D touch is disabled before
Apple gave an option for disabling 3D touch, if you aren't compatible with the popup on screen, then you go for it. For Turn on 3D Touch Go to the Settings > General > Accessibility > 3D Touch (Enable Toggle).
Fix 2: Adjust Pressure level or Sensitivity
A finger tap on screen level should be different for all human being. How do you feel about your finger touch? Just set on that basis. So you can set or adjust pressure level on screen in three options (Light, Medium, and Firm). According to this setting, you can activate 3D touch option on the screen, when you force touch on the screen.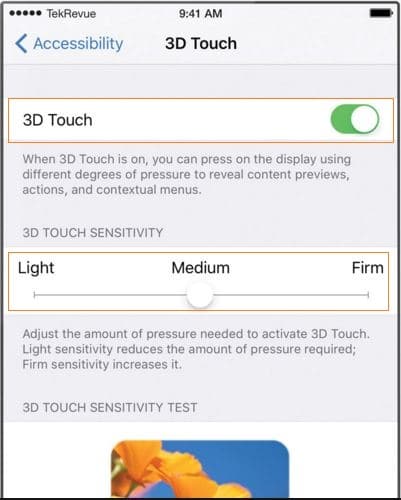 Fix 3: App not updated,
First check your installed iOS app updated, till now most of the apps are working with 3D touch due to users facility. For check about Go to App Store > Updates tab from the bottom (Showing list of all app update available in the queue).
Fix 4: Screen replaced, Defected
Your screen broke and damaged; then you should go with apple's screen replacement or repair guide. Else buy and do yourself with Self iPhone screen replacement full kit. Because we noticed, many iPhone 8 Plus/ iPhone 7 Plus and iPad Pro 9.7" users got success in 3D touch after the replace screen.
3D Touch is not working on iPhone, then anyhow fix with above solutions. And enjoy the most spectacular technology that's available, You have only.