🗓️
October 20, 2023
By ✍️
Jaysukh patel
Where is AirDrop in Finder Preferences? How to restore items in the Finder sidebar? Or AirDrop Missing from Finder Sidebar? This article will show you how to fix AirDrop not showing in the Finder sidebar on Mac. There are many reasons why this is happening, and we all know how hard it is to share files between Apple devices without AirDrop when you don't usually go for other applications. Apple has provided customizations that make it easy for us to decide what we want to see and whatnot, including AirDrop.
When you can't locate AirDrop in the Finder sidebar, make sure to check it is added to the favorites section. If AirDrop is deselected to show under the Favorites menu in Finder, it won't appear. First, we'll ensure this setting, and if everything is alright, but still AirDrop is not showing, try some further solutions to fix it.
Fix Airdrop disappeared on Mac Finder Sidebar
Also Read, Full guide on how to bring back the Finder Sidebar on Your Mac Computer
Solution #1. How to Add AirDrop to Finder Sidebar in Finder on Mac
here's How do I open AirDrop in Finder on iPhone? Easy and Traditional methods to access airdrop on Mac. – Now, Airdrop is available on the Mac control center, Explained last in a tutorial
1→ Open Finder on your Mac. Click on the Finder option in the top menu bar.
2→ Select Preferences.
3→ Click on the Sidebar tab.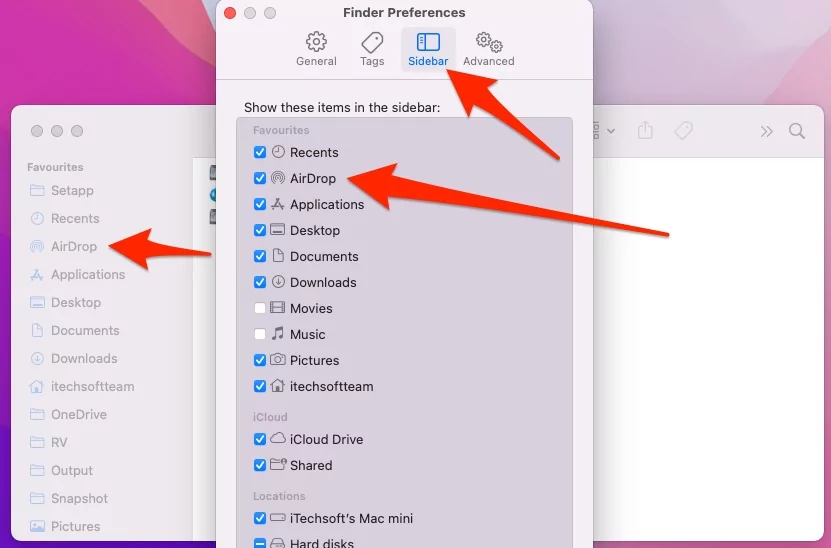 4→ Check the box of AirDrop under Favorites.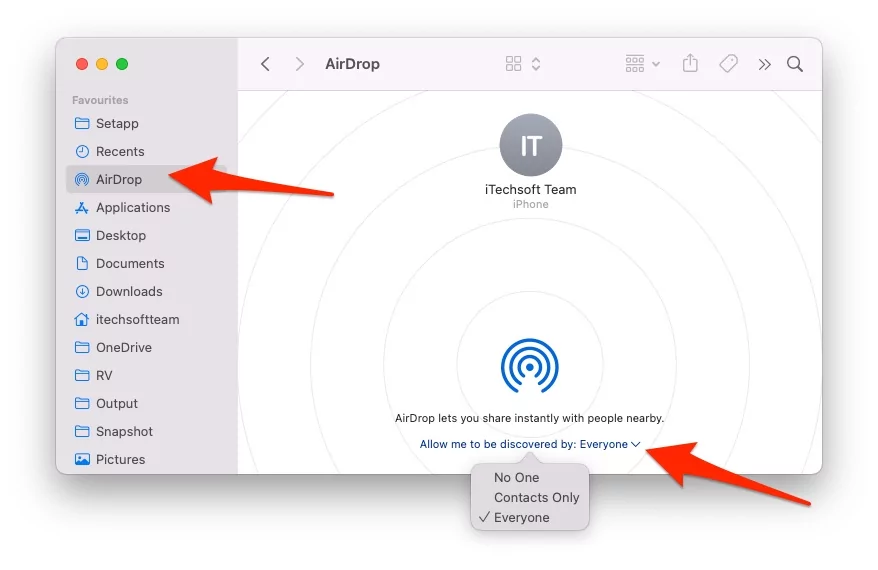 5→ Now, AirDrop is Accessible on Finder's Sidebar. and Quickly Transfer files with another nearby Apple Device via AIrDrop. here's Airdrop not working for many reasons.
Still, your Airdrop is not in finder preferences then follow the other troubleshooting.
🗣Useful: Add Shared Folder on Finder Sidebar [icloud collaboration folder] to quickly access shared documents and folders.
Solution #2. Make Sure Finder Favorites is not minimized
This is a helpful tidbit; maybe you are not realized that your Mac computer Finder Favorites minimized. This is hard to see unless you're aware that Favorites items (Airdrop) can be minimized.
Let's Check; by holding your cursor over the Favorites text; you will see a "Hide"/"Show" option. This will help if you wonder why your shortcuts aren't available.
Solution #3. Use Terminal to Fix
Despite the fact that the AirDrop is added to the Finder sidebar, you can't see it time to take the help of Terminal and its commands to bring it to action. Make sure to enter the command correctly in Terminal.
Launch Terminal App. Press the command+spacebar and search Terminal App.
The following command will deactivate the AirDrop:

defaults write com.apple.NetworkBrowser DisableAirDrop -bool YES

Once the command is executed correctly, enter the next command to enable AirDrop:

defaults write com.apple.NetworkBrowser DisableAirDrop -bool NO

Close the Terminal App.
And look for the AirDrop in the Finder sidebar.
Solution #4. Tweak Finder Settings
Try this too,
Open Finder on your Mac.
Click on the Go option in the menu bar.
Choose Go to folder…
Enter the following path:

/System/Library/CoreServices/Finder.app/Contents/Applications

Find the AirDrop icon, click on it to open.
And if the AirDrop icon isn't showing there, switch the Mac user or create a new user account in Mac.
If the AirDrop shows up correctly in the new user account, there's likely to be an issue with a user account.
Solution #5. Force Stop Finder
What if Finder is dealing with some severe issues and can't load the AirDrop in the sidebar? We can force close the Finder and get rid of the problem.
Apps in Mac can be force stopped using two ways, the first one is when you press command + shift + ESC, a Task Manager appears, select Finder and Force Quit.
However, doing this by Terminal is more effective. Hence, I'd recommend force quite Finder using Terminal Commands.
Launch the Terminal app on your Mac.
Enter the below command and press enter:

defaults write com.apple.NetworkBrowser BrowseAllInterfaces 1

Now enter this command: killall Finder and press enter.
Return to Finder and verify the Finder is back again or not.
Solution #6. Remove Finder's Plist File
Delete the old Finder's plist file from the record; if they are corrupted, Finder could face more such issues. Don't worry; the plist files will automatically develop once you restart Finder.
Open Finder.
Click on the Go in the top menu bar.
Click on Go to folder…
Type the following path:
Finder the com.apple.finder.plist file.
Move that file to Trash.
Reboot Mac.
Check AirDrop is working or not.
Solution #7. Update Your Mac Operating System
In the end, all you can do is update the Mac to the latest available software for your device. The new updates bring bug fixes and further system improvements; if you're still facing catching AirDrop from Mac Control Center, updating the macOS is the right solution.
Connect Mac to the Wi-Fi.
Click on the Apple logo menu.
Select System Preferences Or Click on System Settings… > General (macOS 13 venture or later).
Select Software Update.
Download and install software updates if available.
Solution #8. How to Enable AirDrop from Mac Control Center?
With the latest macOS Big Sur/Monterey or newer, Apple has added the Control Center to the Mac just like iOS. By default, the AirDrop is added to the Control Center; however, if you don't see it, go ahead and re-add the AirDrop into Control Center Mac.
To add AirDrop in Mac Control Center:
Click on the Apple menu.
Select System Preferences.
Go to Dock & Menu Bar.
Click on the AirDrop.
You'll see a preview of that item in Control Center.
Then check the box of Show in Control Center.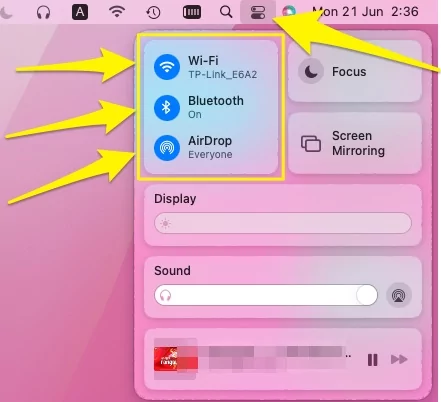 Close the window.
Once you do this, the AirDrop will be available in the Mac Control Center. Click on the Control Center button and then click on AirDrop to enable it.