Last Updated on Feb 17, 2023
Here are the most common problems and Discussions Apple AirPods Pro Not Working Either left or Right And Both, So, Let's fix with your Airpods Pro [3rd Generation Airpods]. here in this tutorial, we covered all the possible guides for the AirPods pro guy questioned pending requests. So let's begin with setup, Firmware Update, AirPods Pro Battery Won't Charge or Drain too Fast, AirPods Pro Connectivity issues that Make AirPods Pro Stopped Working, Audio Control and Force Control on Different Apple Devices [iPhone, iPod Touch, iPad, Mac, and Apple Watch]. New Airpods Pro is very smart that comes with H1 Chip. With Real-time Noise Cancellation, Active Transparency, and a Smart sensor that works on motion and touch.
if the solution is not found then I request you to submit your feedback on the comment box, Also This article helps repair the problem on Left Airpod on Airpods Pro Not Working, RIght AirPod on AirPods Pro Not Working, Sound is coming only from one Airpod.
16 Best Solution on Airpods Pro Problems – Troubleshooting
Watch Most of the Tips on the Below Video,
Fix 1: Airpods Pro Pairing Failed With iPhone, iPad, Mac, or Apple Watch
Apple Airpods Pro is able to auto-switch between your all Apple Devices signed in the same iCloud account. But sometimes unable to pair with your apple device as well. Like if you connect your Airpods Pro to your iPhone, Then Airpods automatically show on Mac, Apple Watch as an output device. Just select it to set it as an output device on Mac or Apple Watch. Also, we can change Noise cancellation or turn it off. 
Update Your iPhone, iPad, Apple Watch, macOS on Mac to the latest version – [Fix 9]. Otherwise, you will not get some features of this Bluetooth Audio Accessory. [Noise Cancellation, Active Noise].
Causes: Your Airpods Pro was pair with your Friend's iPhone. Or, Paired with Your Family Devices that are not added to your family (Family Sharing).
Solution: Force Reset your Airpods Pro. Forgot Airpods Pro from your iPhone and iCloud account.
Exclamation mark on Charging: Red Exclamation mark on Left AirPod, Red Exclamation mark on Right AirPod. – Try Forgot AirPods Pro [Fix 2], And Hard Reset [Fix 3] and Finally Clean up internal Charging connector using Soft Ear tip gently [Fix 4] Given in Below Step.
Fix 2: Forgot Airpods Pro From Old Device or Same iPhone
Open the Settings app on the iPhone.
Next, Tap on Bluetooth.
Now, Tap on the Information icon (i) near your Airpods Pro name.
Select Forgot This Devices.
You will get the popup for Removing Airpods Pro From this device will remove it from all the devices on your iCloud account.
Fix 3: Hard Reset Your Airpods Pro
Press and Hold on the Back button of your Airpods Pro Until the LED light on the Airpods Charging case flashing out. Now, Try to connect your Airpods to your iPhone.
Fix 4: Airpods Pro Not Charged: Left or Right Airpod Not Charging & Dead
Bluetooth Airpods Pro charged the battery to play music on Both left and Right Airpod. For that, we have enough charging on Airpods Pro Case. Here are the tips to Show the Battery percentage on Paired Device. Why is my Airpods pro Not charging?
New Airpods Pro Will Charge in Two Ways, First is using an 8-Pin lightning connector and the second is using a QI Certified Wireless charging pad. During Charging Time Your Front LED Light will be flashing red.
There is a lot of debris on the Airpods Pro haring case charging port. So clean up using the dry teeth stick.
if your left/Right airpod is not charging from the Charging case then clean up the left and right Airpod's charging connector inside the Charging case.
Fix 5: No Sound on Left or Right Airpods [Dead]
Only Left Airpod Pro no sound or Right Airpod Pro No Sound, Follow these solutions to a quick fix.
Not Enough Charge or 0% charge on left or Right Airpods is the first problem that we can fix using enough charge only.
The second solution is Audio Balance, Wrong, or Custom settings on Balance the Audio level between left or Right Speaker. So set to Equal sound on both the Airpod.
Go to the Settings app on the iPhone.
Scroll to Accessibility.
Next, Find and Tap on Audio/Visual.
here's the Volume sider to manage the Audio level between left or right airpod. Keep the slider in the center position.
Fix 6: No Sound On Left or Right AirPods on Mac, MacBook
If you having a problem with your AirPods while connecting to Mac. First of all Pair your AirPods with MacOS.
Reset AirPods: Press and Hold on Button Given on AirPods, to Reset and Pair with your mac as a New Device and Left older Connection automatically.
Pair AirPods on Mac: Once you pair your AirPods under the Mac Bluetooth: Apple Logo from top mac menu > System Preferences > Bluetooth > Turn on Bluetooth and Click on AirPods Name to connect. Once it's connected.
Set AirPods Audio Balance on Mac: Go back to System Preference windows and Click on Sound option > Now Select Output Tab > and Set Audio Balance on Mac to center > So you get equal volume level on Both left & Right Airpods.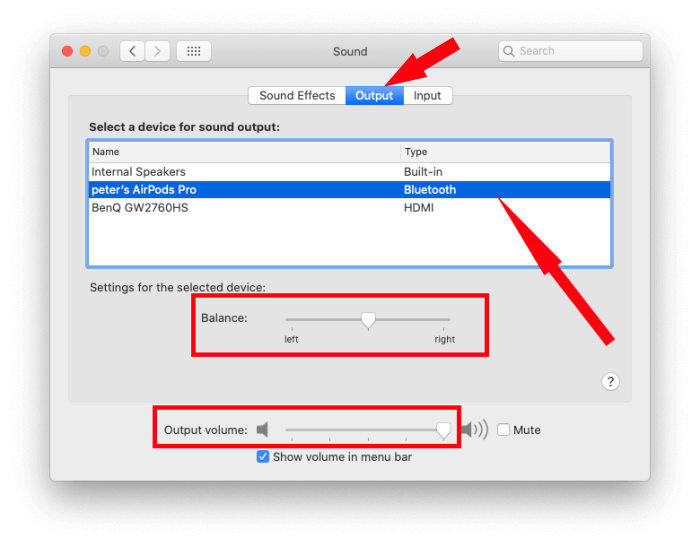 That's it.
Fix 7: No Sound On Left or Right AirPods on Android Mobile
Android mobile allows users to manage the audio balance between left and right Headphones while Android mobile is connected with Wired or Bluetooth Headphone. To fix one of the AirPods working on android mobile, Check Audio balance on Android. Follow the below steps, First Reset AirPods by Press and Hond on the Back button of the charging case of AirPods. [To reset put both the AirPods must be in the charging case and the Case Cap must be open]. Now, Connect with Android mobile under the Bluetooth settings.
Now, Head down and open the settings app on mobile. Next, Tap on Accessibility.
Next, Select Hearing Enhancement > Scroll to Left/Right Sound Balance and Keep it in the center.
That's it.
Should Hard Reset Last is Everything is properly configured?
Process: Put both the Left & Right Airpod Pro in Charging Case, Now Keep the open charging cap, and Press/Hold on the Back button until the front LED light flashing out. Next, You will see a setup popup on your nearby unlocked iPhone.
Tips: What is Single or Pair AirPods Pro Repair/Replacement Cost
In Rare case you have to Purchase separate AirPods or AirPods Charging Case [Apple Sell left or Right AirPods/AirPods Pro Saperately] or Request for Repair app Nearby Apple Store, So the price Difference depends on the Warranty Covered or Not. Check out the Below Price table for the Users Who Purchased Apple Care+ Plan($29 each) or In-Warranty (Free)/Out-Of Warranty free ($98 each), Here's the tutorial on Check Apple Device Warranty Status and Purchase Date.
Fix 8: Remove or Change Ear Tips on Airpods Pro
Quit interesting feature in New Airpods Pro is Three different sizes of Silicon Ear tips to listen to a quality sound that gives an amazing performance with the noise cancellation mode. So, In this test, we have to change the Ear tips if the Ear tips on both left/Right are not enough comfortable.
Keep your Airpods vertical in front of your face, firmly Pull up Ear tips to remove from Airpod. or Push another Ear tip on Airpod. That's it. I prepare the video tutorial on How to Remove or Change Airpods Pro Ear tips safely.
Fix 9: Customize Noise Control on Force Sensor
Some of the Airpods Pro Settings are very useful and precious so that makes This new Apple Airpods Pro different from Other Smart Earbuds. One of these features is Force Control. Control with Tap on old Airpods not working on Airpods Pro. So, Press and hold on the Chem mechanism works with Apple Airpods Pro [Airpods 3rd Generation].
We can change or customize force control the Settings from your paired iPhone settings. Follow the below steps to set or Change on Left or Right Airpod Force control.
Open the Settings app on the iPhone.
Scroll to Bluetooth.
Now, Tap on the (i) button to find the Airpods Pro details. Now Scroll to the Noise Control section. Here we can set different actions for left or right Airpod's Noise Control.
This Force control wake-up Siri or Noise Cancellation with Force touch.
That's it.
Fix 10: Update the Firmware – Check it's Update
Update your AirPods Pro firmware with the latest version. However, there are no steps for Update your AirPods Pro manually. The process for Update Firmware is automatic, To check it follow the below steps.
Go to the Settings app on the iPhone [Paired with iPhone].
Next tap on General.
Now, Tap on About.
Next, Check Firmware Version –

For example, Apple released the latest 4A400 version. Here's how to update AirPods Firmware
That's it.
Fix 11: Software Update Your Device iOS/macOS/iPadOS: Set Up with Limited Functionality
To use a recent feature of your Airpods Pro on your iPhone/iPad and Mac, You must have an Updated Version of iOS/macOS/iPadOS. Active Noice cancellation feature is not available on the latest macOS Version. Follow the below steps to Update your Apple Devices.
On Mac: Go to the Apple logo on the Mac menu > System Preferences > Software Update.
On iPhone: Go to the Settings app > General > Software Update > Download and install.
on iPad: Go to the Settings app > General > Software Update > Download and install.
on Apple Watch: Watch App on your Paired iPhone > Under My Watch Tab > General > Software Update > Check For Update. or Open Settings app on Watch > General > Software Update > Download and Install.
Fix 12: Microphone Not Working on Airpods Pro
Dual Beam Forming microphones, Inward Facing microphone gives amazing quality sound. But some people arguing that the Microphone not working on the left Airpod or Microphone not working on the right Airpod. and the first solution is wrong settings overlayed in Airpods Pro Settings. Follow to change it and Keep default settings.
Open Settings app on Paired iPhone.
Next, Tap on Bluetooth.
Now, Find the AirPods Pro name and Tap on the (i) button in front of the AirPods Pro name.

Now, Scroll to the Microphone option and Select the Automatically Switch Airpods Option.
That means the active Airpods microphone can automatically change from left or right. Always Left or RIght Airpod option fixed to one Side.
Fix 13: Alternate Ways to Switch Noise Cancellation Mode and Transparency mode
we have three alternate ways to change or Switch between Noise Cancellation mode and Transparency mode. so we can try in any of them from the different screens of saving lots more time.
The Very First Easy Way is using Force control on the stem of Airpods Pro
Firmly press and hold on to the stem of the Airpod until you will listen to click sound. In Noise cancellation mode, All the surrounded sounds will be blocked automatically. So you will listen only clear sounds from Airpods Pro.
The second way is a switch from your iPhone/iPad control center
Swipe down your iPhone/iPad control center to access the volume bar. Touch and Hold on to it to Expand on full screen. And just below the screen Find the options like Noise Cancellation, Transparency, or Off option.
The Third way to Change ANC mode is From Bluetooth Settings
Open the Settings app on your Paired iPhone with Airpods Pro, Scroll to Bluetooth. Tap on the Device information icon. Under the Noise Control section, Find the three options like Noise Cancellation, Off, and Transparency mode.
Fix 14: Force Control Sensitivity on AirPods pro [Left or Right]
Force control is not working or Not Responding, You should check the Force control sensitivity settings that we can change from your Paired iPhone/ iPad. Follow the steps below, to change Press Speed – Press and Hold Duration.
Go to the Settings app on iPhone/iPad [Paired].
Next, Tap on Accessibility.
Now, Scroll to AirPods.
Here's the Customization settings for Press Speed and Press & Hold Duration.
The first is to Adjust the speed that we use for Press two or three times on your Airpods.
The second is, Adjust the duration required to press and hold on your Airpods.
Fix 15: QI Wireless Charing Support
Airpods Pro wireless charging case easiest way to charge your Airpods Case while you are listening with Left and Right Airpod. Here's my totally QI Wireless charging pad, and Very happy to charge using This charging pad.
Fix 16: What should I do if My left or Right Airpods pro Lost or Stolen?
we can find the Left or Right lost or misplaced Airpod using the sound that plays your lost AirPods remotely on your iPhone demand.
or use the icloud.com web from your browser. Follow one of these two methods given below,
The First Method is using Find My App

Open Find My App from your Apple Device [Find My app is available on iPhone, iPad, Mac, Apple Watch].
See your AirPods Pro name and Tap on it.
There is more option like play sound. Wait for a few seconds and listen to the beep sound that drastically improves slowly. also, locate on Map.
The second method is Using icloud.com
Go to iCloud.com on your Mac/PC Browser.
Now, Login with your Apple ID and Password that's signed on your iPhone.
Now, See Airpods under the device and click on it.
Your AirPods will see on Maps and Play sound remotely.
Fix 17: Contact Apple Support & Check Warranty
Apple Helps to cover the Accidental damage and Battery problem of your Airpods Pro is limited Warranty duration. Apple Care Plus Warranty buyers of Airpods Pro users can extend this service for 2 years for just $29. Within the 60 days of purchase, we can buy this Extended warranty online or From Apple Support. To know more about the Warranty status, Service Request checks out this Apple Support page.
Fix 18: 2 Ways to Rename Airpods Pro From iPhone or Mac
Unable to find your AirPods With the same name around you. Sometimes in a public place, you will see the list of Airpods with the same name while you scan or connect under the Bluetooth settings of your iPhone, Mac. Don't waste time every time, and Change it from your Airpods Paired with iPhone or on Mac.
Rename Airpods process is very easy, On Your iPhone paired with Airpods, Go to the Settings app.
Scroll to the Bluetooth option.
Find the Airpods Name and Tap on the (i) button in front of the name of Airpods Pro.
The second option displays the Airpods Pro name. Tap on it.
Now Make a change to the Airpods name and Tap on Done from Keyboard to save it.
The second method is, Rename it from Mac.
On Your Mac, Bluetooth Preferences find the Airpods that have been connected with your Mac.
Right-click on the name of Airpods Pro.
Select Rename. Give a new name and Tap on done to save.
That's it.
Fix 19. Update AirPods Pro Firmware
Without a PC or Mac Computer, We can Update All Generation AirPods over the air. Apple's Update on AirPods Pro Bring new software bugs on connectivity, Stability, Battery Optimization, and lost more. So, an Update is Required while we get into trouble with AirPods Pro. Follow the steps below,
Connect Your AirPods Pro with iPhone and iPad.
Keep Your AirPods Connected under the Bluetooth settings and Keep Charging case on Charge with Both the left and Right AirPods inside the case. During the update time, Keep the Charging lid open for 30 minutes approximately. Now we can check the Firmware update from the Paired iPhone and iPad' Settings app.
Go to the Settings app on the Paired iPhone/iPad. Next, Tap on General > About > Scroll to AirPods Pro Name.
Check the Firmware version under the AirPods Pro Details.
That's it.
Note: Update is required good quality of internet connection otherwise, it will take time to download.