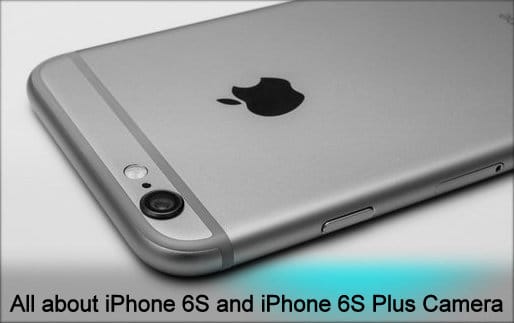 Last Updated on Mar 24, 2018
You should know everything about iPhone 6S and iPhone 6S Plus Camera 2015. The Apple's more powerful iPhone (iPhone 6S and iPhone 6S Plus) has unveiled in Keynote at Sep 09, 2015. So far you were shoot photos and videos with 8-megepixel iSight iPhone camera, But now you can be shooting more HD photography with latest iPhone models iPhone 6S and iPhone 6S Plus.
we are happy to help you, submit this Form, if your solution is not covered in this article.
Within iSight Camera you get a big jump 5-megepixel FaceTime HD camera which were only 1.5-megepixel in iPhone 6 and iPhone 6S Plus. So now on iPhone 6S models you can be take better sharpness Selfie and could be get beautiful resolution on FaceTime (Video calling app). This is just overview about iPhone 6S and iPhone 6S Camera. But below you can read much more about iPhone 6S and 6S + cameras.
Shoot 4K video recording, more HD memorable moment through iPhone 6S and iPhone 6S Plus Camera
There are not only about Pixel count on iPhone 6S' models, but Apple has also improved the iPhone 6S camera local tone mapping, optical image stabilization (Available only on iPhone 6S Plus model), noise reduction, And Focus Pixels is now also incorporated in tap to focus. There are five elements lens has been put in to make camera of iPhone 6S model.
Live Photos
Apple launched a 3D Touch features on iPhone 6S and iPhone 6S Plus. And this Live Photos features works with Images via a characteristic called Live Photos. Total Animation photos you can be watch via 3D Touch.
Panorama Photos: The 360 degree angle
If we talking about the Panorama Photos then through iPhone 6S and iPhone 6S Plus camera you could be capture Panorama up to 63 megapixels, while this camera mode available on iPhone 6 and 6 plus also. But that's capable to shoot panorama only up to 43 megapixels. So as a moral we can say that iPhone 6S and iPhone 6S camera can give more clear result than earlier iPhone models.
4K Video Recording
The 4k Video recording feature efficiency is seems totally newly in the Apple's history. Cause now you can be take Ultra HD video recording to shoot movies or whatever using the iPhone 6S and iPhone 6S Plus camera. Record 4K Video (3840) at 30 fps as well as you can also take 8-megapixle Photos while you recording 4K video.
Premium Support is Free Now
We are happy to help you! Follow the next Step if Your Solution is not in this article, Submit this form without Sign Up, We will revert back to you via Personal Mail. In Form, Please Use the Description field to Mention our reference Webpage URL which you visited and Describe your problem in detail if possible. We covered your iPhone 11 Pro, iPhone 11 Pro Max, iPhone 11, iPhone 8(Plus), iPhone 7(Plus), iPhone 6S(Plus), iPhone 6(Plus), iPhone SE, SE 2(2020), iPhone 5S, iPhone 5, iPad All Generation, iPad Pro All Models, MacOS Catalina or Earlier MacOS for iMac, Mac Mini, MacBook Pro, WatchOS 6 & Earlier on Apple Watch 5/4/3/2/1, Apple TV. You can also mention iOS/iPadOS/MacOS. To be Continued...
Let know about as a feedback all about iPhone 6S and iPhone 6S Plus Camera 2015. Keep in touch with us to get much more on iOS 9.