🗓️
September 27, 2021
By ✍️
Jaysukh patel
here are the possible situations, in that you might be lost you're saved/ Downloaded apple music from your iOS device (iPhone, iPad, or iPod Touch) for offline play. From this tutorial you can learn about apple music, How to play saved/ Create apple music songs to play among your different Apple devices (iPhone, iPad, iPod, and Mac/ PC) through the iCloud music library. On some sync process, your apple music songs are gone, But you can recover them on your iOS device through the below steps.
Apple music online song app for the latest iOS, Best for music lovers but on some point, millions of users are frustrating on lost all saved songs time to go on below circumstances.
Why Should iCloud Music Library be Turned On?
Across your apple devices, you can play your saved playlist by enabled it for your iCloud account. Then if you turned off then you will lose all saved data for offline played removed automatically.
Possible outage on apple music songs gone from iPhone, iPod, iPad
1st Way
In Latest iOS
turn on the iCloud music library Option in the music app
Music library sync within your iOS device (iPhone and iPad) changed. To enable this and Save all music to your iPhone, iPad, or iPod touch music app,
Go to the Settings app on iPhone And iPad.
Next, Tap on the Music
Scroll down and Enable toggle for "iCloud Music Library".
Popup in the next screen will ask you about, Keep existing music from the device or Delete or Replace with existing music.
I recommended going with Keep music, otherwise saved music will be deleted, you will get only iCloud Music Library songs and playlists.
In iOS 10
iCloud Music Library Disabled: Re-enabled iCloud music library on iOS devices.
Go to the Setting > Music > iCloud Music Library. Enable iCloud music library.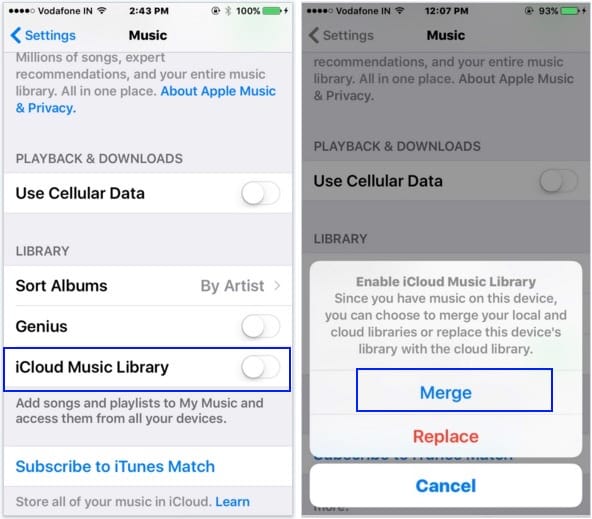 Launch My Music app on your iOS device, Wait for some time to Validate your device. After that, you will get all the playlists created before.
2nd Way
Your Apple music subscription time is over, So you can't able to access Playlist created in Apple music.
Anytime we can change apple music subscription on iDevice,
Note: Play Apple music song offline, you just need to activate/ Enable iCloud music library on iDevice. Otherwise, You can't create a playlist, Save songs, and access playlists or most liked songs on other devices.
after roll back all Apple music dates, You can save or download apple music songs without any cost for offline play.
I hope your problem Apple music songs have gone Offline songs removed that get back all Apple music has been solved with the help of above two workarounds.