Have you ever question for regarding your iPhone's sleep/wake button doesn't work what I do? Don't worry, you can get here, alternate way If, your iPhone physical buttons and switches may don't work properly. apple Doesn't make any changes on In the new iPhone (iPhone 8/8 Plus, iPhone 7/7 Plus, iPhone 6S) after iPhone 6 and iPhone 6 plus sleep/ wake button is on the right-hand side of the device, while in the earlier model it's on Top side of the iPhone. Sometimes, when you try, to turn off your iPhone Using Side button, some users have to feel trouble to do Turn off his or her iPhone. Since Here are several ways to fix your problem; iPhone 8/8 Plus, X, iPhone 7, iPhone 6 sleep/wake button doesn't work
Also Read– How to reboot iPhone, iPad Without Power Button
Troubleshooting for iPhone 8/8 Plus, X, iPhone 7, iPhone 6 sleep/wake button doesn't work
Why we use Sleep/Wake button,
iPhone users using Sleep/Wake or Side button for
Wake up screen (Alternative option is home button)
Restart Device (Restart option we can set in Assistive Touch, See below steps)
Force Restart Device
Go to the Settings app on iPhone. Next, General > Assistive Touch > Assistive Touch ON.
Find Assistive touch on Home screen, Tap on it.
Tap on the Device > More.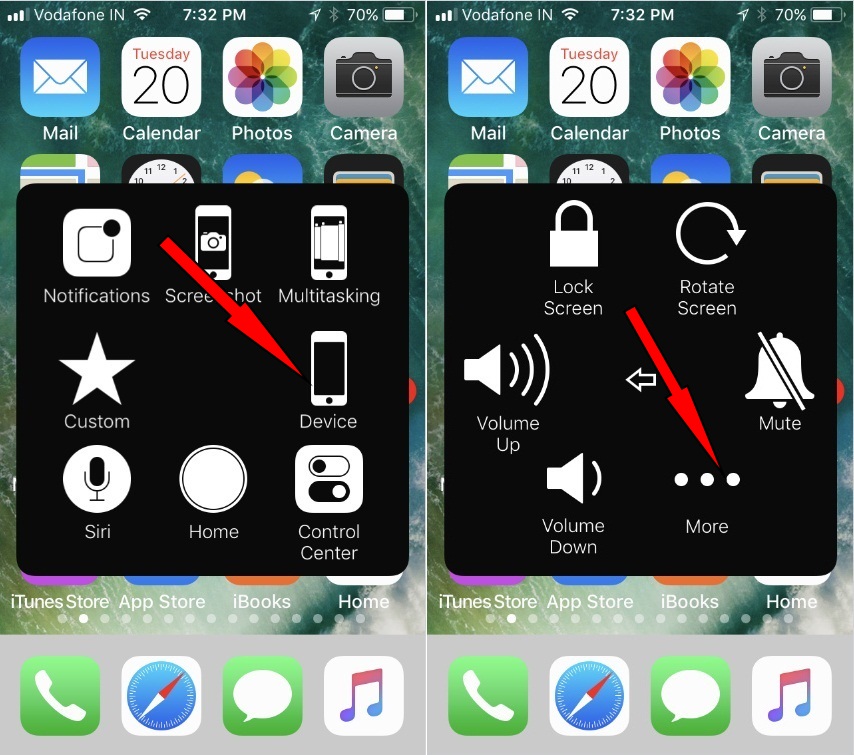 Now you find restart option on Assistive Touch Pane see the below screen,
If you don't see below option in your Device Assistive touch try to Reset Assistive Touch on iPhone
That's it.
Proper Way to use Side/Wake button for Turn off or Turn on, Below
Step 1. Press and hold your iPhone Sleep/wake or Side button.
Step 2. Now if you see, ''Slide to power off'', then slide it and turn on your iPhone again.
Step 3. In this case, If cannot Turn off your device.
Step 4. Way for if, your device still doesn't respond then, follow below-given steps,
Make sure nothing such as dust around the sleep/wake button if yes, then make clean through soft cloth.
Remove any kind of case or film.
In last way, if your iOS device cannot Turn on then, charge it through A/C more adept, after you, iPhone or iPad or iPod Touch are charged completely. Try above steps again.
Note- if your iPhone might display a black screen for up to 10 minutes or iPad display black screen up to 20 minutes before you charging indicator on your iPhone or iPad Screen.
If you're follow above steps correctly for iPhone 8/8 Plus, X, iPhone 7, iPhone 6 sleep/wake button doesn't work, however, your devices still not respond then take it at Apple Service center, and get perfect assistance.
How to seem this tip on, iPhone 8/8 Plus, X, iPhone 7, iPhone 6 sleep/wake button doesn't work. Leave your reply in the below comment.