Last Updated on Oct 5, 2021
Spigen case for Apple iPhone 7 and iPhone 7 Plus. Inspired by them, I will show you here one list of Apple iPhone 7 Spigen Case. This list included cases like Apple iPhone 7 Spigen bumper case, Spigen iPhone 7 Clear Case, Spigen hard case for iPhone 7, and many more. Current year Apple will be rolling out without a headphone jack Smartphones since this list is prepared totally for it.
Here read a brief introduction about Spigen; it is an Accessories maker of Apple iPhone, for new customers who don't know actual about Spigen company. Spigen is a popular brand it manufactures Apple iPhone & Android Smartphone cases. It is located in Irvine, California province of the United States. It becomes popular in the marketplace by its customer satisfaction skill and trusted product. Spigen gives a satisfaction guarantee & warranty on its original product purchase. Today I will tour you some of its upcoming iPhone 7 defense cases.
Also Buy:-
Seven Best Apple iPhone 7 Spigen Case– Newly Designed by Spigen
#1. Spigen Offers iPhone 7 Gunmetal Case – 4.7'' Case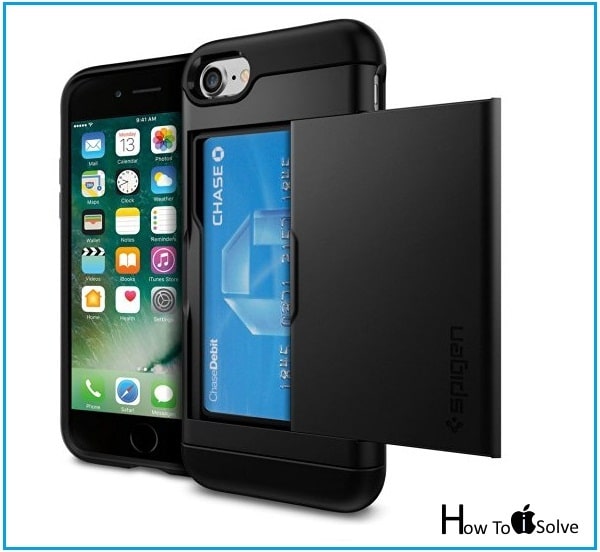 It's a Slim fit and dual coat iPhone 7 case. The design of the case is very fantastic because has a hidden pocket at the reverse side to place important cards like Bank's credit/debit cards or passes. The company claims that the case is efficient to prevent iPhone 7 from bump, knocks, and shock. The case interior and exterior made up of TPU and polycarbonate respectively. Tough, available iPhone 7 damage resistance case here then why want to take a risk. Order today and use it without worry.
Check Spigen Gunmetal Case Price on Amazon
#2. Spigen's Premium Hybrid Case for iPhone 7
Are you exploring a 4.7-inch back cover that prevents your phone and keeps its beauty as it is? Then, order this one and put your daily useful iPhone 7 into this soft hard case. It's a perfect fit case, it looks like a small kid does hug with its mom or dad. Bulk-free & lightweight clear case almost looking great with Apple rose gold, gold, Space Gray, Silver, and black iPhone 7. It is only reverse-side Skin, so it cannot protect the iPhone 7 – 3D touch screen.
Check Spigen Clear Case Price on Amazon
---
Best iPhone 7 Cases – Full Protective, Durable, Mostly Noteworthy
---
#3. Spigen Kickstand Cases for iPhone 7
This High profile kickstand Spigen case all corners have Air cushion technology. It provides long-lasting protection due to its dual layers feature. There are two different materials TPU and hard polycarbonate is used to make up this Slim Armor Apple iPhone 7 Spigen Case. It has a Kickstand facility and affords militarily grade protection. Furthermore, its all side edges have been rounded safe so that gives comfort grip and access to all buttons easily. With the iPhone 7 case, you can be hit the camera shot. Don't forget to Spigen iPhone 7 case Pre-order earliest.
Check Spigen Kickstand Price on Amazon
#4. Spigen Neo-Hybrid iPhone 7 Premium Case
Spigen's iPhone 7-frame case looks like an antique showpiece hook on the wall. It contributes to multiple forms of amenities and maintains equilibrium, too. Now you can see the right Apple iPhone 7 Spigen case that will prevent your phone from damage, bump, knock, debris, and another unknown fall. Fortified Outer frame and has raised lip plus camera cutouts deliver lens and screen shelter.
Check Spigen Premium Dual Layer Case Price on Amazon
#5. Order today iPhone 7 Flexible Spigen Case
If you do not like flat shit back case, then no problem. Try this designer diamond-patterned iPhone 7 Spigen back cover. It is a blend of manners like elastic, adjustable, and durable. The TPU stuff gives softness and enjoyment of a perfect grip. It is a comfy case, so you can easily install and uninstall the iPhone from the case. It playing a superb role to absorbs shock and accessibly bump.
Check Spigen Thin Case on Amazon
#6. Best iPhone 7 Wallet Case

This case is specially designed for Apple iPhone 7. There are three built-in pockets to place credit card/ debit cards/passes and one big room to hold cash money. On other side frames, you can install your iPhone in a secure way. Both sides convert into a fold and making a wallet look, so you can close through a secure magnetic strap.
Check Spigen Wallet Case Price on Amazon
#7. Apple iPhone 7 Hybrid Bumper Case

Looking for an iPhone 7 Case but don't agree to hide the backside Apple logo and fresh iPhone 7 look? Then, you should go with this iPhone 7 Case – available in black color. It is made up of hard PVC and TPU bumper material. All-time hit cases, help you to protect your valuable phone and keep away from the knock, damages, debris, and daily wear & tear.
Check Spigen Bumper Case Price on Amazon
Also Buy:-
This all Apple iPhone 7 Spigen Case allows to charging, access led flash and camera, power button, volume keys, etc. accessible along with covers. Like it? Share it.