🗓️
September 14, 2023
By ✍️
Jaysukh patel
Are you thinking about purchasing a mouse for your Mac desktop and being confused about which is better: Magic Mouse 3 or Logitech MX Master 3? Then, you are at the right place. The Magic Mouse has tons of significant apple-integrated gestures. Likewise, Logitech MX Master for Mac comes with the latest features.
This article will give you a complete detailed comparison of Apple Magic Mouse 3 vs Logitech MX Master 3. It will become easy to determine which one is better for your use. Read the full article, and then you go for the right choice!
Apple Magic Mouse Vs Logitech MX Master 3
Magic Mouse 3 is known for its gestures and features. It is a lightweight and portable mouse. The form factor and relatively small footprint are good, So users can easily carry them during travel. The multi-touch gestures are an excellent concept.
Logitech MX Master 3 is far more comfortable and easy to configure. In addition, there are pretty much gestures from the Magic Mouse that can be done on the MX Master 3. It is an incredible, stylish, long-lasting mouse that everyone should try once.
Design
Magic Mouse 3 is made with plastic material, while Logitech MX Master 3 is made with PTFE material. As a result, the Magic Mouse is light in weight compared to Logitech Mouse. If you are searching for a simple, slim, professional design mouse, go through Apple Magic Mouse 3.
There is no physical scroller wheel or tactile surface on the thumb wheel. Also, the left and right click buttons are not available. Instead, there is one single button available on Magic Mouse.
Note: Remember that touch gestures on Magic Mouse only work on macOS.
Specifications:
| Specs | Magic Mouse 3 | Logitech MX Master 3 |
| --- | --- | --- |
| Release Date | March 8, 2022 | 2020 |
| Operating System | macOS, iPadOS | macOS, Windows |
| Mouse hand Orientation | Right | Ambidextrous |
| Additional Buttons | Tactile Surface | Notched Wheel + Free Wheel |
| Coating | Glossy | Matte |
| Finger rest | No | Thumb |
| Use When Charging  | No | Yes |
| Receiver  | No | Yes |
| Material  | Plastic | PTFE |
| Battery Indicator   | No | Yes |
| Total Number of buttons | 1 | 8 |
| Dimensions | 0.85″ × 2.25″ × 4.47″ | 5.0″ x 3.3″ x 2.0″ |
| Weight | 3.52 Ounces | 5.01 Ounces |
| Price | $99.00 | $99.99 |
Apple Magic Mouse 3 vs. Logitech MX Master 3
Talking about Logitech Mx Master 3, eight buttons are available on Mouse. It's a professional-looking and versatile Mouse. There are two-scroll wheels, and gesture commands are available.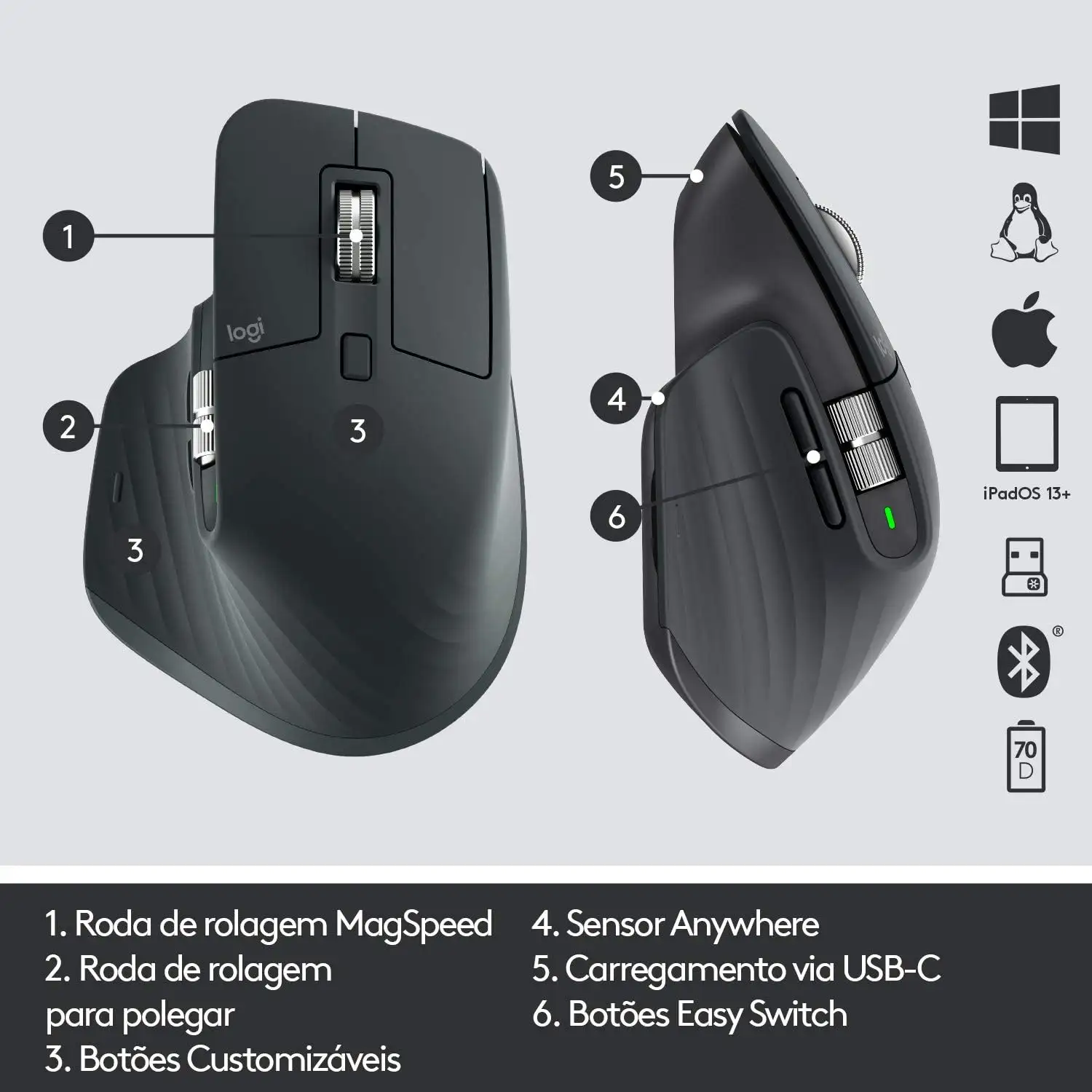 Magic Mouse 3 is a left-handed, friendly mouse that does not provide finger rest. However, it would help if you got a Logitech mouse because it is a wireless Mouse that provides your thumb rest. Quickly Start Using the Apple Magic mouse in 4 different ways to connect with your Mac…
Bluetooth
Magic Mouse 3 and Logitech MX Master 3 are both wireless Bluetooth mice. The difference is that the Magic mouse can pair with a maximum of one device, while the Logitech mouse can pair with up to three. Moreover, Logitech Mouse has a receiver.
Connectivity
Magic Mouse 3 comes with a Lightning to USB connector to connect with a Mac desktop. On the other hand, Logitech MX Master 3 comes with USB-C to USB cable to connect.
Logitech can configure special functions on particular apps; for example, A button to mute the mic on Zoom, Teams, etc. Also, it is easy to use horizontal scrolling on the Safari app to switch between tabs and more.
Battery
Magic Mouse 3 and Logitech MX Master 3 both have Rechargeable batteries. However, there is no battery indicator in Magic Mouse, while the Logitech has a battery indicator to indicate the battery level. So you can use Logitech MX Master 3 while charging, but Magic Mouse 3 can't.
Noise
The Magic Mouse 3 is quiet; it doesn't produce noise for clicking buttons, while the Logitech MX Master 3 makes a loud noise, but it shouldn't bother people around you.
Operating System & Compatibility
Magic Mouse 3 is compatible with both Mac and Windows Operating systems. Furthermore, it is fully compatible with Mac and iPad OS. In another case, Logitech MX Master 3 is compatible with Both Mac and Windows Operating Systems.
Color
Magic Mouse 3 is available in black and silver combination. Conversely, Logitech MX Master 3 is available in three colors: Graphite, Light Grey, and Space Grey.
Sensor
There are laser sensors available on both mice. At the same time, Logitech has a Darkfield sensor model. Logitech is the best Mouse on the market for working on different surfaces. It works on glass, but the sensor on Magic Mouse 3 doesn't work on glass.
Price
Magic Mouse 3 is great over Bluetooth without the lag. Moreover, it's available on Amazon for just $79. So, click below to buy the Magic Mouse 3 Now!
Logitech MX Master 3 offers ergonomic features, which makes it better than the Magic Mouse 3. You must try this product to enjoy perfect gaming. It's available to buy for just $99.00. Click on the below link and get it.
To sum up, Hope you got the solution to choose between Magic Mouse 3 and Logitech MX Master 3. Write which Mouse you like most in the comment box. Thank you.