🗓️
May 30, 2023
By ✍️
Jaysukh patel
Like Apple TV, its remote is also smart, which reduces the labor of your fingers. All you have to ask Siri is to get things done like increasing volume, switching channels, and much more. Remote play a crucial role if you have Apple TV at home; if the remote is not operating on Apple TV, then you will get embarrassed at every bit.
The Apple TV Siri remote is not available in all the countries; elsewhere, we have Apple TV Remote. To use Siri remote, you need to select the language and set it up with your Apple TV; otherwise, it will not work properly.
Troubleshooting tips to fix your Apple TV Remote not Working: TouchPad, Volume Control, Stuck and Not Responding
Fix 1: Get yourself close to Apple TV
When you operate Apple TV with Siri Remote, keep in mind that this connection totally relies on Bluetooth, and so you need to stay in the range of the Apple TV and then ask Siri whatever you want. Also, move any objects that obstruct the signal between the Apple TV and Siri Remote so that the remote can directly contact with IR sensor of the Apple TV.
Fix 2: Charge Remote: Why is my Apple TV not responding to remote?
If the Apple TV remote control is not working, then kindly examine if the remote is charged or not. If you are not sure about how much battery is left in Apple TV, then establish the remote on charge for 30 minutes and see if it starts working or not. After that, you can use a lightning cable to charge the Apple TV remote.
Fix 3: Re-pair remote with Apple TV
To repair the Apple remote with the Apple TV, firstly, you will need to unpair it. The process is straightforward and will take few seconds to get accomplished.
Step #1: Press and hold the "Menu" button and "Volume Up" button for five seconds on the Apple TV remote.
Step #2: If the case of Apple TV asks you to place the Remote on the Apple TV, then lay it on the head of the Apple TV.
Fix 4: Unplug and plug the power adapter
It's time to restart the Apple TV itself, which can be why the Apple TV remote is not serving. All you have to do is unplug the power adapter of the Apple TV for almost 10 seconds and then plug it back in. Now check if the remote responds to Apple TV.
Fix 5: Contact Apple Support
Still, the problem persists, then you might need aid from Apple Technical team to get a fixed remote not working on Apple TV. If the real dilemma is with the Apple TV remote, you might get a replacement for the broken remote.
Also, Now We have an app for Apple TV 4th Generation or Later, Apple TV 4k
iOS 11 or later iOS device installed on iPhone and iPad has Apple TV Remote app that can command your TV if both devices are under the same WiFi Network.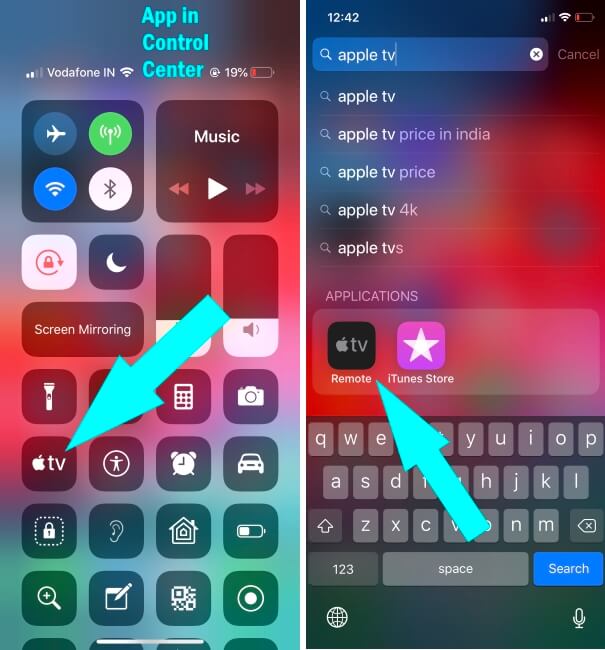 Open Apple TV remote app on your iPhone from the home screen on the control center.
If the setup is not yet completed, Go for it.
Turn on your TV, Keep your Remote app on Idevoce on screen.
Your iDevice will scan nearby Apple TV; tap on the TV name to start setup.
Your iPhone will ask to enter a four-digit passcode that appears on Apple TV Screen.
Verify, and it's done.
Similarly if you have Apple TV Remote Aluminum or White then follow the steps,
Fix 6: Unpair and Pair the Apple TV Remote
To do so, press and hold the left button and menu button for six seconds. On your Apple TV, you will receive a symbol indicating the Apple TV Remote is unpaired.
To pair the Apple TV Remote, press and hold the right button and the menu button for six seconds. The Apple TV will convince you that the remote is paired with Apple TV.
Fix 7: Replace the Apple Remote Battery
Sometimes an old battery can also result in the Apple TV remote not working, kindly buy new batteries, and try to use the remote with Apple TV.
The above solutions are different, so I have mentioned them separately. Besides, you can also try the Apple TV Siri Remote not working. Send us feedback on which solution is worked for you. and Gives an upvote if this helps. Also, follow us on social.
Apple TV Remote Not Working
Apple TV Remote Volume Not Working? Usually, Siri Remote doesn't need any extra setup or manual intervention; everything is automatic unless something is wrong with your Apple TV. Nevertheless, you can manually program your Apple TV remote to fix why my Apple TV Remote Volume is not working.
1. Open the Settings in your Apple TV 4K or Apple TV HD.
2. Go to Remotes and Devices.
3. Select Volume Control.
4. Select Learn New Device.
5. Now follow the on-screen instructions and program the Siri Remote to either control the Apple TV receiver or the Television. At a time, you can control the receiver or the Television, but not both correspondingly.
Enable HDMI-CEC on Your TV
Can't control the volume of the receiver or TV? Make sure the HDMI-CEC feature is enabled on your Television. You can visit the Television Manual or contact the brand and ask does your TV supports the HDMI-CEC program or not. The HDMI-CEC feature mostly varies brand by brand. These are popular brands with HDMI-CEC names. Link or Sync are the two words that indicate the HDMI-CEC feature.
• LG: SimpLink
• Philips: EasyLink
• Samsung: Anynet+
• Sharp: Aquos Link
• Sony: BRAVIA Sync
Clean Apple TV Remote and Receiver
When Apple TV Remote App Volume Control Working, you should clean the receiver, and Apple TV Remote, since it uses IR Sensor to control the volume. Therefore, use a smooth piece of cloth, clean the receiver and Apple TV Remote.