Last Updated on Sep 26, 2023
Automatic login is one of the most efficient and user-friendly features in macOS. This feature saves a lot of your time by automatically logging you into the Mac when you open it without going through any security/authentication features. This feature saves up a lot of time and makes work smooth.
However, this feature has been getting a very frustrating issue for users. Multiple users have reported not being able to enable the Automatic Login feature. Users found themselves grayed out when trying to enable the option for Automatic Log-in. This can be very annoying to users.
You might also be a victim of this issue but worry not. We'll tell you how to get rid of it.
Here are some ways by which you can enable Automatic Log-in and not get grayed out-
Fix 1: Turn on Automatic Login on Mac: for all or Selected User
Regarding the installed macOS Version, find the steps below to Turn on Automatic login or Disable Automatic Login in macOS.
Where to Find Turn on Automatic Login On MacOS Ventura, Sonoma
To access & Turn off automatic login password option on your Mac, FileVault must be turned off on your Mac. We also covered how to turn off the FileVault from Mac System settings. Let's do it.
1→ Go to the Apple Logo from the top menu > System Settings.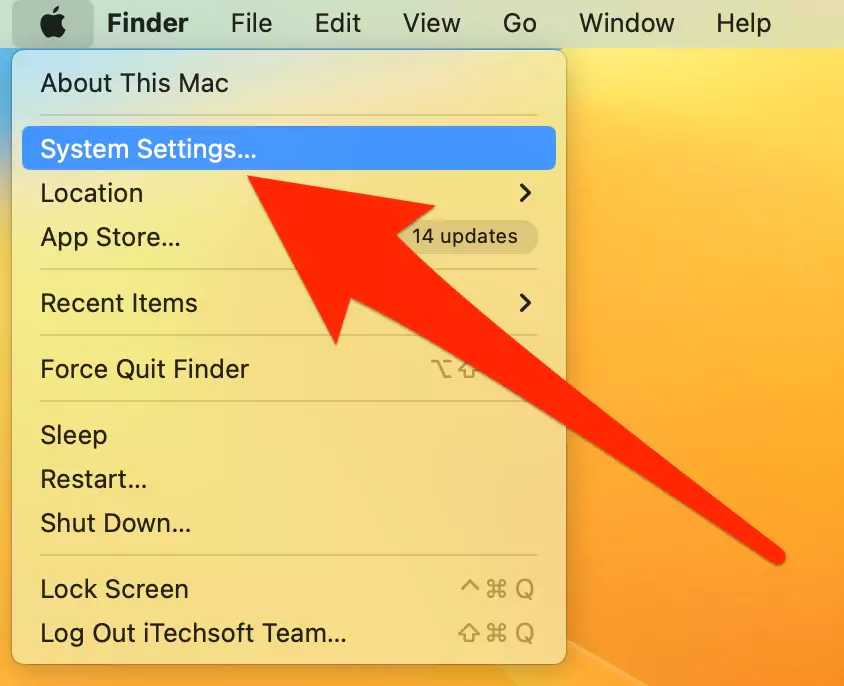 2→ For Touch ID Keyboard (MacBook, iMac): Select Users & Groups > Select "Automatically log in as…" Select your account on Mac to turn off the login password and That's it. (If it's Grayed out, Move to step 5)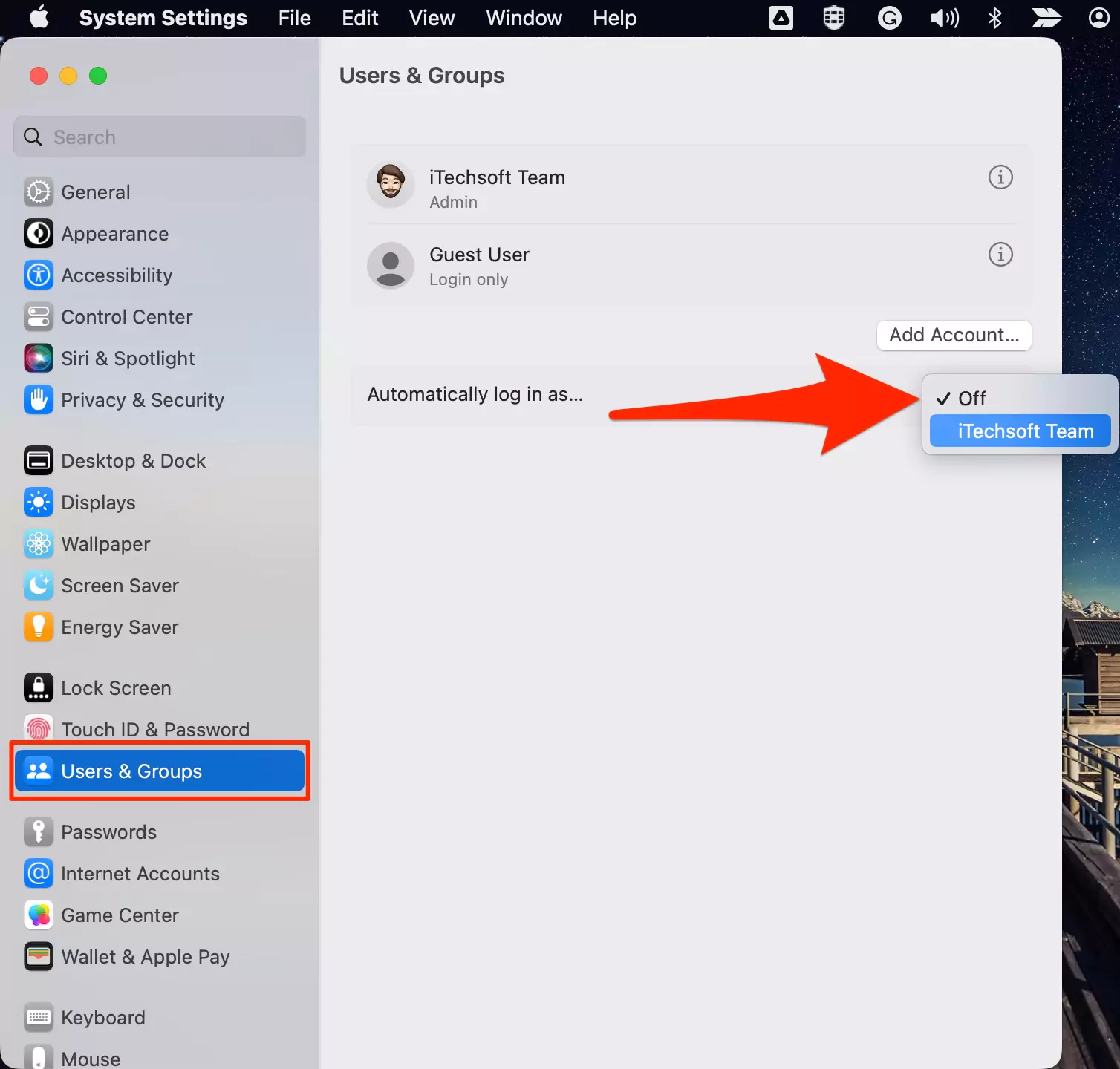 For Apple Magic Keyboard without Touch ID: Select Login Password > Enable Toggle for "Automatically login after a restart".
If you have multiple user accounts then Choose one of them under the Automatically log in as under, Users and Groups.
3→ Enter your Mac Administrator login password to Verify.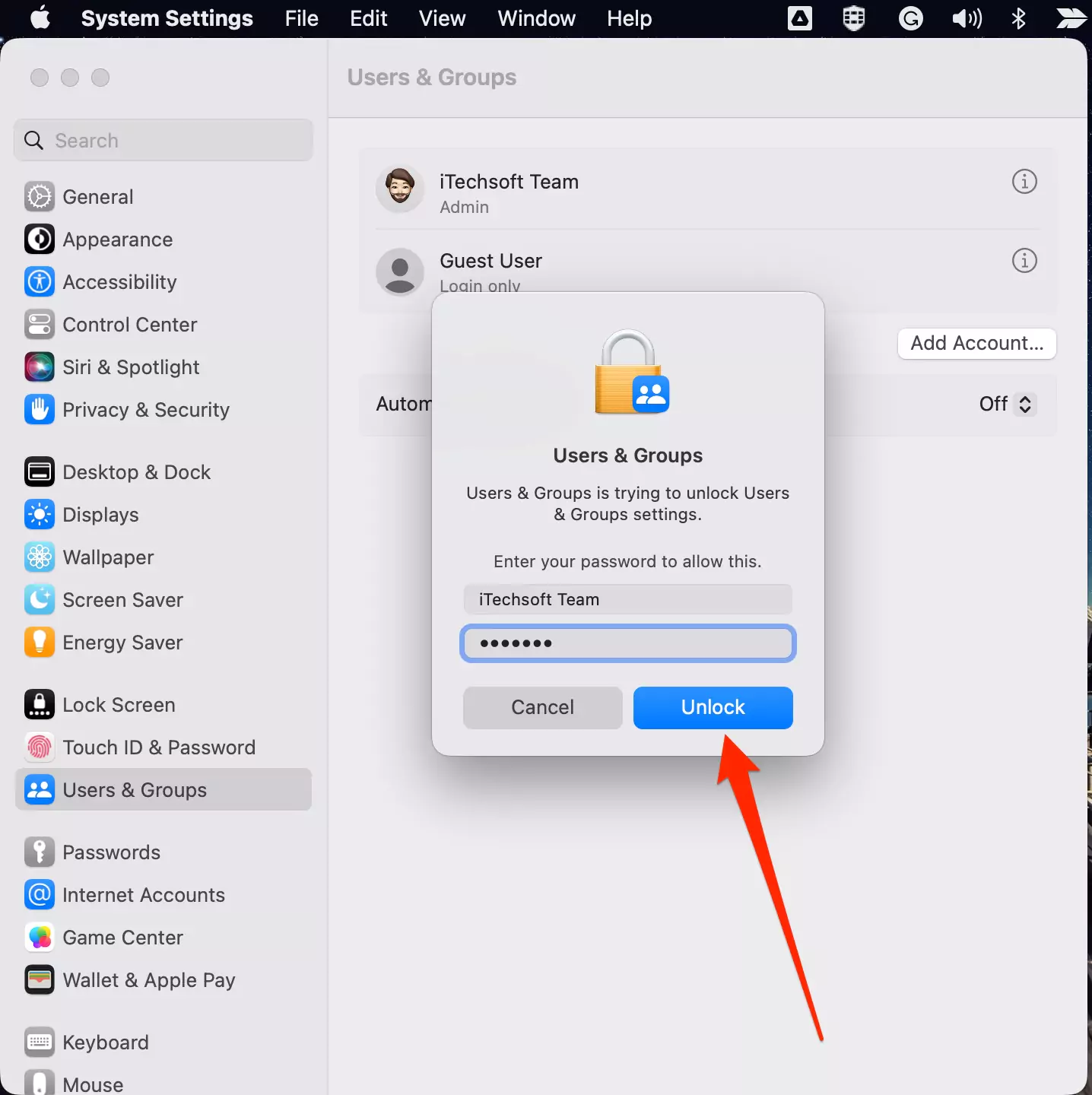 4→ Next, See What will be Disabled is Automatic Login Enabled on Mac "Turning on automatic login will disable Touch ID and remove any Apple Pay cards from this Mac" > Continue.
5→ If the Option is Grayed Out, then Turn off FileVault. Then Repeat the same step 1, & 2.
Under the System Settings > Privacy & Security > Turn off "FileVault".
Wait for a few seconds and You are done.
On MacOS Monterey & Earlier: Turn On Automatic Login
Let's first take you through the normal process of enabling this feature to clear things out and address the grayed-out issue so that no stone is left unturned.
1→ First, go to the Apple logo > System Preferences window and then click on Users and Groups.
Clicking on that will open up the Users and Groups tab where you need to next click on the Lock icon that appears at the bottom left corner of the tab. You might have to enter an administrator name as well as its password if you aren't logged in as an administrator already.
After this, click on the Login option that will appear on the lower-left corner of the screen.
You will have to choose an account from that Automatic Log-in menu and then enter the password of that account.
Now, you need to click on the automatic login option and select the user. Hereafter, you will have to enter the password for the user option selected, which will confirm the enabling of the Automatic Login feature.
Now comes the username grayed in part, to tackle that, here are the following-
Turn off FileVault option. If this option is on, you will always require to log in manually. Go to the Apple Logo from the top Menu > System Preferences > Security&Privacy > FileVault and Turn off File Vault.
Don't use the iCloud password for an account to log in, doing so will always require you to log in manually for that account.
The above settings are changed in the latest macOS Update to latest macOS. So the ways to find Automatic Login changed now. Follow the below steps to turn on Automatic Login on MacOS Ventura or later.
Fix 2- This issue might also be caused due to your security settings as well. Here is how to fix it-
1→ Go to Apple logo > Open your System Preferences window and go to Security & Privacy.
2→ Find the Disable Automatic Login option and ensure it is disabled.
3→ You should also disable the option that requires you to enter a password every time on startup, So you are waking up your Mac. Uncheck tick. That's it.
4→ Select "Turn off Screen lock",
5→ Select "Keep Using Keychain" or "Turn off & Remove Passwords",
That's it.
Fix 3: Delete Login Window PLIST
The Auto Login feature might also not operate properly due to some plist files issue.
You can solve the issue by deleting a file named com.apple. loginwindow.plist from the following directories,
Library/Preferences/ and User/Library.
Right-click on "com.apple. loginwindow.plist" Move to the bin. Remember that these directories might be hidden if you cannot find them, so make sure to reveal them.
FAQs
1. Is it safe to enable Automatic Login?
A: This feature allows you to log in automatically without entering a password. While it saves up time and allows you to work smoothly, your privacy, however becomes a little weak if there are multiple users of your device. If it is just you who uses the device, then it is absolutely fine to use Automatic Login. 
2. Can I fix the grayed-in issue that happens when I try to enable Automatic Login?
A: Yes, you can easily solve such an issue. We have explained the steps to eliminate that issue in our article.
3. Apple Pay cannot be used when automatic login is enabled
A: For Privacy reasons, apple turns off automatic payment system authentication that prevents unauthorized access, and This Action will also disable Touch ID on Supported Macs. If you want this service, then Turn off Automatic Login on Mac.