🗓️
September 14, 2023
By ✍️
Jaysukh patel
Carrying a MacBook Pro 16-inch is not less than a random heart attack; who knows when you drop the MacBook. So, the best practice is to order or at least find the best MacBook Pro 16 cases laptop cover if you are indeed buying the 21 best MacBook Pro 16-inch accessories. So, at the time, MacBook Pro comes into your hands; the very next second, you can cover it with a protective case for Macbook Pro 16.
Keeping in mind the sleekness and style of your MacBook Pro, we have collected a few best 16-inch MacBook Pro Cases to buy in 2021. From clear case to hardshell cases for MacBook Pro 16, everything is listed below; all you need to do is, think and purchase the correct one that matches your profession.
Top 23 Apple MacBook Pro 16-inch Cases List
#1. LuvCase -Leather Hard Shell Case for MacBook Pro 16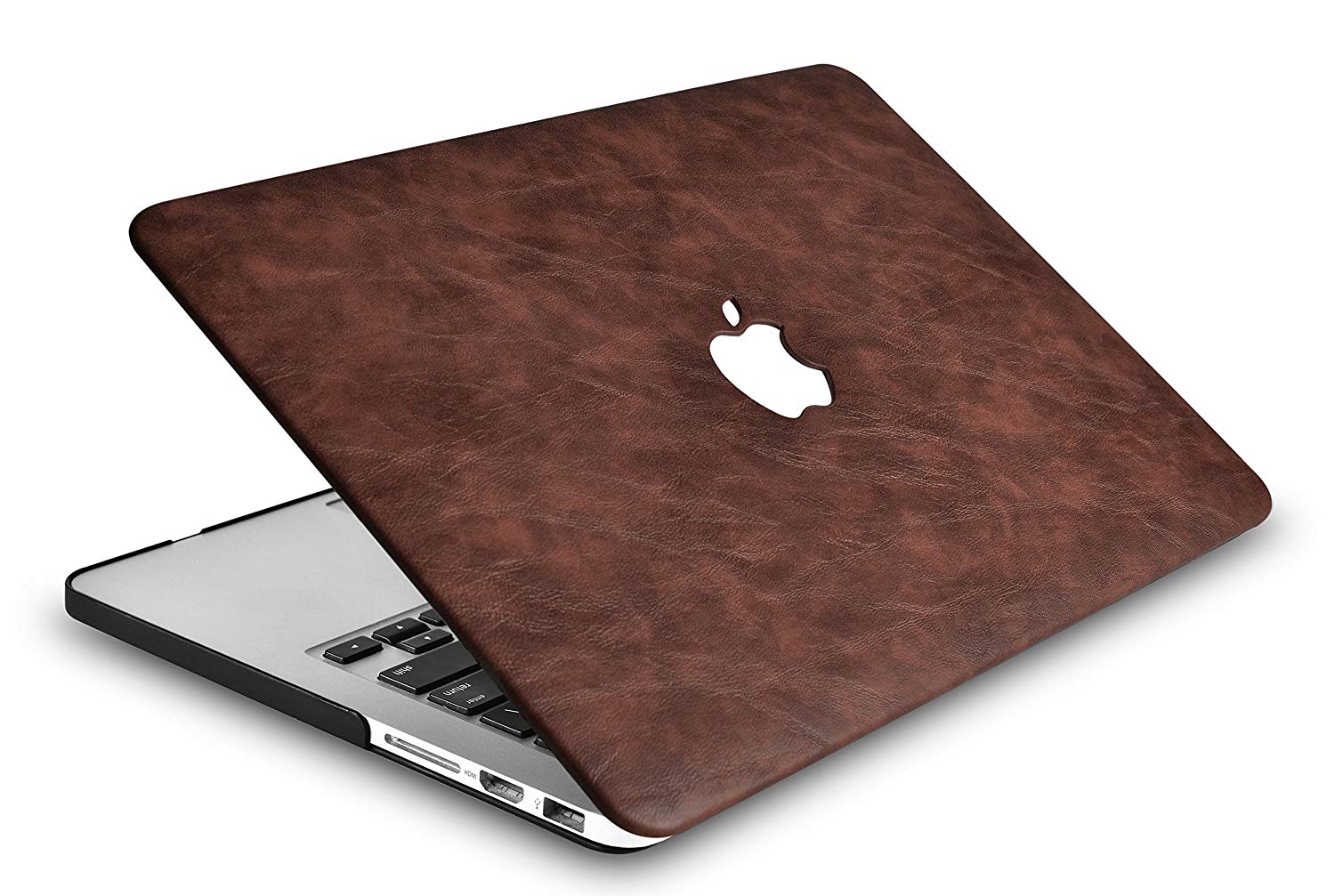 If you want to give a more professional look and feel to your MacBook, the LuvCase Laptop leather case for MacBook Pro 16 must be counted. When it comes to buying leather accessories, no other color can beat the brown cow leather color. Alongside, its precise cutouts deliver complete access to USB ports, and other ports, without any need to remove the case. Moreover, the cover's bottom section contains rubberized layers to secure laptops from sliding or dropping when places on the slant surface. Finally, as usual, with any other case, you'll get overall protection against overheating issues.
under $20 case buy from Order from Amazon online store
#2. SUPCASE TPU Bumper Case for 16-inch MacBook Pro under $30
SUPCASE Bumper case made up of demanding users who fail to keep the MacBook Pro safe and intact. SUPCASE offers a stylish and ultra-protective clear Case Cover, with advanced safeguarding from drops, scratches, and many more damages.
In addition, the case is crafted with hard polycarbonate shock-absorbent material; this comprehensive case will ensure your MacBook's safety all along. Besides, compared to the sleeve case, it is less expensive and highly protective.
Buy from: Order from Amazon Online Store
#3. MOSISO-Plastic Hard Shell Case for MacBook Pro 16

If you are looking for a stylish but protective case for the MacBook Pro 16-inch, care to look at this MOSISO's masterpiece hardshell case. Its ultra-slim, lightweight profile with a matte finish makes your MacBook Pro different from others.
The Laptop case is divided into two pieces that make a straightforward and quick installation of the upper and bottom sections. MOSISO's well-designed case comes with bottom ventilation for fast heat disbursement and to keep your MacBook Pro cool. In less than $20, you will get an additional keyboard cover as well as a screen protector for MacBook Pro 16".
Buy from: Get it on Amazon Online Store
#4. CAISON-Sleeve Case for MacBook Pro 16
Numerous sleeve cases for MacBook Pro 16″ are available; however, finding the best deal is challenging. Besides, a typical sleeve case that could fit any 16-inch laptop is perfect for your MacBook Pro, as sleeve cases are not made for particular laptop models.
CAISON's laptop sleeve case is ideal for a 16-inch MacBook Pro 2019. It is available in almost 12 different color options, from dark to light. In addition, the sleeve case is equipped with enough external slots to carry your mobile or power bank in it.
Buy from: Order today on Amazon Online store
#5. KECC Italian Leather Case Cover for Apple MacBook Pro 16 inch Size
No offense, but if you are a bit careless and drop things frequently, leave other cases and go with the Italian Leather case. Under $20, KECC seems the perfect choice as it covers your MacBook Pro from top to bottom and right to left.
In addition, the case contains a shock-absorbing bumper at the corners to provide reliable protection against drop or random hard strikes. Therefore, I don't find any drawback to buying this fierce and protective case for the MacBook Pro 16-inch.
Buy from: Order from Amazon Online Store
#6. WOODWE Wood Skin for 16-inch MacBook Pro
For those who love to use natural products or at least want to have natural characteristics, try out the Wood Skin. There are two options available, whether to buy Top & Bottom cover or go for only Top cover, which depends on your to choose from and of course, there is a price difference between both.
However, I'd recommend you go for the Top & Bottom option to preserve the MacBook Pro from all sides and enjoy the minimalist pattern. Also, it is economically beneficial to buy a set of two.
Check Wood Skin Price on Amazon
#7. Italian Leather Bag

From MacBook 12-inch to the latest MacBook 16-inch, this Italian leather bag has got your MacBook covered from daily scratches and bumps. No matter what size do you want to carry, it all available for you. Look at the tiny details; I think this is the best craftsmanship I've ever seen in any leather sleeve for MacBook. Adding two magnetic clasps enhances the security of the MacBook while you are on the go. It is one of those expensive protective leather sleeves, but believe me, it is worth's every single penny.
Check Italian Leather Case Price on Amazon
#8. Batianda Flower Designed Case

The hardshell cases are crafted with high-quality PC material to resist scratches, scrapes, scuffs, fingerprints, dust, and other innumerable damages. Aside from all the safety measures, you'll get to decorate the MacBook Pro with one of these floral patterns; no need to worry about the precious Apple logo still visible through the design or say any technique doesn't cover it. Two-pieces snap-on facilitation allows quick installation and removal.
Check Floral Designed Case Price on Amazon
#9. Artistic Hardshell Case

Are you a fan of random painting art? Your search may end up here with the most attractive painting portrayed on the case so precisely. The rubberized feet hold the MacBook while used on the slant surface; simultaneously, the perfect ventilation prevents overheating on using the laptop putting into the lap or bed.
In addition, it comes with a keyboard protector, screen protector, a brush to clean dust, and, lastly, a printed case to show off the MacBook in your style.
Check Artistic Hardshell Case Price on Amazon
#10. Moshi Codex MacBook Pro Sleeve 16-inch
Moshi is a premium vegan leather sleeve case for MacBook Pro, all designed with lightweight and durable material to protect against surface scratches. In addition, codex features a shiny outer surface and inner shell lined with memory foam and cushion to guard the MacBook Pro against minor bumps and lets you quickly wrap the MBP inside the sleeve case.
Looking at the biggy MacBook Pro, Moshi has constructed the sleeve case. Differently, it's like a suitcase for your laptop with a tight zipper. Besides, if you feel not to remove the MacBook from the case, now and then, no worries, its clamshell pattern will help you to work right from the case.
Buy from: Order from Amazon Online Store
#11. Pack & Smooch MacBook Sleeve Case
If you are looking for a high-quality custom-made sleeve case for a 16-inch MacBook Pro, try Pack & Smooch Sleeve Case. The sleeve case comprises pure merino wool and luxurious Italian vegetable-tanned leather for perfect grip and safety. Alongside protecting your MacBook from daily scratches and bumps, it looks fantastic and professional when you carry on your hands. A small front pocket helps you to keep the charger, cable, and earphones on the go. In addition, its magnetic closure will cover up the laptop perfectly.
Buy from: Order from Amazon Online Store
#12. Bestgay- Clear Case for MacBook Pro 16
Bestgay recommended those who don't like heavy or vigorous colors. This clear case for the MacBook Pro 16-inch is tough enough to resist scratches and scrapes that could destroy the great look of your MacBook Pro. Undoubtedly, Bestgay can be trusted to give your MacBook Pro more than the required protection with a challenging and grip exterior. So, if you are looking for the best Clear Case for MacBook Pro 16-inch, hopefully, your search ends here.
Buy from: Buy from Amazon Online Store
#13. tomtoc – Shoulder Bag for 16″ MacBook Pro
tomtoc's latest should bag for MacBook Pro 2019 is the all-in-one solution to safely carry the MacBook with additional accessories like earphones, power banks, chargers, mobile and more. Its high-grade inner material comfortably prevents the exterior from scratches and bumps, especially while closing the zipper. Just place the MacBook Pro in the bag and adjust the shoulder strap accordingly, and you are ready to go.
Buy from: Buy today from Amazon online store
#14. Dongke MacBook Pro Funky Case
Dongke Offers an entire set of protective accessories that we used to order before our MacBook arrives, like a protective case, screen protector, and keyboard cover. Most of the printed covers are made up of hardshell texture to resist scratches and provide a rubberized surface, and so it is.
It's a two-part installation, the front part is printed, and the lower panel is crystal plain, with the safety vents to dissipate heating issues. You can check the store for more designs, colors, and patterns.
Check Dongke MacBook Pro Printed Case Price on Amazon
#15. MAITTAO Marble Pattern Case

Still, look at this piece of art if you haven't found the desired case for a 16-inch MacBook Pro. You would be happy to know that MAITTAO collectively offers a set of four necessary accessories which include, a hardshell case, a keyboard cover, a Laptop Sleeve bag, and plugs to cover the port to avoid dust and dirt malfunctioning the hardware. All the essentials match each other to enlighten the MacBook Pro and protect it from various damages.
Check MAITTAO Marble Pattern Case Price on Amazon
#16. Londo Leather Sleeve Bag for MacBook Pro 16-inch
The Londo brings a terrific combination of Cowhide Leather plus vintage artwork to safeguard the MacBook Pro. It feels comfortable, doesn't adds up much of a load while you carry, and manages some other stuff like adapters, earphones, notebooks with the MacBook Pro. Meanwhile, the case maintains its minimalist texture, handsome look, durability, quick access to the MacBook, and last but not least, strong stitches to tighten up the security of the MacBook Pro. You can choose from three stylish colors and patterns, and all three designs are crafted uniquely.
Check Londo Leather Sleeve Price on Amazon
#17. Incase Textured Hardshell Case
Incase presents the two-layer, hardshell case that fits the MacBook Pro as you've never used one before. Graphite Dark Grey Wool Material makes this case unique for the MacBook Pro, a ventilated area where the laptop's heat could quickly dissipate, to keep the MacBook cool while using the high graphics software.
You don't need any tool to fit the case, and it features easy-snap fitting and removal to avoid scratches while installation and removal, as well as ensure the safety of the MBP. That said, due to its smooth material, it won't let you use any stickers on the surface to give Mac a professional look and feel.
Check Incase Texture Case Price on Amazon
#18. UAG MacBook Pro 16 Case

If you are looking for a heavy branded case, the UAG can be one for you. The UAG features lightweight, Air Cushioned Soft Corners, Minimalist Design, Resistive Outer Surface, and with all that, keeps the MacBook slim and handy. The Plyo Series by UAG is like a defender case to secure the laptop from daily wear and tear, scratches, hard strokes, etc. Plus, they have made the case so that you can use disinfectant wipes to fight against germs and make the laptop healthy. DSo does worry about the case; it will stay as it is.
Check UAG Case for MacBook Pro 16
#19. SmartShell MacBook Pro Case

SmartShell is another protective case for MacBook Pro solely focused on confronting scratches and dust. In addition, they have added rubberized feet covering the four corners of the case, and clips so even if you use the MacBook Pro on a slant & smooth surface, it won't slide but stay in control. The color combination isn't that dark, making this case look fresh even after a year of use. Remove or install anytime you want effortlessly, with the two-piece design.
Check SmartShell Case Price on Amazon
#20. tomtoc Protective Laptop Zipper Sleeve
Try this innovatively designed sleeve bag for the MacBook Pro 16-inch and other similar-sized laptops. It is focused on the corners of the MacBook to prevent damage when you drop it because when the machine is on the corner upfront, the damage can empty your pocket, or you may need to buy a new laptop. It's internal thick padded around the zipper, and of course, the entire inline structure consists of thick padded material to save the surface from scratches and dust. Plus, you'll get an additional pocket to store the cables, chargers, and wallets, which too has zipper protection.
Check tomtoc Zipper Sleeve Price on Amazon Update.
#21. AKIT Leather Coated Hard Cover
If you're confused between Bumper Case and Hardshell Case, then you might want to take a look at this leather-coated hardcover. Unlike hardshell and bumper case, it features leather coated material on the front side, to rich look, alongside protecting the MacBook from shock and scratches. The two-part installation makes it easier to access the ports, enhances the heat dissipation, and efficiently removes the case. Make sure to verify the model number of your MacBook Pro before buying this case.
Check AKIT Leather Coated Case Price on Amazon Update
#22. Mektron Marble Finished Case

For the artists and teens, Mektron Marble Finished Case Cover is the best fit for MacBook Pro. It is exclusively designed with 3D UV Technology Printing to keep up the realistic pattern and glow of the cover even after using it for a long time. In addition, under $30, the deal packs more than anything you would ever want: MacBook Case, Keyboard Cover, Screen Protector, and Dust Plugs.
Check Mektron Marble Finished Case Price on Amazon Update
#23. Comfyable Leather Laptop Sleeve
You may have checked the above Leather Cases and Sleeves we mentioned; those were a bit costlier than Comfyable Leather Laptop Sleeve. Comfyable's this MacBook case cover is mainly made for the MacBook Pro, the newly launched one, to deliver additional security and safeguard against scratches and scuffs. Carrying the MacBook around the town, Café, Office is much safer with this sleeve case. Take a look at this elegant cover, and I'm sure you'll love it.
Check Comfyable Leather Sleeve Case Price on Amazon Update
A case cover is not enough for you, and looking for the Essential accessories for MacBook Pro 16-inch, then click here to the checklist (including Sleeve, Protectors, Keyboard cover, USB C hub, and many more).