Last Updated on Nov 10, 2020All about current Stock trading status now get via the best app for Buy stock online for iPhone running latest iOS. Real-time analysis, Stock price country-wise, the Stock forecast for the future time, So millions of stock investor always keeps in touch with Apple Watch Stock Apps best rated now available officially. Always Keep these online stock apps on your device and get active for buy stock or sell stock in a profitable way. A few years ago, most of the folks have been used online stock market Websites, brokers and stockers are spent more time compare to the Stocks on its gadgets. So use lightweight online stock trading market apps for iPhone.
Compatible Device: iPhone SE/5S/5, iPhone 6/6S, iPhone 6/6S plus, iPhone 7/ 7 plus, iPhone 8, iPhone 8 Plus, iPhone X, XS Max, XR, iPhone 11 (Pro Max).
Keep close eye on stock news in many countries across the world: USA (Venezuela, Peru, Colombia and Other), Canada, UK (London), Asia Pacific (India, China, Philippines, Singapore, Thailand, Vietnam and others.), Europe (France, Germany, Greece, Italy, Norway, Turkey, Belgium, Austria and other countries).
Great Top best app for Buy stock online for iPhone: Most popular
Get experienced with Penny investment and get all up to date graph,  for more investment in the future with this app.
#1. Stock Tracker: Real-time stock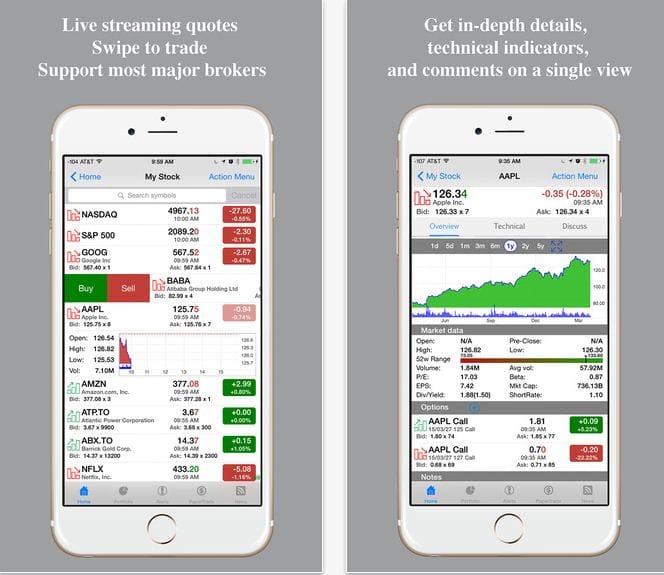 #1 Chart and forex app to purchase a stock online for iPhone, iPad. Easy to get a real-time live statistic on capital rate, forecast rate, Live Quotes, Chart data between time duration, Notification alert, Stock news find through single app only. Live technical indicators also compatibles with Apple Watch.
#2. Bloomberg Business for Stock
Most trusted stock news and updated on your mobile device using this app does your thinking about stock effortless. From the different 30 economy categories, you can know such unique news at first from this app. Very popular on digital media and expert recommendation you must try out. And the added features will be making happy by video and picture gallery.
#3. Stock Wars
Stock wars is a good deal maker and to get all countries' market status at open or closing time, Built stock marketing and investment strategy before making a decision. Real-time social feed like Twitter, Facebook and also from expert quotes. Full control of the purchase and sell over time including history.
We hope you'd like these reliable stock monitoring apps to Buy stock online for iPhone, iPad. Stay in touch with us to get daily does. You also contact us on Facebook, Twitter.