Last Updated on Sep 14, 2023Keep active for more than 2 days continuously without plugged your Apple watch in the power plug. Officially Apple is giving 18hours in a day after a full Battery charge. Now Apple Watch External Charger is available and made by Third-Party well-named manufacturers. Here I give detailed instructions and features on how to use an external battery charger and what about features, Storage capacity.
Use this High Storage Charger and Stand for Watch, iPhone, iPad, or iPod Touch, and Other USB devices. it's compatible with Apple Watch Series [All Series Watch has the Same size face]
Best Apple Watch External Battery Chargers Deals
Most of the folk finding a way to power up the Apple Watch after efficient use of the Apple Watch in full days, OIFEN is giving the perfect solution on that by giving large battery storage capacity in the fastest way.
#1. OIFEN Magnetic Wireless Charger 1000mAh
Available Color: White
Battery: 1000mAh lithium polymer Battery store power for 4 times full charge
Easy to wrap full Cable inside this, Means you can use official apple's magnetic charging cable.
Easy to install, from an end of the wire you can set Magnetic end from any angle.
Pocket Size: 72mm diameter and 25mm height
Weight: 80 grams
Charge anywhere by using a micro USB type C charging cable.
#2. Choetech Pocket-Sized Travel Wireless Charger for Apple Watch
Choetech Apple Watch charging is using MCU management to achieve.

Reliable guarantee for your Apple watch electronic quantities detection, over-current protection, and display

Recharging- supported through a micro-USB cable

A rechargeable polymer battery delivers up to 1.5 charges to your iWatch.

Unique and stylish design, lightweight, and portable.

Choetech Power Bank for Apple Watch support both are series 1 & 2, 38mm & 42mm.

Anywhere take this power bank, Great for trips or traveling and super compact design

Choetech Power Bank for Apple Watch 1 user guide, 18-month free warranty & 30 days money-back guarantee.
Check Choetech Price on Amazon
#3. Wireless + USB Charger for Apple Watch by UGREEN
UGREEN Magnetic Charger is a wireless charger power bank on MFi certified for Apple Watch and iPhone,
Lifetime service support and free One year warranty
LED Battery Light Indicator

With built-in protection for over-current, over-voltage, and short-circuit;

Built-in protection for short-circuiting, over-current, and overvoltage.

2200mAh lithium power capacity battery and 4.2v charging voltage

Your apple watch 6-7 time full charging (power bank full charge)

Allows you to slip into your travel bag easily, great traveling and super compact design this product

Automatically detect your devices and very fast charging only 1 hour

It is an ideal emergency power pack for your watch, Smartphone, iPhone, and cameras

This product perfect choice for travelers

UGREEN Magnetic great charger for a smartwatch and phone
#4. MIPOW Apple Watch Charge and Powerbank with 6000mAh High Storage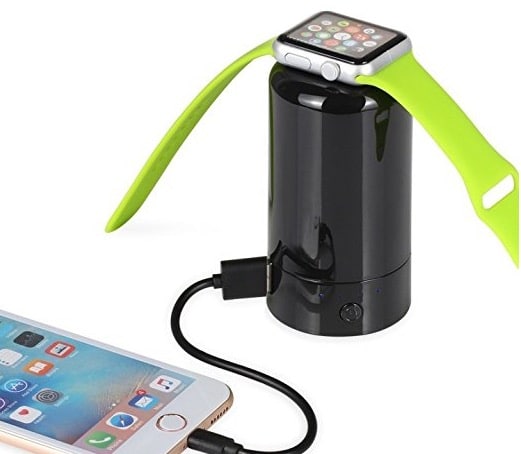 Portable charger 2 in 1 not only us as a charger dock this charger also supports charging your Apple Watch, smartphones, and iPad, tablets
Wonderful power backs up when you are outdoors.

This produces high power capacity Grade-A, Lithium Polymer Battery, power 6000mAh

One time charge and you are using many times and quickly charging your iWatch and cell phone.

4 LED Status charge indicator indicates the charging and discharging process.

One year Seller Warranty for

Now you have an option for using this power bank at the same time charging to apple watch and cellphone

Unique and stylish design, lightweight, and portable.Without losing fashion and is very suitable for your traveling and business trip
#5. STOON Apple Watch Charger Power Bank – Pocket-Sized and Travel-Friendly
Pocket-sized and cordless charging power bank
Up to 3 times charging Just drop your watch on the charging pads your watch wireless charge.

STOON is the Apple certified Exclusive high-quality design for the Apple Watch (Apple MFi certified)

Wirelessly charge on the go 1000 mAh power.

You to take this power bank with you anywhere and super stylish design

Apple Watch charger stops charging then your watch full charge. And battery indicates to show the phone charging 

STOON products have a limited 1-year warranty.

STOON Charger Power Bank is available in two Colors: Grey and White
#6. Reserve Strap: Extend Apple Watch Battery
Extend Battery charge when you wear it on your wrist that can be possible with a battery inside the watch band. Reserve Strap made from silicon band and covered by lithium polymer cells on the Band and Backside of the watch face.
As a result of this Watch Band, you can get extra power from the band. Finally, the unique concepts and comfortable in each moment of your life by reserve strip. You can just pre-order now from here, Price and dispatched date have been not fixed now.
You might also like: All Apple watch users must have these Best apps for Apple Watch.
Keep live yourself on the apple watch without battery drain, after being used by hundreds of apps on the Apple watch. In the recent update on the best Apple Watch External battery Charger above are the best, if we found the other alternate third-party external watch battery charger then we will update you shortly.