🗓️ November 20, 2020 By ✍️ Jaysukh patelThe fourth and third-generation Apple Watch has the latest characteristics and more additional functionality including built-in GPS + Cellular, Water Resistance efficiency to 50 meters, and fast dual-core processor. But to prevent its Case against accidental drop, dust and screeches you should cover your Watch case with Protective covers. Lots of cases and bands for Apple Watch Series 2 and Series 3 are available on the market, but we give you below the Best Apple Watch Series 3 Protective Cases.
Apple's New Apple Watch Series 5/4/3/2 and Series 1 are excellent, but would you like to make it tougher then let's see below listed Protective Case for Apple Watch Series 2.
Note– These all-Protective Cases are fully fitted with the newly launched Apple Watch Series.
The Top Best Apple Watch Series 5/4/3/2 Protective Cases and Apple Watch Series 1
#1. JETech- Most Protective Apple Watch Cases
To prevent Apple Watch Series 3/2/1 42mm from any damages, the JETech case is the best option. This case crafted with TPU material which provides shock resistant and scratch protection or protection against drops. Concerning flexibility, durability, and lightweight it is the best buy for iWatch users. It completely covers all the corners and precisely it has all cut-outs so that, it can be comfortable while using.
#2. Simpeak Protective cases for Apple Watch 5/4/3/2/1
The Simpeak's protective case provides a black strap band, and hence you only need to insert iWatch into this band. Polycarbonate material enhances the durability and flexibility of the band and also it has bezel armor in front of the screen which will prevent scratches. With its precise cut-outs access all the buttons and sensors.
It is comfortable for wrist size between 155mm to 225mm, and few color options are available for this protective case.
Check Simpeak Protective Case Price on Amazon
#3. pzoz– The Best Protective Cases for Apple Watch 3/2
pzoz sleek and slim rugged case is specifically designed for the protection of Apple Watch Series 3. Personalized your watch with this case and make it more stylish with the integration of the strap and case. It is synthesized with advanced polycarbonate, and TPU material which enables protection against drops or bumps or shocks and even it has an inbuilt screen protector for iWatch.
#4. iiteeology Apple Watch Series 3 and Apple Watch Series 2/1
iiteeology case is perfect, and stud for Apple watch regarding the protection and look. The material of the band is soft and friendly and also protects against scratches or shocks. To give a stylish look with extra protection to expensive apple watch, it is the best option and will also increase the durability of the watch. There are so many attractive color options are available you can choose one of your favorites.
Check iiteeology Price on Amazon
#5. Tearoke– Sturdy and Sports look Apple Watch 38mm/42mm
The Tearoke funky band is specially made for Apple watch series 3 to give a different look. The band consists of soft silicone material which enhances durability and provides comfort.
The buckle is made up of stainless steel which ensures the safety of Watch, and also it has air holes for breathability, and it can be adaptable for wrist size between 140mm to 200mm. A wide range of colors and patterns are available for series 3 watches.
#6. CreateGreat Apple Watch 4/3/2/1 Elastic Band
The CreateGreat Apple watch elastic band is manufactured using Silicon material which increases the flexibility of the band. It is mainly designed to prevent apple watch from damage and to give the user a comfortable fitting.
There are so many different colors, and patterns are available so that you can quickly select, and it comes with an 18-month warranty by the company.
Check CreateGreat Apple Watch Elastic Band
#7. UMTELE Apple Watch Series 2 Case Delivers Charm Look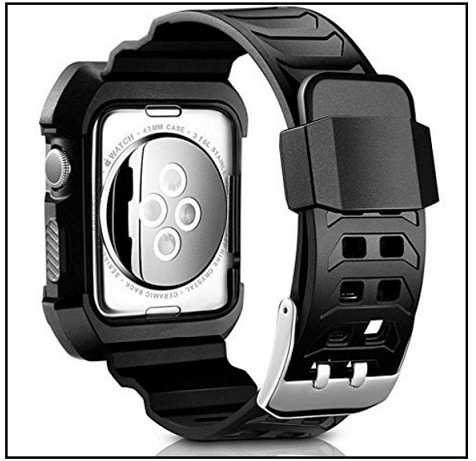 It is a rugged Armor Protective Case for Apple Watch Series 2, don't worry it is also compatible with the old generation Apple Watch Series 1. The engineer designs the Rugged Case, it gives promise that the Case perfect fit with Apple Watch. Easy to install, very convenient, enduring protection and secure case with iWatch strap bands.
This PC & TPE made a wearable case for 42MM Apple watch face model, and the same company Case is also available for 38MM Apple Watch.
#8. JULK Protective Case for Apple Watch Series 3
Give your new watch extra layer and keep it safe against bump, shock, and drop. This hard polycarbonate shell & flexible TPU made the case is very fantastic in look as well handy to install, not hard to access to all controls, buttons, sensors and Apple Watch highlights.
It does work as a multipurpose cause efficient for providing sports look and rugged shield. Therefore it will make your Apple Watch shock resistance.
#9. X-Doria 42mm Apple Watch Series 2 Case for Long-Lasting Protection
The Case is shipping with Standard structure and branded one for Apple Watch Series 1, Apple Watch Series 2, Series 3 & Apple Nike+. Made from the machined anodized aluminum exterior, Soft rubber lining so that metal does not touch your Apple Watch and this case delivers long-lasting assurance for the edges of the Apple Watch.
Check X- Doria Price on Amazon
#10. BeeFly Apple Watch Series 4/Series 5 Case with Strap band
Stylish design, super fit for Apple watch series 4/series 5, classic apple watch case with strap. Super easy to protect your lovely Apple Watch series two, Watch from shock and injury, the Soundest choice for those who love sports.
Please share with us that, Did you have any best Apple Watch Series 2 Protective Cases? Leave your reply in the comment box.