Last Updated on Nov 10, 2020
You must use your watch on Apple watch stand made for only that, due to many reasons most people expecting Best Apple watch stand for official and personal use or when he/ she away from the watch. In most of the cases are on sleep time, in Car or Office and home working desk. Not only stand but this stand also gives maximum protection from damage and as a liquid resistance. We know that apple watch not waterproof, in this can your personal responsibility is that stay your costly watch and Model Apple watch edition, Apple watch sports, face size(38mm to 42mm) on the perfect area.
Also useful: looking for the best Apple watch screen protector for 38mm and 42mm.
Top best Apple Watch Stand + Stay Charging Cable Ability
#1 Apple Watch Charging Stand + Dock by Griffin
Best accessories brand mainly apple's now ready to deliver Apple watch dock stand in min time. Griffin technology made good quality, designed, and perfect for iPhone and Watch stand at a cheap cost. Easy setup and extra cable wrap inside the facility will suit you which you are finding. Unfortunately, griffin will be sent to this product as early as possible.
#2. Integrated Cable Management Dock for Apple Watch
Getting awesome users to review on Colors options, Body material (Wooden, Aluminum, and Gun Metal). Just adjust you're when you want to charge or put as a stand. All night safe place for charging. The cable management slot lets you remove chaos among charging cable while keeping the Watch steady on the stand.
#3. Spigen Apple Watch Stand + Charging Dock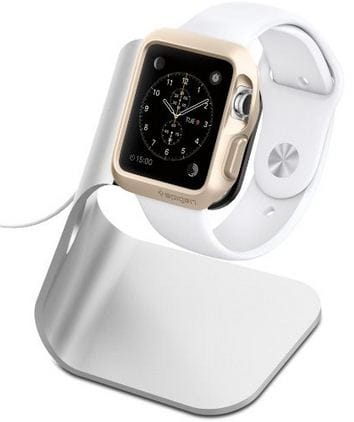 Light in weight (Made in the Aluminum body) but very stable on surface and Sock proof battery stand, Best viewing experience and Compatible with all Watch model. Totally branded and trusted accessories manufactured company "spigen". The top stand for Apple Watch is made up of Aluminum to avoid scratches, aside from this, you can use Apple Watch when connected to charging.
#4. Dual Combo iPhone and Apple Watch Charging Dock Stand
Easy fit with your iPhone all models and Best Apple watch stand (38mm and 42mm), Aluminum body material with very stable base stand. Stylish color code and power cable management perfect for you for charging and stand purpose.
#5. Tranesca Apple Watch Stand
Small in size compared to other Best Apple watch stand, multiple color options (Gold, Rose Gold, and Silver Gray). Best fits your 38mm and 42mm. The charging dock ensures your Apple Watch stays attach to the dock, as a perfect choice to keep the watch on the bedside. At a reasonable rate, you can grab this deal for Apple Watch.
⇒Check Apple Watch Dock Stand Price on Amazon
Please share with us, which stand you like most from the top Best Apple watch stand 2015 edition. Any suggestions and welcome notes are most welcome.
we are happy to help you, submit this Form, if your solution is not covered in this article.