Apple Watch Series 1 and Series 2, Apple Watch Series 3 can change band with a beautiful third-party band. The new replacement band categories is a Woven Nylon band. The band is inexpensive than Apple Watch Link Bracelet, Milanese loop, leather strap and other bands. We always tried to make your time gold and continuously works to collect the standard in Standard Accessories for Apple Watch.  Here, we offer some best Apple Watch Woven Nylon band that will give to your Apple Watch fresh look. Lifestyle changes and looks good on Aluminum Apple Watch. All bands are available in Vibrant colors.
The Band for Fresh look – Best Apple Watch Woven Nylon band
1. Benuo Nylon Band for Apple Watch
we are happy to help you, submit this Form, if your solution is not covered in this article.
There are much more benefits of adapting nylon bands for Apple watch. Like, its unique design and color, long-lasting property, perfect fitting in hands as well as on watch and much more. It is very easy to install using small screwdriver which is already included in the package. The people with the wrist size between 140mm to 225mm can use this band.
Click here to buy → Benuo Nylon band for Apple Watch
2. VIGOSS Apple Watch Woven Nylon Band Waterproof
The VIGOSS band is made up using nylon material, and firmly buttons empower quick lock and unlock of the band. The connectors are very safe and secure and do not contain any screw, and so it will prevent watch from falling. Nylon material is soft and durable which results in huge comfort compared to other bands. Zulu rings and buckles create a better impression and make it more adorable. It is available in different colors so that you can select one of yours.
Click here to buy → VIGOSS Apple Watch 3 nylon band Waterproof
3. SELLER360 Supported band with any model of Apple Watch
The specialty of buying this band is you can use this band with any model of Apple watch. The band is made up using high-quality nylon material which makes it more smooth, breathable and stretchy. Personalize and make Apple watch different from other by purchasing this band and enjoy long lastly. It is compatible with the wrist size between 145mm to 215mm.
Click here to buy → SELLER360 band add to cart
4. Tentan Pearl 
Woven Nylon Strap Replacement
The primary advantage of wearing nylon band watches is it provides a lot more convenience than other bands. These bands are woven with nylon material, and each band consists of more than one color in the single band, so it makes it more fashionable. A lot of color options and designs are available for this band.
Click here to buy → Tentan Nylon Band for Apple Watch 2017
6. Bettercone – Band for Apple Watch 3
There is no better deal than Bettercon because this deal offers three different color bands in one pack at low cost. It is comfortable with the wrist size between 125mm to 195mm. Nylon woven of the band allows to fit on the watch and wrist without any risk, and they have good grip which prevents from falling of watch. Overall it is the best buy, and every apple watch user must try this elegant bands.
Click here to buy → Bettercone Apple Watch 3 nylon band
7. Woven Apple Watch Nylon Band by Apple: 42MM or 38MM
Apple's officially launched new Nylon Band on Amazon in different colors option. Use this unique, fashionable four layers durable fabric feel band for your 38MM and 42MM model. Best reviews and User experience on wrist make it's worth for your Series 1 and Series 2 models. Also fits on any models Apple Watch, Sport and Edition.
Order Now – $44.00
8. Carterjett, NYLON NATO Apple Watch Band

The Carterjett offers a band straps which is woven using nylon for Apple watch series 3. The premium nylon material has so many useful properties like the soft band, waterproof, durable and flexible which is a desire for every iWatch user. It is effortless to connect with apple watch without any tool, and you don't have to worry about the safety of Watch after applying it. For this band different size and colors are available.
Woven NATO Nylon band for Apple Watch with High quality steel buckle clasp. Smooth edge and Scratch resistance comfortable straps in lightweight, the waterproof and durable band for apple watch series 1 and series 2. Great security, Easy to replace any time without any tools. US-based manufacturer, Great customer satisfaction and Quality for users satisfaction and relationship.
Order Now – $23.99
9. Cool Woven Nylon Band for Apple Watch
This third-party nylon band is made from the fabric material, that's sturdy, looks charming and durable to wear for a long time. Comfortable to install and replacement for an alternative band.
It comes with preinstalled adaptors but doesn't worry that will not affect on any sensors (likely heart rate) of your Apple iWatch. This 42mm Apple Watch woven nylon band available in Black, Pink, and Pearl color.
Add to bag: Amazon offers
best Apple Watch Woven Nylon band in the UK: Order it here
10. High-quality Woven band for Apple iWatch
Apple Watch wristband offer and designed by the third-party manufacturer. Classic buckle style replacement band is specially created for Apple Watch.
Elegant craftsmanship will enhance the experience and extend your wearing. Pick a nice color from available Grey, Red, Black, Red. The Apple Watchband for men and women.
Add to Cart: Deals
Apple iWatch band UK: Give Order here
11. Cute Apple Watch band good suits on Casual Wear Clothes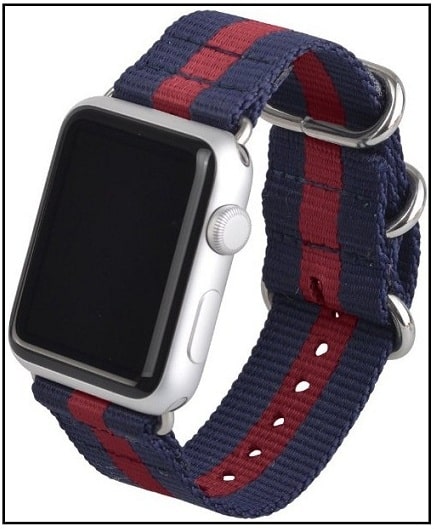 The youngsters most liked this type of casual look Woven nylon fabric replacement strap. The nylon strap changes the lookout of iWatch with its unique pattern and color. Various nylon straps are available, and with them, you can personalize your watch as you wish and make it more comfortable. It consists of stainless steel buckle which ensures the security of watch and secure fitting and is easy to install in iWatch and also remove it with one button.
Add to bag: iWatch Band with Adaptor
Liked post? Share it. Do you have any top best Apple Watch Woven Nylon Band not mentioned above? Please write in the comments below.
Premium Support is Free Now
We are happy to help you! Follow the next Step if Your Solution is not in this article, Submit this form without Sign Up, We will revert back to you via Personal Mail. In Form, Please Use the Description field to Mention our reference Webpage URL which you visited and Describe your problem in detail if possible. We covered your iPhone 11 Pro, iPhone 11 Pro Max, iPhone 11, iPhone 8(Plus), iPhone 7(Plus), iPhone 6S(Plus), iPhone 6(Plus), iPhone SE, iPhone 5S, iPhone 5, iPad All Generation, iPad Pro All Models, MacOS Catalina or Earlier MacOS for iMac, Mac Mini, MacBook Pro, WatchOS 6 & Earlier on Apple Watch 5/4/3/2/1, Apple TV. You can also mention iOS/iPadOS/MacOS. To be Continued...
Get More:
Best Apple Watch 3 Protective Cases
Jaysukh Patel is the founder of howtoisolve. Also self Professional Developer, Techno lover mainly for iPhone, iPad, iPod Touch and iOS, Jaysukh is one of responsible person in his family.
Contact On: [email protected] [OR] [email protected]