Last Updated on Sep 14, 2023Are you looking for the Best Battery Cases for iPhone 8 Plus? These Slim power battery cases are rechargeable and easy to use for quick fuel or connect to the power supply without cable or Power bank. Quickly find the top Battery Cases for iPhone 8 Plus because it's enormous in demands and limited-time deals on Amazon live now.
Every day in the market of technology some new and innovative gadgets launches. Previously we used to buy classic cases that give better protection against scratches or hard impacts for iPhone. But now with all this, the Cases are featured with a power bank that enables you to charge your device anytime anywhere.
These kinds of cases are rugged to prevent damage and quite slim so that a person does not feel bulky and can conveniently carry it. There are several energizing cases are given below for iPhone 8 and iPhone 8 Plus so that you don't have to go through dozens of other Cases. Once you check all these Cases and must by if you have iPhone 8 or iPhone 8 Plus.
Selected List of The Best Battery Cases for iPhone 8 Plus
#1: Swaller iPhone 8Plus Battery Case
Protect iPhone 8 and 8 Plus with charger cases along with a massive battery backup for it. These battery cases are as much as healthy like other cases, but the new charging features differentiate it. It has an extraordinary battery of 5500mAh which can completely charge the device once.
On the back, the case has a beautiful slope with the power button to operate the charger and also indicators that show the status of the battery. Conveniently carry it anywhere anytime with hard protection and excellent battery backup.
---
#2: VOOE Battery Case iPhone 8/ 8 Plus Portable Charging case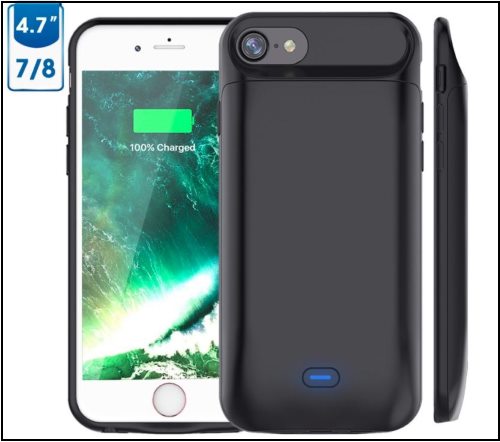 Keep your latest iPhone up to date with VOOE Battery Case. Excellent design with innovative shape and featured with advanced LED light indicators which shows how much battery is remaining in the case.
The Case structured with magnetic metal which is helpful in defending hard struck as well as it works great with a car mount. Without removing the power Case, you can charge the iPhone efficiently.
---
#3: OMEETIE – External Portable Power Case for iPhone 8 Plus
Give a stylish look with so many features to your iPhone 8 Plus. The case synthesized with hard TPU material which can resist high impacts and prevent the device from damage.
The charging case consists of the long-lasting battery to charge devices so that you can enjoy movies or play music without worrying about a charge. Just press and hold the button on the back of the case to turn on charging and similarly to turn off it.
---
#4: i-Blason Battery Case for iPhone 8 Plus/ iPhone 8
This #1 Rated Battery case (Protective) from Quality and Protection on Design & Durability. Get Full charge your iPhone 8 Plus. Also Access and use all other input (Volume button) and Output ports (Speaker, Cameras, and Sensors) and switch. Case Designed for minimal bulk compared to other charging cases.
---
#5: Mophie– iPhone 8 Plus External Battery Case
Mophie's atomic power case is specially made to increase battery backup of the iPhone 8 and to protect it from hard knocks with a stunning look. With the battery of 2420mAh, it can add an extra battery of about 60%.
The charging of the battery case and iPhone can be done simultaneously with micro-USB cable. Experience growth in the battery of the device with an elegant look.
---
#6: JERRS – 6500 mAh Battery Case for iPhone 8 Plus
JERSS presents a longer and attractive and slimmest charging case for iPhone 8 Plus with a durable 6500mAh battery. The additional lights near the front and the rear camera make it different from ordinary Cases.
These lights will fill your pictures and selfies with more light and enable/disable these lights just press the power button of the charging case twice. The strong magnet makes the device stable in magnetic mounts and avoids drops.
---
#7: HETP – 8500 mAh, Double Charge Battery Case
The 360 degrees perfect round design and hardback plate guard the device against bumps. Along with protective ability, it has a battery backup of 8500mAh which is sufficient for iPhone 8 Plus.
Get rid of small scratches on the body and use the device without worrying about damage or battery discharge, go seamlessly with the iPhone. Hastily press the power button on the back of the case to turn on charging and also get notified by the LED about the status of the battery.
---
#8: Wellerly Selfie Light Cell Phone Case for iPhone 8Plus

Get rid of the bulky and thick charging case, bring Base us charging case for iPhone 8Plus. Quickly turn on the lights and get yourself ready for the perfect selfie in light. Alongside this, you can deliver great protection to iPhone 8Plus. Adjust light sensitivity right from the case, tap button and change brightness of the light.
Also, Buy useful Accessories for iPhone 8/ 8 Plus
Pick your Favourite one from the top best Battery case for iPhone 8 Plus in Extended Battery tricks.