Best Cases for iPhone 5 and iPhone 5S/SE in 2020
You can Select from this post stylish case for Apple iPhone 5 and iPhone 5S. Such as PU leather case, 3D design cases, Fiber case, Graphics particular design cover in the beneath given Showcase. These Best Case are compatible with both iPhone 5S, and iPhone 5 cause have come in the same size screen. Defiantly, as we recommend to the Apple iPhone user that sometimes iPhone dropped on the floor during a time some people reported they lost their iPhone screen, Camera mistake, and more. Since that you should ready to avoid this problem in advance before happen with you. So buy the best protective case for Apple iPhone 5 or iPhone 5S and stayed overcome from the trouble.
Best in Deals: Shop iPhone 5S Cases with Free Shipping at OtterBox.com!
Best Cases for iPhone 5 and iPhone 5S
Pick Best cases for iPhone 5 and iPhone 5S 2015 and make it yours. Give outer Protection to your valuable Apple iPhone 5S or iPhone 5 through unusual cases. You can get here the variety of cases for Apple iPhone 5S and iPhone 5. Plastic cases, Best wallet cases for iPhone 5S and iPhone 5 with good design and color.
#1. Cell Ever Black Protective dual guard case for iPhone 5,5S and SE
Best Apple Design for iPhone5,5S and iPhone SE. Survived Six Feet Case technology absorbing. This product is a Survived six feet drop test without a scratch on a device. Dual protection layer-scratchproof PC outer cover and inner absorption shock TPU layer secure and protected your iPhone SE and iPhone 5. Lightweight and Slim case for iPhone 5 and control and superior protection provided. Access Improved Peripherals: iPhone 5s or iPhone SE still you able rear-facing cameras and headphone access, power button, port, volume control & both front easily access
#2. Shockproof EXSEK Hybrid Ultra Slim Impact Case
EXSEK hybrid Case Specially Design for iPhone SE and 5S/5. Your iPhone to 100% perfect protects and easily to remove and install. Comfortable in hand Easy access to speaker bottom port and camera. Free return policy and lifetime Warranty your case. Not comfortable for iPhone 5C. Quality high and hybrid TPU rugged iPhone case three colors available. Snuggy and smooth feel when your phone grip with this case. Feel Snuggy & smooth, mechanical unique design, and lightweight. Non-slip grip an especially provide.
#3. IP68 Certificated Underwater Waterproof iPhone 5/5s/SE Case by Spider Case
Manufacture material used top-level TPU and scratches protection provide. The case comes with a sensitivity high touch screen protector built-in. The transparent back & front cover for enabling high-quality camera lenses and high-definition Videos & photos. Dirty dust shock Enhancement on Sound Quality  Protection full-covered outdoor and water sports feel free to enjoy your skiing, swimming, driving, other outdoor activities & daily use.  iPhone 5S and SE perfectly fit. All controls and buttons, like cameras, touch ID and speakers, mute key power button, volume buttons, and charge port, great work like is no case. Please use original iPhone 5S, 5 and SE corresponding size cables or earphone and charge
Spider Case Bumper Case for iPhone 5S/ 5/ SE
#4. Apple iPhone SE ARMOR Case by ULAK
Perfectly Designed for Apple iPhone SE case. Buttons and all the parts easily access. Only iPhone5 SE and 5s and another version not compatible. Hybrid design inner case hard plastic used. Shock durable, absorption, and sturdy your phone protected from scratches, dust, fingerprints, abrasion, and collisions. Good and unique design, delivery well packaged this case to protect your iPhone SE/5S/5.protection affordable for itself.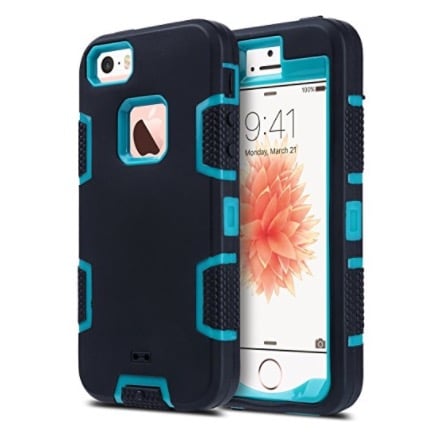 The benefit of Best cases for iPhone 5 and iPhone 5S are shown below.
The case gives extra protection of your Apple iPhone against unwanted scratches, drops, dirt, and other accidental damages. It's granted to your Cell phone or device double-layer security and durable protection. Easy to remove and simple install facility. You can find your color choice case according to your iPhone color. You can charge your iPhone with case – because all cases are available with cut out for the ports, button and charging port.
See Price and more details by clicking on a product link and buy which you like most. Every case bet fit on your iPhone as well it can enhance your iPhone look. Share your experience with us after using a case that is given above. Best cases for iPhone 5 and iPhone 5S would you like to buy.