Last Updated on Nov 10, 2020
Get the best Clear MacBook Pro Cases. The MacBook is always the first choice of professionals as it is a beautiful and of course productive laptop by Apple. Whatever model of MacBook you have but when you add some accessories it will make your experience much better. Tons of accessories are available but they are purchased by the user as per their occupation or need. Also, give security to your precious tech with the Best Clear Cases for Apple MBP.
we are happy to help you, submit this Form, if your solution is not covered in this article.
One of them is the case which does not depend on your profession every person invests some amount in a case in order to get protection. So today we have tracked down and listed one type of case among different categories. Spend some moments and safeguard your MacBook Pro by getting the best deal.
Best MacBook Pro 13 inch clear Protective Cases: Shield your Macbook
#1: Clear Case by Mosiso for MacBook Pro 13
Mosiso's hardshell case is suitable for the two newest models of MacBook family one is A1706 and A1708. Simply just snap on to the MacBook and within minutes the case will attach on it. The rubberized outer surface makes this case comfortable when you carry and it really feels good in hands.
Besides, it will cover the whole body of the MacBook to avoid shocks and scratches on the body. Secures device from heating and also the case is touch bar/touch ID compatible. Additionally, the pack includes one screen protector with this case.
#2: iBenzer Protective Clear Case
Create a good impression on others by showing up the MacBook Pro along with 360-degree protection. iBenzer's clear case for MacBook Pro is fabricated with hard plastic yet it has a soft texture and lightweight.
Like your MacBook Pro is slim and sleek so the case is, when you cover up the MacBook with this case it will maintain the slim profile with an elegant look. The micro clips enable you to easily install and snaps off when needed. Get advantage of every slot and port with its precise cut-outs. The rubberized balls under the case maximize air circulation to avoid damage.
#3: HDE Clear MacBook Pro Case
HDE has won the heart of so many MacBook Pro users and gained the title of Amazon's choice on this product. If you are hesitating to stick vinyl stickers, movie characters or decals on MacBook to decorate MacBook, don't worry get this case and stick on it.
All you got with this cover is the best quality, lightweight, superior PC material; scratch free MacBook and much more. With proper ventilation in case, the MacBook will remain safe from heating and also precise cut-outs play an important role to make user experience awesome.
#4: i-Blason Frost Clear MacBook Pro Case
i-Blason introduced the hardshell case with matte finishing for MacBook Pro 13". The matte finish is helpful in resisting scratches and slippage when you carry. Specifically designed for MacBook with the full accessibility of ports, type-C port, headset without the need of removing the case.
When you run any electronic gadget, it requires proper air circulation otherwise it may heat up and damage any part of the device. Since MacBook is also an electronic machine, engineers have done their job by providing ventilation and so to make this successfully this case is also synthesized with proper vents for heat dissipation.
#5: ProCase Hardshell Case for MacBook Pro
Variety of cases with different colors and patterns are available in the market but if you want a simple but elegant case then ProCase is the best choice for you. The case is ultra-thin and lightweight with great transparency for an amazing look.
Along with this case, you will also get a matching keyboard cover for complete protection. The rubberized soft coating protects the device from scrapes and scratches with the fully vented body to avoid overheating issues. Various colors are available if you don't want frost clear then you can choose from many.
#6: KUZY Clear Case for MacBook Pro
Shine your MacBook pro with KUZY clear case with all-around protection. Snap-on and snap off whenever you want, as many times the quality will not degrade.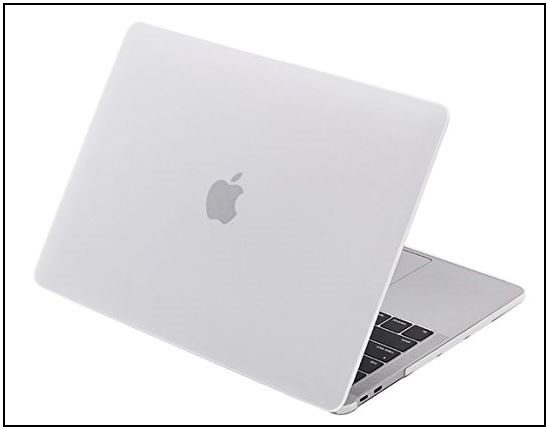 Carry fearlessly it will not fall, the case looks simple and plain but it is coated with rubber to make it handy. Also, we can call the material as a matte finish surface and also the Apple logo will shine from the case, just think how awesome it will look. Easy heat disbursement will save important parts from damage. Don't think much, if you like this case go for it.
#7: Fintie Case for MacBook Pro 13
A Case like Fintie for MacBook Pro 13 is a must, to avoid dust, and scratches and keep the pristine condition of the machine for a long time. At only $14, you're getting the best hardshell case with extraordinary protective features. The easy snap-on design effectively covers the MacBook Pro, at the same time, it has ventilated safe heat disbursement to prevent overheating while using the MacBook for a long time.
Check Fintie Case Price on Amazon
#8: Dongke Plastic Hard Shell Case
Adding $5 more, you'll get a complete kit to protect the MacBook like, Keyboard Cover, Plastic Hard Shell Case, Port Plugs, to resist the dust and other particles. They've shown the pictured demo on how to install the hardshell case on MacBook Pro if you don't know how to do it, prefer the guide and learn to install it. The Plastic Material keeps the MacBook Pro light and delivers the same protection to the laptop against all of your daily wear and tear.
Check Donke Plastic Case Price on Amazon
#9: Batianda Wave Pattern Clear Case
Batianda manufactures an adorable clear case with adding a pinch of design/pattern on the laptop. You can choose from over 30 different patterns, all perfectly fits with the MacBook Pro, though cross-check the model number with the case, to avoid further issues. Two-piece installation facilitates quick and easy installation without harming the exterior of the MacBook.
Check Batianda Price on Amazon
#10: Elago Ultra Slim Case
Elago is California based accessories brand doing its best to improve the protection to the MacBook and other products, by producing great cases, at a reasonable rate. It costs around $20, but once you're with this case, you don't need to look back for another case. It's a simple design ensuring all-around safeguard to your MacBook, adding just 1mm thickness to the laptop. The four rubber feet beneath the MacBook keeps the laptop intact even though you're working on a slant surface.
A list is enough to select the best of the Best Clear MacBook Pro Cases. Like it! Share it! And subscribe to us on youtube, Like on Facebook and Follow on Twitter.