Last Updated on Mar 19, 2020
Are you avoiding cable or other transfer apps in your iPhone, iPad and iPod touch or on other smart devices, Then you must go with a smart external drive that helps transfer data (File, audio, video, and picture) from one device to other, Very eye-catching design, Smart work on all device and easy to accessible on Wi-Fi (Wireless) or via USB cable from the user's review and friends suggestion I nominated best External drive for iPhone 6, iPhone 6 plus, iPad, iPod touch and other Smartphone in best deals.
we are happy to help you, submit this Form, if your solution is not covered in this article.
You can also buy Top Best External Drive for Mac: 1 TB, 2TB, 3TB up to 5 and 8 TB.
Best External drive for iPhone 6 and iPhone 6 plus: 5/ 5S and other smart devices
#1. SanDisk Wireless USB drive for Smart device
This is #1 accessories Manufacturer Company's Wireless external drive for your iPhone, MacBook, iPod, and iPad. Through this device we can share all the media files over the air without USB cable, inbuilt battery capacity up to 4 hours, iOS 5 or later and Android version 2.3 or later compatible device.
#2. WeStorage External drive for iPhone, iPad, and iPod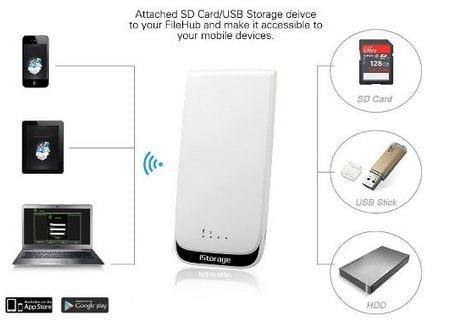 Share and access data from any device to other devices via a wireless external drive, WeStorage giving the wide option to store and access as a Flash Drive, External HDD, fully Wi-Fi device with power bank store up to 5000nAh. Feel free and accessible anywhere and anytime as a connectionless service. This device also works as a router by joint with external internet through WLAN. Large discount Don't miss to buy.
#3. USB Flash drive for iPhone, iPad, and iPod – Other smart devices
Small in size, No power consumption, and no setup for use, No need any USB cable. Just plug with 8 pin connectors directly to your iPhone, iPad, and other smartphones. Do any operation Copy, Paste, Delete, rename, Edit from the device directly. You can also take backup in the device directly and restore it on other devices. This drive is available in 8GB, 32GB, and 64GB.
#4. Only For apple device: Best external drive
Only for your apple family, you can use this drive as best use compares to other Best External drive for iPhone 6, 6 Plus and iPad, MacBook. Playback video, music, from the external card slot, 8 Pin port, and USB wire can help transfer data from iOS devices to other devices or USB devices faster way.
#5. ZSUN 64 GB external drive for iPhone and other Wi-Fi devices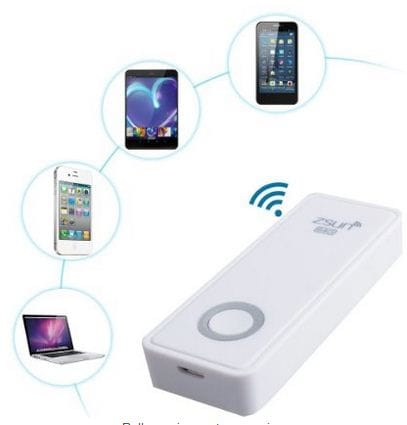 Up to 8 devices connect at a time and use for data transfer over Wi-Fi. Live stream video, Chargeable, access through USB 2.0, Up to 50ft+ on the distance you can share anything with this drive securely.
Premium Support is Free Now
We are happy to help you! Follow the next Step if Your Solution is not in this article, Submit this form without Sign Up, We will revert back to you via Personal Mail. In Form, Please Use the Description field to Mention our reference Webpage URL which you visited and Describe your problem in detail if possible. We covered your iPhone 12, iPhone 12 Pro, iPhone 12 Mini, iPhone 12 Pro Max, iPhone 11 Pro, iPhone 11 Pro Max, iPhone 11, iPhone 8(Plus), iPhone 7(Plus), iPhone 6S(Plus), iPhone 6(Plus), iPhone SE, SE 2(2020), iPhone 5S, iPhone 5, iPad All Generation, iPad Pro All Models, MacOS Catalina or Earlier MacOS for iMac, Mac Mini, MacBook Pro, WatchOS 6 & Earlier on Apple Watch 6/5/4/3/2/1, Apple TV. You can also mention iOS/iPadOS/MacOS. To be Continued...
Let's know which one likes you most from the top Best External drive for iPhone 6, iPhone 6 Plus, iPhone 5, iPad, iPod touch, and Android device or other Wi-Fi devices.