Here best HD wallpaper apps for iPhone, iPod and Apple Watch. Are you struggling to find beautiful background for your Apple iPhone? Then henceforth, you haven't need to do more struggle cause, here I'll give you stunning top HD wallpaper apps for iPhone and iPod touch. So pick daily new live/moving wallpaper from an app, and set it as your iPhone home screen and lock Screen wall. In addition, you have an option to download and save them in your Photos app.
If you're a big fan of animated/ Moving wallpaper and want to set that on your iPhone then you can do it, but don't forget that will use much power than still wallpaper. However, you can keep it but we recommend you should have reliable external power bank for iOS 9 device. Let get at below six best HD wallpaper apps for iPhone, iPod.
Get More: Top wallpaper apps for iPhone 6, 6 Plus, 5S
Best HD Wallpaper apps for iPhone, iPod Touch: Brand new wallpaper everyday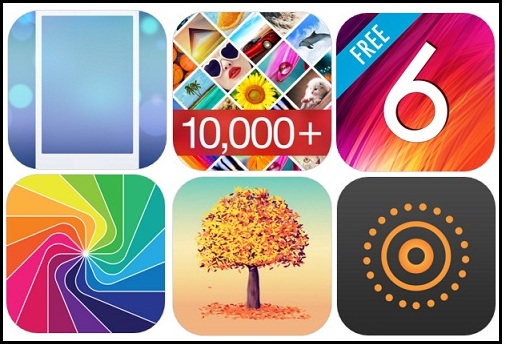 Wallpapers & Themes
It's a nicely supports with iOS 9 device and free wallpaper app in them you will get ultimate collection of wallpapers like Halloween day, new-year 2016 wallpaper, holiday wallpaper, merry Christmas and so many beautiful categories of background papers like Minimal, Abstract, Cartoon, Sci-Fi, Animals, Sports, Nature, Cities, 3D, Themes. In Addition, you can download your most like wallpaper just tap on save button and access it from iPhone photos app.
If you've an Apple Watch then you can also set wallpaper on it using same app. So download this free HD backgrounds app for your iPhone or iPod and use it for your Apple Watch too; And make your iPod and iPhone background cute, gorgeous.
Best wallpaper app for iPhone 6S, 6S+: Download from iTunes
10000+ Wallpapers
In this app, there are tons of categories so you can get your favorites. Sports, funny, Cars, romantics, inspirational quotes, flowers, illustration, Actors, Actresses, Brands, Calendars, Animal, Anime, Art, Basketball, black & white, Cats, Celebrities wallpaper, Colors, country, Cute, dogs, Fashion, Holidays, Girls, Love, Game, Motivational, Music, Nature, Landscape, Soccer, Spiritual, TV Show, Textures, USA and much more.
Important thing is you can upload your own wallpaper in the app as well as option available to share in social network. Before downloading wallpaper, you can also check preview for lock and home screen.
Free wallpaper app for iOS 9: get it here
Moving Wallpapers for iPhone 6S, 6S plus
Get moving wallpapers of new year, Christmas, basketball, football, rockets and photography in free of cost. But if you want to access more different contents background like stars, forests, Pokémon, Drgonball, Space, star wars, Architecture, Gundam wing then you'll need to pay mean pro version app
Cool HD wallpaper
The Cool Wallpapers HD app will give you 20,000+ sheets and that's compatible with iPhone 6S Plus and earlier all iPhone modals. So add wallpapers to your favorite's folder and browse through them at leisure.
Wallpapers HD
Get new themes and 1080p backgrounds daily at Wallpapers HD. Ultimate collection for iPhone lock screen, home screen and avatar wallpapers. You will get day-to-day fresh retina wallpapers. It's really reliable best hd wallpaper apps for iPhone, iPad and iPod Touch.
Live Wallpaper
It is a special live wallpapers for iPhone 6S and iPhone 6s Plus. Once download this animated wallpaper app on your iPhone and choose a sleek background from catalog and save it as wallpaper, when you 3D touch your screen it will start animating.
Get bottom other three best live wallpaper apps for iPhone and iPod Touch.
Get More: how to set wallpaper in iPhone 6S & 6S Plus?
Do you have best HD wallpaper apps for iPhone 6S, 6S Plus, iPhone 6/5S? Please share it in the comment box.
---
---