For the sales person, Marketers or Business users use this height adjustable desk for easily manage all devices on your height, that's boost your work efficiency and performance by comfortable access your MacBook/ Mac, PC or iPad/ iPhone and many other valuable accessories at one place. Recommended Best Height adjustable desk for Devices are Very stable on heavy weight load, Easy to move on another place, Auto mechanism easy for setup anywhere or anytime alone.
Make your workstation more enjoyable and comfortable for operate any device from single sit. That's you can setup at your home or office.
we are happy to help you, submit this Form, if your solution is not covered in this article.
Top best Height adjustable desk for devices for home/ Office
Varidesk Height adjustable desk
Two tiers Portable clean and big surface for adjust multiple monitor screens. Heavy bases always care your device on maximum height or total weight. Spring Lifting mechanism easily adjust using own self. On the first compartment, you can stay MacBook, iMac or other device. And other input devices (Keyboard, Mouse or Speaker, iPhone and other) on second lower stage compartment.
For the setup and installation no extra tools required: Very satisfied users experience, that's you must try.
Readydesk 2: Wooden Adjustable Desk
Superior quality, Hard and light weight/ Strong height adjustable wooden table, made in USA for the professional. Turn your simple desk in to height stand up to 5'5" to 6'3" people. Perfect for monitors and laptops, Award winning design.
From less stress and neck movement done all job easily.
X-Elite Pro, Portable height management desk
Make your simple desk in to height adjustable, professionally useful for presentation, Classroom or in seminar. Design for heavy desktop screen placed with Keyboard, Printer, Mouse or Paper Notes. No extra assembly, Accessories. Full support and recommendation from reviews for use it.
USA: Order Now Amazon ($289.98)
Lorell Sit to Stand Monitor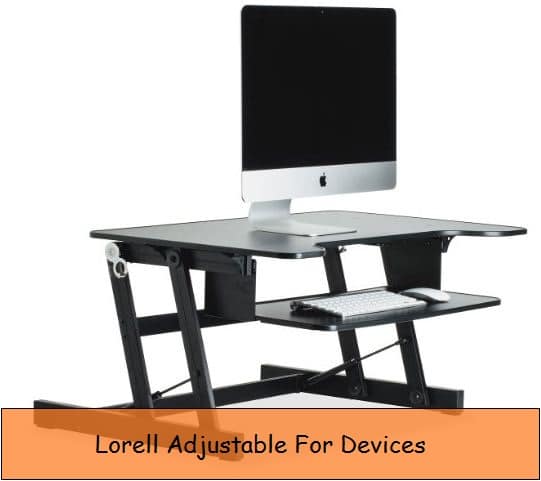 Multi-features stand for use on ground or from table to your height level, the large space area more enough to keep two computers and a Laptop side by side. Gas spring, easy to move desk up and down on your height. And also keyboard compartment. Great customer service and return policy.
Stand Up Desk Store monitor mount
Full height cover through by stand from ground to your height. Easy to Adjustable height management stand or desktop monitor desk. Silver powder coating finish on stand, 360 rotatable wheels easy to shift whole setup over ground. Not to lift on your hand, Just push in to the direction, where you want setup.
USA: Order From Here ($199.00)
Above is the great list as a best option in Height adjustable desk for Devices (Mac/ Desktop, Laptop/ MacBook, iPhone/ iPad stand, Keyboard/ Mouse/ Speaker etc) you at your Home/ Office.
Premium Support is Free Now
We are happy to help you! Follow the next Step if Your Solution is not in this article, Submit this form without Sign Up, We will revert back to you via Personal Mail. In Form, Please Use the Description field to Mention our reference Webpage URL which you visited and Describe your problem in detail if possible. We covered your iPhone 11 Pro, iPhone 11 Pro Max, iPhone 11, iPhone 8(Plus), iPhone 7(Plus), iPhone 6S(Plus), iPhone 6(Plus), iPhone SE, iPhone 5S, iPhone 5, iPad All Generation, iPad Pro All Models, MacOS Catalina or Earlier MacOS for iMac, Mac Mini, MacBook Pro, WatchOS 6 & Earlier on Apple Watch 5/4/3/2/1, Apple TV. You can also mention iOS/iPadOS/MacOS. To be Continued...
Jaysukh Patel is the founder of howtoisolve. Also self Professional Developer, Techno lover mainly for iPhone, iPad, iPod Touch and iOS, Jaysukh is one of responsible person in his family.
Contact On: [email protected] [OR] [email protected]