Last Updated on Nov 10, 2020
iMac Pro has gained a lot of attraction in past days because of its distinct structure and functionality. Now we need the best iMac Pro Stands that care and protect, listen to the reason why? The iMac Pro is much costly as you know its price ranges from around $5K to $14K, which is not negligible. In case any of its external or internal parts will damage think how much it will cost. So it is better to take some precautions by investing in useful accessories.
we are happy to help you, submit this Form, if your solution is not covered in this article.
One of the protective peripheral for iMac Pro is a stand, where you can place it safely. The positions are designed very attractively to make it a better companion of iMac Pro. However, you will be provided with some ports to charge the devices and some holdings where you can place your iPhone or glass or bottle. Below stand are compatible with all size tested on Apple 27 inch monitor.
Best iMac Pro Stands: Height Adjustable Stands For Big Size Apple Display
#1: Twelve South: Apple Display Stand [iMac Monitor Stand]
Locate your iMac to get an optimal and convenient view by placing on this stand. A small hidden desk is given under the office to put your pen drive or personal items in it.
If you have gray colored iMac, then you should go for this deal and make your set up marvelous. The stand is only designed for iMac up to 27" inches.
Best iMac Pro Stand with Desktop Storage, Keep Small Gadgets and Paper inside it.
To Buy: Order on Amazon
#2: Hemudu- Tempered Glass Stand for iMac Pro
Hemudu's stand is well known from his design and quality with a fascinating texture and White, Black shade. When you adjust iMac on the position at your comfort level, you will never get bored while working on it.
Smartly design and the stand is made of a single piece with a huge compliment space under it. In an additional place, you can safely put your stuff such as a keyboard, pen, iPhone, laptop or any stationary comfortably.
To Buy: Order On Amazon
#3: Satechi iMac Pro Stand
Every company has a specialty in some accessory, and they are well known for them. Like that Satechi is eminent for iMac stands.
This stand is cleverly designed to establish iMac on it along with some needy equipment like a mouse, keyboard, laptops, etc. Even you can put the devices on it which are under 31lbs without any harm. The stand is made up of aluminum, and it has an incredible aluminum touch on it which is perfect for iMac pro.
To Buy: Order On Amazon
#4: SONGMICS iMac Wood Stand
If you want vintage kind of stand for iMac Pro, then I will suggest you buy this. The stand is fashioned with eco-friendly bamboo with excellent finishing.
Besides iMac, it has different compartments on which you can place the iPhone and glass or coffee cup. Bring this stand and get rid of neck and eye strains with such an ergonomic pattern which will enhance your work at such a low price.
To Buy: Order On Amazon
#5: FITUEYES- Professional Stand for iMac
FituEyes's stand is the best choice for a business purpose, and it will look great on your desk. The stand is contrived of a glass panel on which you can place iMac and support are made up of steel and aluminum alloy which handle weight up to 100lbs.
The sturdy material allows you to make a home for devices up to 32" inch safely with minimalist design. Bring your iMac up to three inches and work reliably on your desk.
To Buy: Order On Amazon
#6: Royal Craft Wood: Wooden Stand for iMac
A stylish and stunning monitor riser for iMac pro with around six compartments is here. Slots for smartphones, iPhone's, iPad's, tablets, laptops, and other such devices can be organized on it.
The finest wooden is used to give such an elegant look with high stability and durability. Manage your iMac, laptops, PC (up to 27"), fax machines and other utilities up to 100lbs.
To Buy: Order On Amazon
#7: HUANUO-Adjustable iMac Pro Stand
HUANUO's monitor riser is defined to give complete relive for iMac Pro buyers. The unique feature of this stand is you can adjust the height as per your requirement with its plastic legs to 2.7", 4.1" and 5.6" inches.
Remove and add the legs to adjust the height as per your convenience. The beautiful MDF surface can hold the weight up to 66lbs. A multifunctioning compartment can hold iPhone or tablets or pens on the table.
To Buy: Order On Amazon
#8: Eutuxia- Glass Stand for iMac Pro
Get an increment in connectivity with its three USB 2.0 ports. This function you will never find in any of the stands. This universal organizer is a perfect solution for your office kinds of stuff and iMac Pro too.
After buying you can quickly set up and manage all your external peripherals such as speakers, keyboards, mouse, and iPhones. Its ultra-strong glass can handle up to 20lbs on it.
To Buy: Order On Amazon
#9: AboveTEK- iMac Pro Acrylic Stand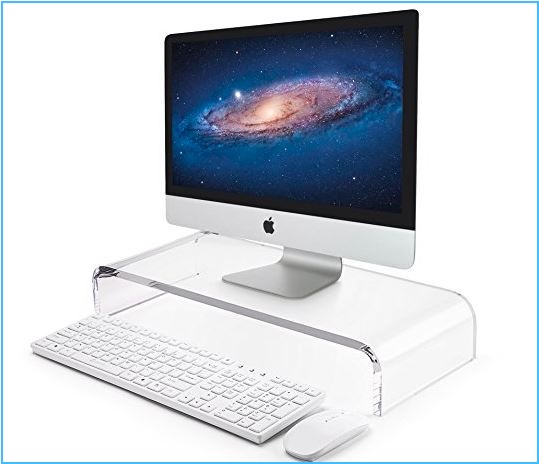 AboveTEK has designed this stand with one-piece crystal explicit acrylic material which can give a complimenting look at your desk. The stand can elevate up to 3 levels to adjust your eye level, and it results in less neck strain.
This monitor riser is multipurpose because you can put any slim display on it or place this stand below the TV and settle your cable box on it. It is a lifetime companion for you to make expensive things secure. To Buy: Order On Amazon
#10. SUPERJARE Multifunctional Desktop Stand
SUPERJARE brings more convenience to your doorstep, stationing Mac, TV, MacBook, iMac, or Laptop is never been easy, but with this piece of art, you can comfortably organize the display and essentials around the desk. The stand is made for two displays, with a huge space to set up the cables, tablets, mouse, keyboard, speakers, and more. It takes a few minutes to assemble the stand up to the desk, order now one for you. For detailed prices and measurements, kindly visit the Amazon.
Check SUPERJARE Stand Price on Amazon
#11. 1home Wood iMac Stand
Unlike SUPERJARE, 1home is only for single iMac/PC, but worth buying if you've no plan to buy the second PC. Simple, Premium, Tough MDF Material construction ensures the durability of the stand, alongside, there are few separate slots are given to hold iPhone, cable, note-taking diary, etc. The stand creates a dedicated room for the keyboard and mouse, plus iPad, beneath the iMac. I bet this is a perfect riser for a single PC setup at this cost.
Check 1home iMac Stand Price on Amazon
#12. Halter Mesh Monitor Riser
Till now, you've looked at the MDF and Wooden Stand Risers for iMac, to power up the list, we are introducing Mesh Metal Stand. It's no different than the above-mentioned stands for Mac, as it also includes sufficient space to place the books, tablet, iPhone, cables, USB drive, and many more things that you need in daily routine. The four feet equipped with non-skid rubber to increase the stability on the desk whilst preventing scratches on the surface.
Check Halter Mesh Riser Price on Amazon
Pick your best stand from top best iMac Pro Stands deals running on Amazon. Don't miss to share it! Like it!