Last Updated on Sep 14, 2023
Get here the Best iPad Pro carrying cases (iPad pro 12.9 4th generation case with shoulder strap/ iPad Pro 11 carrying case with shoulder strap) with handle or Shoulder Strap and Comfortable. Now round up of the Apple iPad Pro Accessories. Commonly, we carry our big-size screen (IT product) devices such as laptops, Apple MacBook, etc., in an arm bag or a handle bag. So that's secure to transfer and safe from home to office or company to home and travel time. It's also significant, for instance, when you're going to the airport and have a number of bags, and you can carry your worth lappy or big size desk on your shoulder. So it's staying safe and looking good with your walk.
So we're going to publish the same reasoning for Apple iPad Pro. Here's a list of the best iPad Pro carrying cases with handles. So pick an extraordinary case for your 12.9-inch iPad Pro and make it safe and secure.
Stylist looking for best iPad Pro Carrying Cases with Handle: 12.9-inch Bag
#1. tomtoc Shoulder Bag for iPad Pro 12.9
While traveling for business or on vacation, a well-organized bag is needed to keep expensive things like iPad Pro in touch and safe. Considering various situations, we've listed tomtoc should bag for iPad Pro 12.9-inch, designed with spill-resistant exterior and inside the soft foam to avoid scratches on the iPad screen.
Its unique design consists of four CornerArmors protections to protect the iPad Pro from all four directions while carrying. Lastly, you can store multiple accessories like chargers, external hard drives, power banks, and much more. Besides, you can also bring 13-inch laptops alongside iPad Pro 12.9-inch.
Buy from: Get on Amazon online Store
For iPad Pro 11″ Carrying case with belt strap – Order Online
#2. Miesherk Protective Case with Hand and Shoulder Strap iPad Pro 12.9
A heavy armor rugged case for iPad Pro 12.9-inch is an excellent blend of detachable hand strap, shoulder strap, stand, and pencil holder. It is made from hard TPU plastic to increase the sturdiness of the case and secure the iPad Pro from bumps and other damages and for optimum comfort while using the iPad on the go.
You can enjoy movies hands-free with the built-in kickstand that is attached at the back of the case. The representation images are a great example of how many ways you can use the iPad conveniently in any position.
Buy from: Cheap price on Amazon.
For iPad Pro 11″ Carrying case with belt strap – Order Online
#3. Cellular360 Shock Proof Case for 12.9 iPad Pro

Cellular360 is quite similar to the above case but less pricey. You can pick from three different shades of black tone, defined as Black A, Black B, and Black C. Smoothly carry your iPad Pro with an adjustable hand band or joint strap anywhere anytime; no need to take out the backpack to carry the iPad Pro.
Its precise cutouts let you use every port and camera without any interruption or need to remove the case now and then.
Buy from: Shockproof case on Amazon.
#4. DreamerX Military Grade iPad Pro Case
DreamerX is another heavy-duty protective case for iPad Pro 12.9-inch with a hand strap to buy. The case comes in handy while watching movies or playing games, kick out the stand, and enjoy iPad Pro hands-free. However, the negative part of buying this case is it is not possible to charge the Apple Pencil while your iPad is in the case.
Irrespective of your job or business, this case is beneficial while we need an iPad Pro and in the next second, we don't. So, the hand strap or shoulder strap could do a favor for you. A durable case cover, along with all the basic needs to defend the iPad from hard strokes, is what you get with this cover.
Buy from: Get on Amazon Online Store
#5. BUBM Travel Case for iPad Pro 12.9-inch
If you are looking for a fashionable bag that could carry iPad Pro together with your daily wear and tear things, this case is recommended. Its super soft nylon fabric exterior can obscure water easily. Also, it will prevent rainwater splashing.
Additional pocket storage will let you carry cash, cards, or charger without being bulky, and it has a hidden zipper pocket on the backside. Finally, personalize your carry bag in a unique vogue and shield the iPad Pro from random marks, bumps, and other damages.
Buy from: Order on Amazon online Store
#6. Cellular360 – iPad Pro Carrying Case
Cellular360 offers the best iPad Pro Carrying Case for the money with excellent features that include 360 spin and a hand strap to travel with the iPad hands-free.
Most importantly, this kind of case cover is needed by the workers, travelers, presentations in the office, and more; to remove bulk from your hands eliminates the possibility of slippage. Among seven different color options, you could choose one for your iPad Pro 12.9-inch.
Buy from: Order today on Amazon Store
#7. FYY iPad Pro 12.9 Case Compatible with Apple Pencil Charging
FYY's leather case is an excellent choice with a professional look and with surprising card slots to carry cash cards on the go. In addition, you will find one more compartment on the backside that lets you put a charger, cable, and earphones with the iPad Pro.
This excellent case for iPad Pro 12.9 is challenging to get with so many features; I'm confused about whether to call this case a Wallet Case, Leather Case, or Case with Shoulder Strap because everything is present in this case single piece. Watch movies, play games, and much more at a convenient viewing angle and, of course, hands-free.
Buy from: Add to cart on Amazon Store
#8. iPad Pro 12.9-inch Handbag Case by Uliking
You may have seen various cases for iPad, but no one can match or compete this handbag case for iPad Pro when you are looking for a combination of simplicity and style in case. It has a hand strap and a shoulder strap that can be easily adjustable to make your journey conducive.
Other than that, you can carry a card or some case inside the small built-in pocket; also, it has a separate slot to put Apple Pencil safely. More than 20 color options are available to choose from. Grab this deal from Amazon at an affordable rate.
Buy from: Get on Amazon Online Store
#9. Pure Sense Cases for iPad Pro 12.9
If you look to cover up your kid's iPad Pro, you must look at this Anti-Microbial Kids case specially designed to protect the iPad from heavy strokes and scratches. In addition, it's effortless to insert and remove the iPad from the case with a fine grip around the case.
Buying a shoulder strap case for iPad Pro 12.9-inch is good when you have a kid to use the device. In addition, you can watch movies or play games as it has an inbuilt stand in the case.
Buy from: Click to Order Amazon Online store
#10. DMaos – Perfect iPad Pro 12.9 Gift Case
DMaos is the best if you want to gift your female friend or buy your own iPad Pro because it has rich color options like Red, Hot Pink, Gold, and more. Moreover, it can save you quite a battery of iPad Pro when using the auto sleep and wake feature with this case.
A small envelope-shaped pocket could hold credit cards or even cash in it. Make sure to check the model of the iPad Pro before buying the case.
Buy from: Order on Amazon Store
#11. Awesome iPad Pro carrying case with shoulder strap
It's the leather case for iPad Pro; buy this perfect fit iPad pro carrying case and get something unique accessory from others. This carrying case comes with a removable shoulder strap. So you can keep and use it as you wish. In addition, you can be carrying this case through a hand strap.
Buy Now: Cheap price on [Amazon]
#12. Snugg leather case with hand strap
You might look familiar with the snugg brand. It's a longtime popular iPad case maker for the Apple brand cases and sleeves. So this time, it brings special cases for iPad Pro. You will get a built-in kickstand and lifetime guarantee. It's easy to install as well as handy access to all ports and controls.
Add to cart: Amazon
#13. Canvas fabric case for iPad Pro 12.9 inch
Indeed, It's a good case with a carrying handle. However, this case cover may be more choice of women. It comes with a fluffy fabric lining for bump and shock absorption and protection of your iPad Pro from accidental screeches.
Buy it: Amazon
#14. iPad Pro sleeve carrying case

Do you want to buy the best sleeve for iPad Pro with a carrying handle? First, though, you should buy this padding layer nylon fabric case. The case offer features like a working cover of a bump, accidental scratches, etc.
You can also place small-sized items, likely power adapters, cables, pens, and notepads, offering added convenience.
Add to Cart: Amazon
#15. Mosiso 12.9-inch iPad Pro Case with Shoulder Strap
Let's take your iPad Pro with you while you are on the go. It's an environmentally friendly synthetic felt enables case. You can carry this case hand-free; hold it on your shoulder and take your iPad Pro with you in a safe way.
Order Now: Amazon
#16. Kitron Cute Colorful iPad Pro Carrying Case
It's an iPad Pro shoulder bag. This case cover is constructed with a double zipper design special for the Apple iPad pro. Really, it's looking awesome for the 7th generation iPad series.
Buy Now: Amazon
#17. Lecxci Unisex carrying bag for 12.9-inch iPad Pro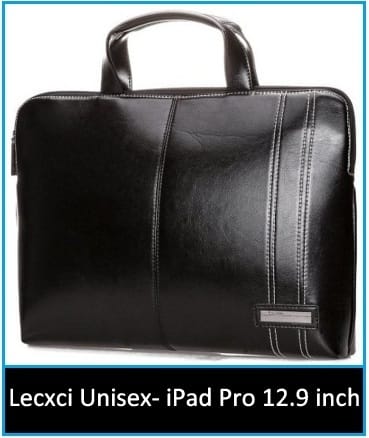 It's high in quality and durable carrying bag for iPad Pro. The bag is available in three striking colors as Black, Brown, and Rose. Best bag for both women and men.
Add to Cart: on Amazon
#18. Canvaslove Waterproof Shoulder Bag for Girls/Women
Canvaslove's beautiful should bag specially crafted for Girls and Women to carry the iPad Pro 12.9", MacBook 13", and other devices that are less than 13.3-inches in size. Apart from the table or monitor, you can keep a notebook, diary or anything slim, as it is big enough to store your essentials. This case is most suitable if you are a teen or job person who needs to carry the MacBook or iPad to College or at Job daily.
In addition, you can easily store the cables, earphones, and charging adapter in the side pocket without making it look like a bean bag. Whatever the weather is, the waterproof bag for the iPad Pro will always make sure to keep the inner things safe and secure.
Check Canvaslove Price on Amazon
#19. FYY Premium Leather Bag
FYY has designed this premium leather bag to keep your necessaries well organized inside the pocket, separated by the inner net to hold the Pens, Cables, Earphone, Diary, Business Cards, A4 Sized Paper, Mobile Phone, Mouse, and most importantly, the iPad Pro 12.9/MacBook or any other device with up to 13.5-inch. It opens 360-degree like a briefcase, so you can easily find and take out the peripherals you are looking for.
Available in great color options for everyone, choose funky one for your sister, professional for Father or mother, etc.
Check FYY Premium Leather Bag Price on Amazon
#20. Audirex Water Drop Proof Sleeve Bag

Audirex is cheaper than FYY Leather Bag, and it will cost you $20 approximately while the FYY is offering at $30; the choice is yours. The Zipper Sleeve Case comprises soft and eco-friendly material to safeguard the iPad Pro, MacBook, Surface Pro, and other machines.
The sleeve case is slim and sturdy to fight against dust, scotches, bumps, and other damages.