Get here Best iPad Pro carrying cases with handle or Shoulder Strap and Comfortable. Now round up of the Apple 12.9'' iPad pro Accessories. Generally, we carry our big size screen (IT product) devices such as laptops, Apple MacBook, etc. in a shoulder bag or with a handle bag. so that's really easy to transfer and safe way to from office to office or business to home and travel time. It's also helpful for example when you're going to the Airport and you have the number of bags, that time you can carry your worth lappy or big size table on your shoulder. It's staying safe and looking good with your walk.
So we're going to publish our same thinking for Apple iPad Pro. Here's a list of best iPad Pro carrying cases with handle. So pick a cool case for your 12.9-inch iPad Pro and make it safe and secure.
we are happy to help you, submit this Form, if your solution is not covered in this article.
Stylist looking best iPad Pro carrying cases with handle: 12.9-inch Bag
#1. Awesome iPad Pro carrying case with shoulder strap
It's the leather case for iPad Pro, buy this perfect fit iPad pro carrying case and get something unique accessory from others. This carrying case comes with a removable shoulder strap. So you can keep and use as you wish. In addition, you can be carrying this case through hand strap.
Buy Now: Cheap price on [Amazon]
#2. Snugg leather case with hand strap 
You might familiar with the snugg brand. It's a from longtime popular iPad case maker for the Apple brand cases and sleeves. So this time it brings special cases for iPad Pro. You will get a built-in kickstand and lifetime guarantee. It's easy to install as well as handy access to all ports and controls.
Add to cart: Amazon
Best iPad Pro carrying cases with handle UK: Order Now
#3. Canvas fabric case for iPad Pro 12.9 inch
Indeed, It's a good case with carrying handle. This case may be more choice of women. It comes with a fluffy fabric lining for bump and shock absorption and protection of your iPad Pro from accidental screeches.
Buy it: Amazon
#4. iPad Pro sleeve carrying case
Do you want to buy the best sleeve for iPad Pro with carrying handle? Though, you should buy this padding layer nylon fabric case. The case offer features like to work in case of the bump, accidental scratches, etc.
You can also place small size items likely power adapters cables, pens and notepads, offering added convenience.
Add to Cart: Amazon
Best iPad Pro carrying cases with shoulder strap: Buy Now
#5. Mosiso 12.9-inch iPad Pro Case with Shoulder Strap
Let's take your iPad Pro with you while you on the go. It's environmentally friendly synthetic felt enables case. You can carry this case hand free; just hold it on your shoulder and take your iPad Pro with you in a safe way.
Order Now: Amazon
Best iPad Pro carrying cases with handle UK: Buy it
#6. Kitron Cute Colorful iPad Pro Carrying Case
It's an iPad Pro shoulder bag. This case constructed with a double zipper design special for Apple iPad pro. Really, it's looking awesome for the 7th generation iPad series.
Buy Now: Amazon
#7. Lecxci Unisex carrying bag for 12.9-inch iPad Pro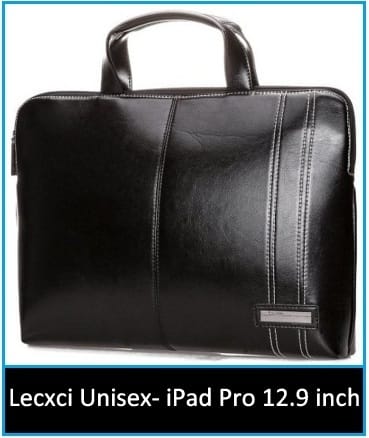 It's high in quality and durable carrying bag for iPad Pro. The bag is available in three amazing colors such as Black, Brown, and Rose. Best bag for both women and men.
Add to Cart: on Amazon
Best iPad Pro carrying cases with handle UK: Order now
Premium Support is Free Now
We are happy to help you! Follow the next Step if Your Solution is not in this article, Submit this form without Sign Up, We will revert back to you via Personal Mail. In Form, Please Use the Description field to Mention our reference Webpage URL which you visited and Describe your problem in detail if possible. We covered your iPhone 11 Pro, iPhone 11 Pro Max, iPhone 11, iPhone 8(Plus), iPhone 7(Plus), iPhone 6S(Plus), iPhone 6(Plus), iPhone SE, iPhone 5S, iPhone 5, iPad All Generation, iPad Pro All Models, MacOS Catalina or Earlier MacOS for iMac, Mac Mini, MacBook Pro, WatchOS 6 & Earlier on Apple Watch 5/4/3/2/1, Apple TV. You can also mention iOS/iPadOS/MacOS.
Jaysukh Patel is the founder of howtoisolve. Also self Professional Developer, Techno lover mainly for iPhone, iPad, iPod Touch and iOS, Jaysukh is one of responsible person in his family.
Contact On: [email protected] [OR] [email protected]