Are you looking for the best iPad stand for bed for any where use, Like Office chair, Office or Home desk, Sofa and Bad. Here you can find your desired and valuable iPad stand for any use. Now you can make your test easy on big screen apple device, like watch live streaming, Video, Movies, FaceTime, Chatting from bad, Read documents, Make notes not only for selected iPad size but compatible with all size device (iPad, Tablets, Books).
we are happy to help you, submit this Form, if your solution is not covered in this article.
For your use personally and your kids these all are the best. And also call floor stand.
Don't miss: Best iPad car mount holder: 2015, Safest stand.
Top best iPad Stand for Bed, Sofa, Chair: iPad mount holder
Here I list top review and best quality durable iPad stand for any use.
CTA: Adjustable iPad stand for Home/ Office
Easy to move whole stand with rolling wheels, Powerful Control to stay your iPad/ Tablets when you hanged on it. Solid still material made most popular in gadget fans. Movable in all directions set in portrait and landscape mode without release iPad from stand.
Order Now ($36.99)
Best iPad stand for Bed: Order Now (£52.99)
Clamp iPad stand by Levo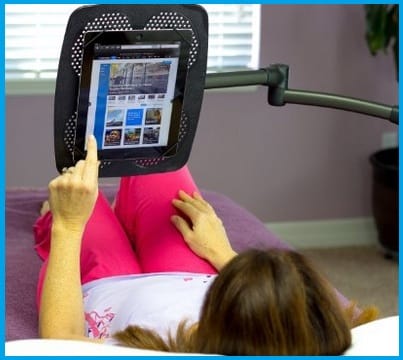 Set your iPad view in any height and anywhere. By clamp iPad stand on Desk, Kitchen, Bed and Office. Adjustable stand can move at any angle. Such a great and Very professional design for office and Home use as well. We can quickly fold from arm and move in bag easily.
Buy Now ($89.99)
Best iPad stand for Bed: Buy Now (£19.99)
Best stand for Book and iPad: Students, Kids
For multipurpose use stand very comfortable on loan, sofa, Bed, Floor and Chair. Light weight, aluminum arm made product light make easy to carry for your child.
Get from here ($24.99)
For UK buyers: Order from here (£15.99)
For All Surface, Sofa and Bed: Best iPad Stand
Such a great but simple design, Best quality strong twistable iPad stand for anywhere use. Compatible with iPad, iPod, other Smartphone, Tablets in any size. Set device on your height from body.
For USA: Order Now ($59.95)
For UK: Buy Now (£36.00)
Such a great iPad accessories in stands, So which you like most from the top best iPad stand for Bed, Chair, Sofa, On Loan, Kitchen. And for which purpose you want to buy please share with us on comment box.
Jaysukh Patel is the founder of howtoisolve. Also self Professional Developer, Techno lover mainly for iPhone, iPad, iPod Touch and iOS, Jaysukh is one of responsible person in his family.
Contact On: [email protected] [OR] [email protected]