Last Updated on Sep 14, 2023
Musicians may find a hassle about where to put an iPad or tablet while they are performing. iPads and tablets are extensively used by musicians for their live performances and music production. A quality iPad stand (also called an iPad holder) allows musicians to deliver their performances conveniently. Moreover, it allows them to use those apps without needing paper conveniently.
Remember to fully read this article to obtain a thoughtful view of the best suitable iPad stands for musicians. Lastly, you can select from our recommended iPad stands for musicians without delays.
1. Lamicall Gooseneck Swivel Tablet Holder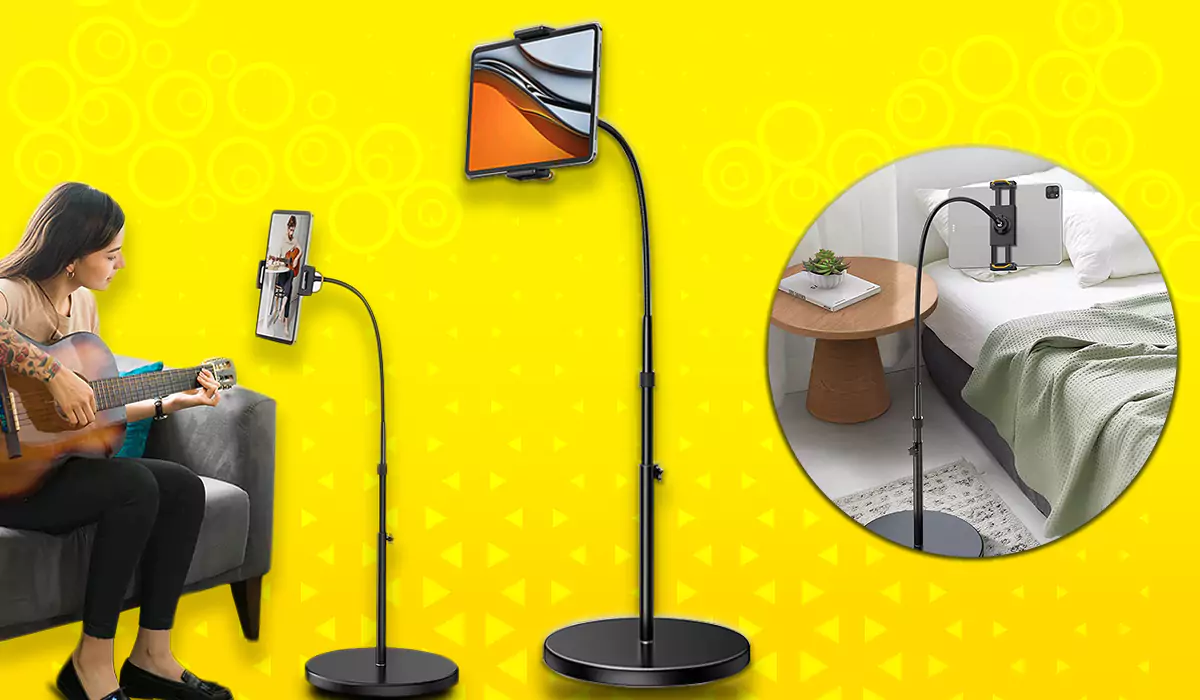 This swivel tablet holder can be used anywhere without requiring other support. For example, you can use it in a bedroom, living room, kitchen, office, classroom, etc. Moreover, it can be used for YouTube recording, capturing pictures, online classes, etc. Its unique benefit is finding the best view angle is easy. This iPad holder meets all your viewing postures with a height adjustment function ranging from 130 cm to 160 cm. So, you can use it in any posture that is best convenient to you.
The flexible gooseneck arm can be effortlessly adjusted to your anticipated position. The base is heavy-duty. To obtain the greatest possible benefits of this Lamicall tablet holder, you must make a quick Amazon purchase without any hassles.
Pros of buying Lamicall Gooseneck Swivel Tablet Holder
Safe support
Wide compatibility
Easy height adjustment
Excellent durability
Stable base
2. IA Stands ECT2 Folding Music Stand
This folding stand is best for musicians and students. It is an interchangeable tablet holder with excellent portability for convenient use anywhere. You can swap the music attachment and phone/tablet attachment. It has a distinct mouse attachment compatible with nearly all phones and tablets. Either of the attachments can be mounted on top. T in a bag when not in use.
The excellent flexibility helps you use this stand while standing or sitting. Rather than carrying two separate stands, you only have to carry one. So, it reduces the weight and size of your travel kit. Place a rapid Amazon order for this folding music stand and receive it delivered to your location.
Pros of buying IA Stands ECT2 Folding Music Stand
Multipurpose capability
Lightweight and portable
Flexible and versatile
Easy to fold
Space-saving design
3. Lamicall Tablet Floor Tripod Stand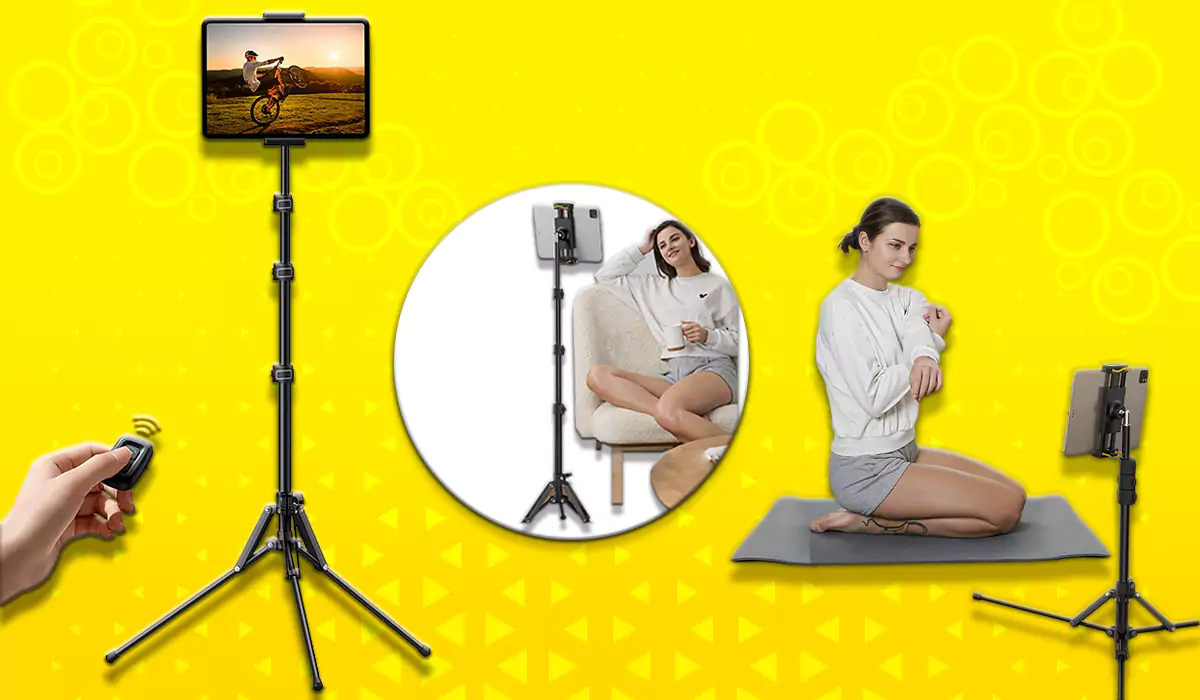 If you are questing for a tablet holder that can be smoothly adjusted to your expected position, we have this Lamicall tripod stand as a suitable recommendation. Its 360-degree rotating ability lets you adjust it in your preferred position. You can adapt the viewing angle of a phone or iPad with one hand. 4 height adjustment levels are available, ranging from 42.5 cm to 164.5 cm. Therefore, this tablet easily suits your viewing posture –standing, lying, sitting, etc.
The stand can also be easily folded or packed inside a bag. A Bluetooth remote is included. If you have convinced your mind to buy this Lamicall tripod stand, we highly recommend placing a rapid Amazon order and getting it delivered to your location.
Pros of buying Lamicall Tablet Floor Tripod Stand
Quick height adjustment
Easy to store
Travel-friendly design
Smooth adjustment
Sturdy construction
4. Macally iPad Music Stand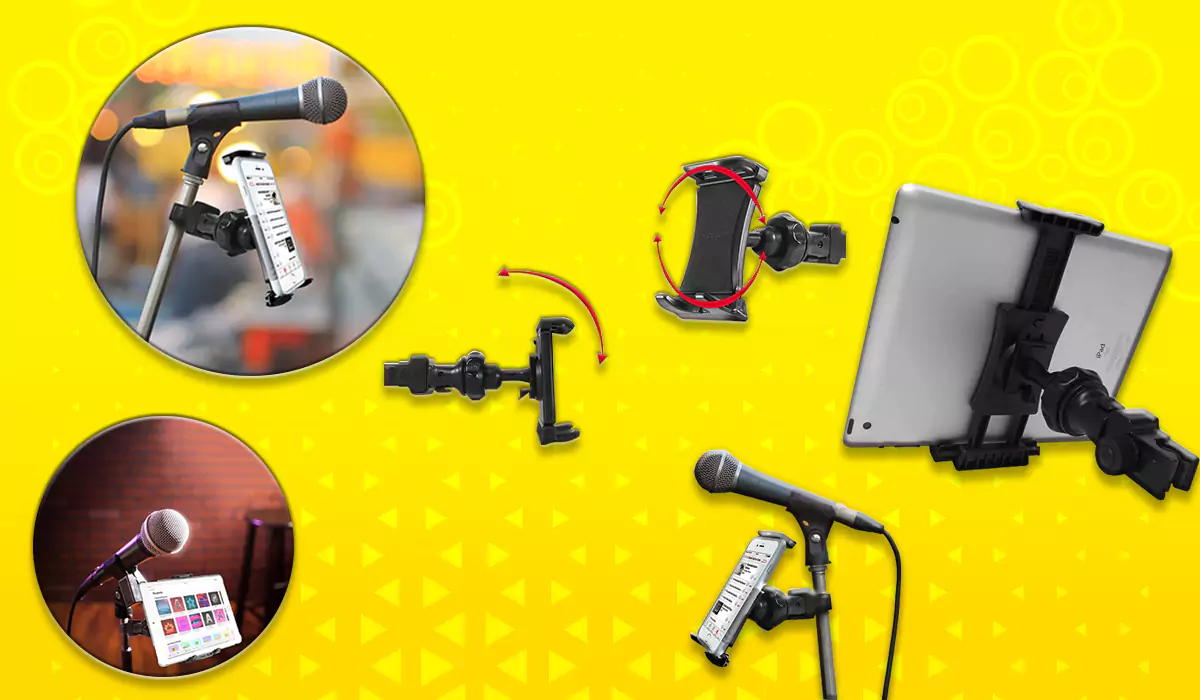 Are your eyes on a low-budget cheap stand for iPad? If yes, then this Macally music stand is a decent option. With the fully adjustable C-clamp, this tablet mount can easily adjust to any music stand or a mic pole with up to a 0.75-inch diameter. This music stand is very helpful for music students, holding conferences, giving speeches, etc.
In this iPad stand holder, a cradle is included to securely fit smartphones or tablets with even the heftiest cases with a width of 3.5 to 8 inches. To gain the advantage of the discussed features of this Macally music stand, you can instantly place an Amazon order and get it at your desired location.
Pros of buying Macally iPad Music Stand
360-degree smooth rotation
Quick Release mechanism
Stronghold
Perfect viewing angle
Affordable price
5. Jubor iPad Mic Music Stand Holder
This music stand under $25 provides you best music performance anywhere. It can display chords and song lyrics, activate background tracks, and regulate live electronic music performances from your tablet. To provide wide device computability, this iPad mic stand can fasten to the upper post of the music stand, cymbal stand, microphone stand, boom, or any pole with a diameter ranging from 0.5 inches to 1 inch.
You can use this music stand holder for live music performances, house party karaoke, meetings, instrumental playing, etc. This holder is compatible with 4.7 inches to 11 inches tablets. After you place a rapid Amazon purchase for this Jubor music stand, it will surely conform to your requirements, and also you will get it shipped to your location.
Pros of buying Jubor iPad Mic Music Stand Holder
Durable and adjustable
Easy to assemble
Fits all smartphones
Easy horizontal placement
Excellent stability
6. JUBOR Microphone Tablet Holder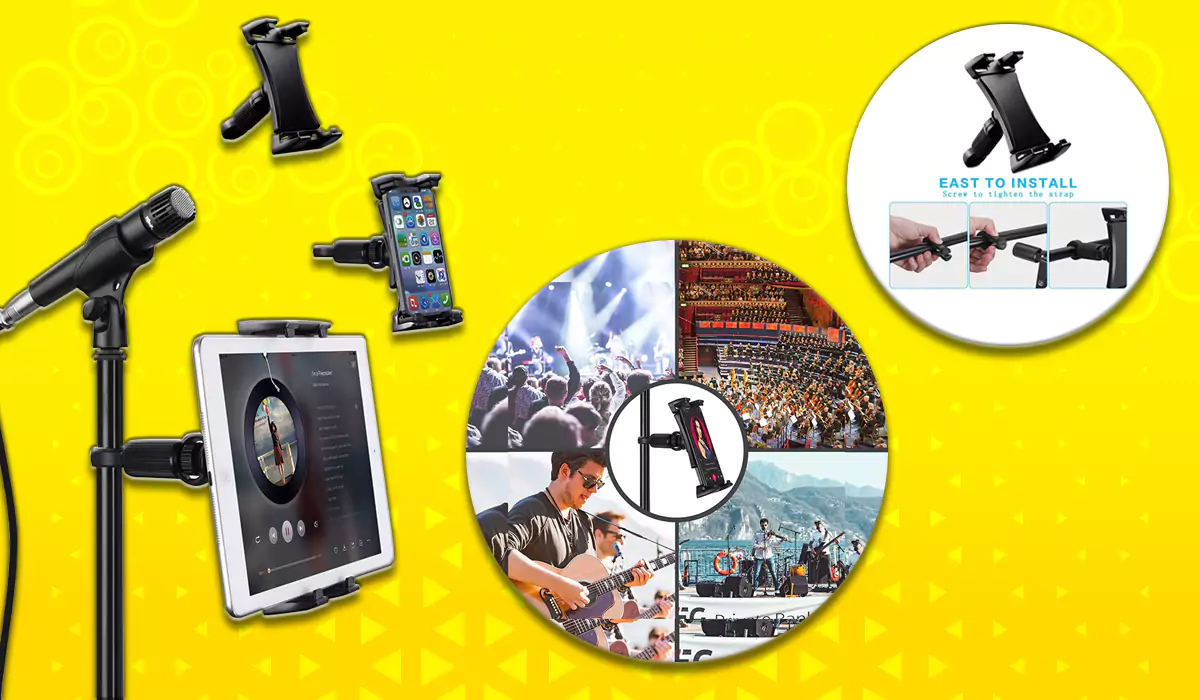 This Jubor holder is one of the only tablet mounts for a microphone stand that can fit 4.7 to 12.9 inches screen tablets/iPads/phones. It simplifies playing and sharing music at weddings, meetings, concerts, choir classes, etc. You can directly mount it to the boom or the higher section of the erect mic stand.
For long-term use, it is built from automotive-grade ABS plastic. The included grooves and rubber grip let the clamp firmly clip to a music stand or microphone stand. You can attach your tablets to a pole of up to 1.5 inches. To benefit from the mentioned features of this Jubor tablet holder, you need to place an instant Amazon order and receive it delivered to your location.
Pros of buying JUBOR Microphone Tablet Holder
Safe 360-degree rotation
Instant setup and removal
Lightweight yet durable
Clips on firmly
Flexible to hold
7. STOMP Bluetooth Page Turner and App Controller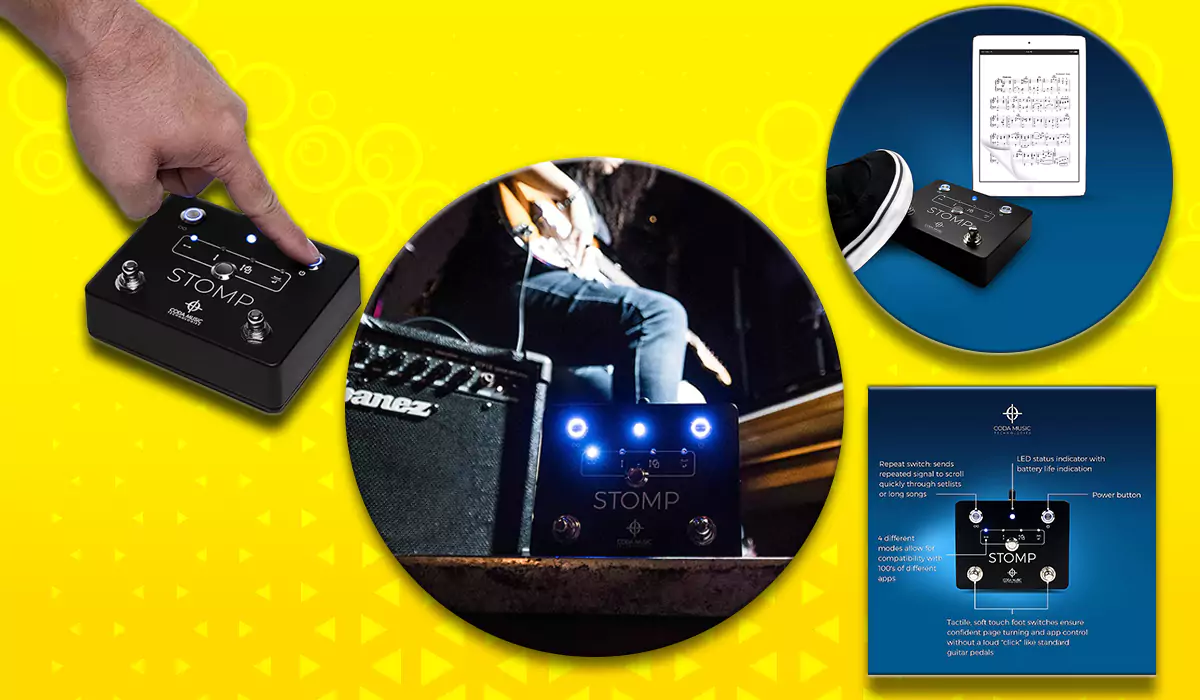 This iPad Music Stand with a foot pedal is designed for the gigging musician. It has a durable metal enclosure to keep it in place for excellent stability. With more than 50 feet of range, this foot pedal can be easily configured in select apps. Consequently, you can control multiple devices simultaneously and turn on the entire band's page collectively.
One of its key features is 150 hours of battery life. It is compatible with Android tablets, iPads, and many other devices. You can use your favorite app for personalized control. If you target to receive the discussed benefits of this iPad music stand, all you need to do is place an Amazon purchase and get it at your doorstep!
Pros of buying STOMP Bluetooth Page Turner and App Controller
Powerful battery life
Broad connectivity range
Durable enclosure
Controls multiple devices
Supports various apps
8. Gooseneck 63-inch Floor Stand
If you are in search of a good iPad holder that helps you focus on your music performance, we have this Gooseneck floor stand as a suitable recommendation. It frees your hand, especially when you are busy in the office, kitchen, bedroom, gym, etc. It is a superb choice for watching movies, reading eBooks, and chatting. Videographers, pro photographers, movie markers, speakers, teachers, and lecturers find it very useful.
The use of quality aluminum alloy material also offers durability and a lightweight feel. The collapsible design lets you easily fold it and carry it along. So, if you wish to benefit from the aforementioned features of this iPad holder, you have to place a quick Amazon order and obtain it at your doorstep.
Pros of buying Gooseneck 63-inch Floor Stand
Smooth 360-degree rotation
Durable aluminum construction
Compact and portable design
Collapses smoothly
Smooth height adjustment
Prepared intentionally for musical use, these iPad stands can securely and reliably hold your device. They don't occupy much space and feel comfortable using it anywhere. Moreover, they offer excellent stability and ease of rotating in any direction. These stands are useful when you want to sing or perform without holding your iPad or tablet. Despite being durably built, they are clear view perspectives on iPad stands for musicians. Hence, we are confident that you will select the iPad stand for musicians that best fulfill your needs.
Frequently Asked Questions –
1. Can a music stand hold an iPad?
Ans. Yes, music stands are designed to hold an iPad perfectly. They let you securely tether your iPad to a microphone stand or some other objects like a pole-like resemblance. In addition to securing hold, they can rotate in different directions to offer flexibility to the users. Also, they are versatile, portable, and durable.
2. What size iPad is best for sheet music?
Ans. If you want to benefit from the best size, visibility, and quality, then an iPad of 12.9 inches is recommended. This size is enough for accommodating reading sheets and chord charts. You can conveniently read from the mentioned objects regardless of how far you placed them. Moreover, the screen size is suitable for effective music production.
3. What do musicians use for sheet music?
Ans. For sheet music, musicians invest in an iPad or tablet. They look for a tablet or iPad with a huge screen, sensitive microphones, powerful speakers, and efficient processing power that helps real-time music editing. Moreover, they look for an iPad or tablet with excellent stability, smooth rotating mechanism, and flexibility for ease of use anywhere.
4. What size tablet is best for sheet music?
Ans. A tablet-sized 10.5 inches or 12.9 inches for sheet music is the best option. Make sure to choose a tablet with a minimum display size of 9 or 10 inches.
5. How do you use live music performance on an iPad?
Ans. For live music performance, you will need an app that lets you play backtracks on an iPad to let you jam along with them in real-time. So, you can connect a compliant USB sound card to an iPad with the Camera Connection Kit. SyncInside will play the stereo backing tracks via the sound card and the click via the headphone.
Keep iPad with Different musical instruments and staying touch on the iPad screen is commendable for all musicians. But here's the list of the top best iPad stands for Musicians that will work on different screen size iPad (iPad Mini, iPad Air, iPad pro). Generally, music lovers try iPad with Piano, Mic or Music Stand/ Mic Holder, or Microphone. However, unique style and gripping technology are pleased with other same-size gadgets.
All musically talented referred to or using these iPad hanging stand for smoothly tune the sound on another apparatus or song makes musical environment techno-friendly.
#9. Mic stand for iPad Mount holder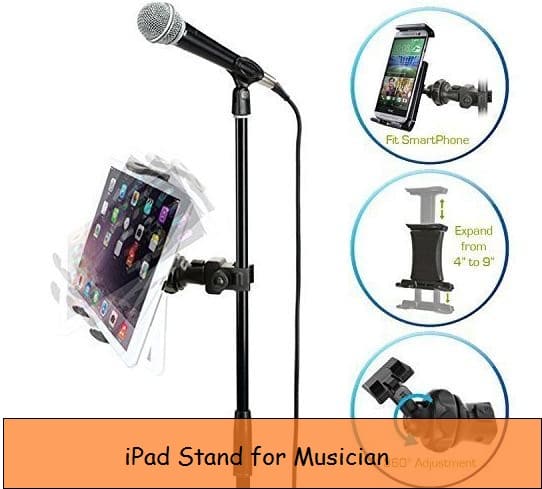 Adjustable Arm with flexible wings covers all size iPad screens. So this iPad mount holder is compatible with iPad Air, iPad Mini, and iPad Pro 9 to 12 inches. Improved design style, Performance makes this iPad mount holder more secure and Easy to use all size pole (2cm/0.75 inch): tools free installation, Replacement warranty.
#10. Talent iClaw Mic with iPad Stand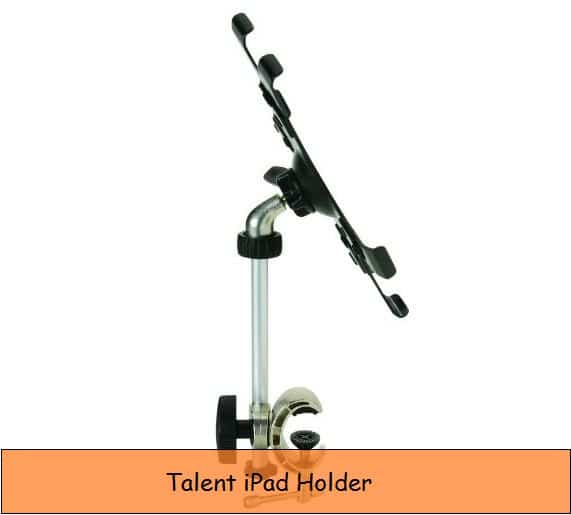 360 degree, Hold the iPad on musical instruments like Piano, Drums or Microphone to view the lyrics, Tune music or gives extra sound effect using iPad. Accessible to claws all size iPad in the stand. Apart from musical instruments, you can adjust in your car, Exercise with the handset.
Lightweight, sturdy material and Small in size are also easy to move with you everywhere.
#11. Grifiti Nootle iPad Tripod Stand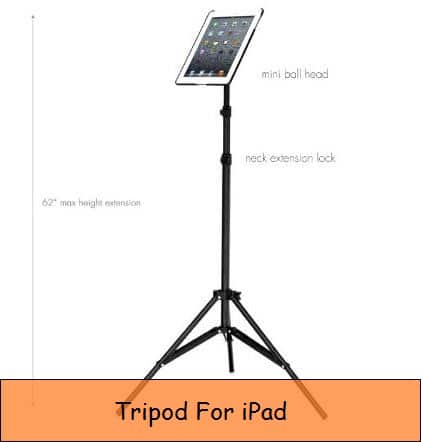 Lightweight Aluminum body height-adjustable stand for all size iPad models. They are perfectly designed for music lovers, Teachers, Photography, Presentation, Display, or Home/Office use.
Also, Get- You might also like The Top best iPad Audio Interface.
Keep your iPad in the safest place when you are busy. Hang your iPad with a Notebook cover or Back only sleeve. The 360-degree rotation mechanism is easy to see the live screen from your viewing angle.
#12. iPad Stand: 360 Degree Adjustable iPad stand
Multifunctional and User-friendly iPad holder. 360 Degree universal tablet holder for All sized iPad model. Professional Blue look, Medium to Big size iPhone screen, That's made easy to learn music on different size digital devices. Hands-free viewing angle for photos, Reading, Video, or Shooting. Just Go with this; I Don't want any headache with the stand.
#13 LXORY Universal iPad or iPhone Stand for Musician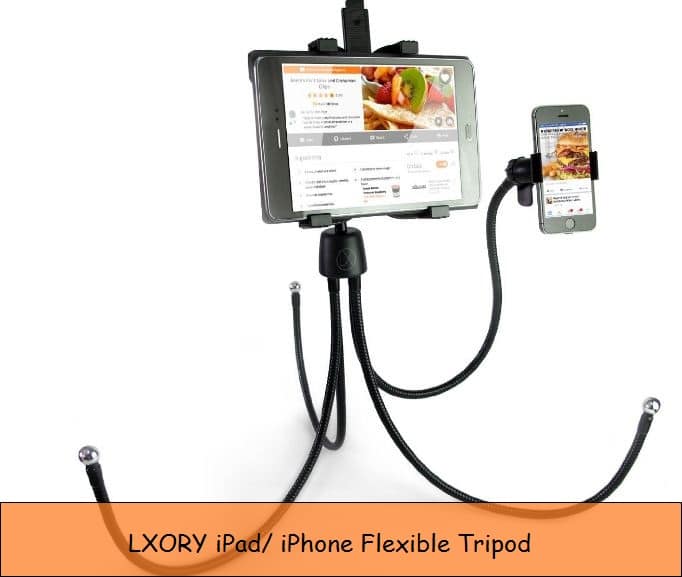 Are you looking stand For the speaker, Musicians? that gives you smart looks for 7" to 13" screen device. Four detachable legs are a modular concept by LXORY, That will hold two devices at once securely and on different viewing angles. Arrange locking system in your way using 1, 2, 3, or 4 stiff, flexible legs. Feel relaxed when you are active on-screen or enjoy the iPad.
Above all are well performed best iPad stand for musicians or Professionals who want to achieve stage performance. Please share your story with us in the comment section.