🗓️
September 14, 2023
By ✍️
Jaysukh patel
You must have faced some hindrances while using your iPhone 13 Pro Max in terms of handling or when in need to place it for hands-free calling. To solve such discrepancies, we are here with yet another article. In this blog, we have brought about suggestive measures in the form of PopSockets that can be situated behind your device and used as a kickstand.
The purpose-fulfilling product is all you will need. Moreover, these products are budget-friendly, which adds as another suitable pro to these PopSockets. So, get started with selecting your best piece and delay no more in safeguarding your iPhone 13 Pro Max at its best level!
1. OtterBox PopSocket PopGrip
Take a step further and protect your phone's case by grabbing an elegant-looking yet purpose-fulfilling popsocket. Users over the internet believe a popsocket to be an extremely useful product because this little product helps ease the everyday usage of your phone.
It comes with a lasting antimicrobial technology that will ensure absolute protection to the exterior of your device against common bacteria. This popsocket pop grip can be placed anywhere at the back of your iPhone 13 Pro Max and will allow you to attain extreme comfort while you use your device. Another noteworthy feature is that you can also grab the benefits of wireless charging with this popsocket attached. So, ensure a complete grip on your device and grab this iPhone 13 Pro Max MagSafe PopSocket from Amazon at the least prices and in the best deals, without further ado!
Pros of buying OtterBox PopSocket PopGrip
Elegant and stylish
Antimicrobial technology
Supports wireless charging
2. OtterBox Pop Symmetry Series Case for iPhone 13 Pro Max
Protect your iPhone 13 Pro Max while simultaneously enhancing its overall look by grabbing a thin back cover that will suit all your aesthetics at its level best. Compatible with iPhone 13 Pro Max, this Popsocket Case is a great accessory. Moreover, the thin phone cover is also compatible with Qi Wireless Charging, making this product an ideal buy.
Go with what the users suggest and grab a phone cover that comes with a popsocket as it will ease your daily usage to a great extent. With this OtterBox case, you can also grab an integrated pop grip that is meant to amplify and ease the holding, texting, and snapping of pictures and provide a hands-free user experience. Easy to use, this removable popsocket will truly benefit you in several ways, especially if you have small hands and face difficulty in holding your iPhone 13 Pro Max. Available at the least rates on Amazon, we suggest you must make this purchase soon before the prices range high.
Pros of buying OtterBox Pop Symmetry Series Case for iPhone 13 Pro Max
Thin back cover
Great protective measure
Compatible with wireless charging
Great for small hands
Includes a popsocket
3. iPhone 13 Pro Max MagSafe Phone Case
Safeguard your iPhone 13 Pro Max by getting a clear MagSafe Phone Case that includes a PopSocket to enhance the user experience. The phone case has been certified with 10-feet drop protection, which eliminates all your worries at once as you can truly trust the protective measures offered by this MagSafe Phone Case.
Constructed using a dual durometer, this MagSafe Phone Case's durable and slim design makes it an ever-better choice. Designed to fit an iPhone 13 Pro Max, you can also consider this PopSocket Phone Case a great gift to your loved ones. Available at the most unbelievable prices, grab this phone case from Amazon today and enjoy the exciting features offered in this phone cover.
Pros of buying iPhone 13 Pro Max MagSafe Phone Case
Popsocket included
10-ft drop protection
Durable and slim
MagSafe friendly case
4. PopSocket PopWallet+ for MagSafe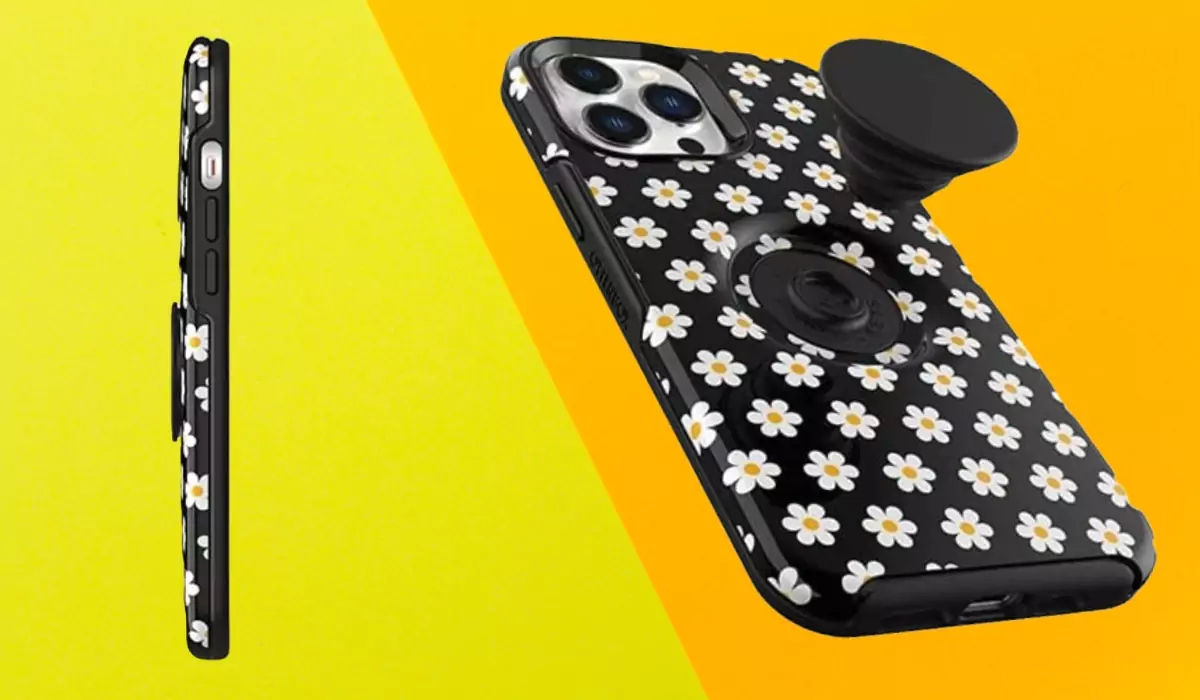 Add better convenience to your daily usage and carry your essentials everywhere you go by storing them together at the back of your phone. With this PopWallet+, you can carry your necessary cards and cash along with your phone by gripping this PopSocket PopWallet+ case behind your MagSafe-friendly phone cover.
The PopWallet+ offers a slim and sleek look and can easily hold up to three cards. So, enjoy a great hands-free and user-friendly experience with this PopSocket PopWallet+, which fulfills all your needs and requirements in one place. The exciting price range offered to this product makes this PopWallet+ an ideal buy. We recommend you grab this one for your enhanced ease. If you plan on buying this MagSafe friendly PopWallet+ case, we suggest you must do so from Amazon to grab exciting offers, prices, and discounts!
Pros of buying PopSocket PopWallet+ for MagSafe
More convenient
Store your essentials
MagSafe friendly
Slim and elegant
User-friendly
5. SUPER ONE MagSafe Socket Base
If you are someone looking for a MagSafe grip base, here is your solution! A SUPERONE product has never disappointed its users, and therefore, after severe research and positive recommendations, we decided to include this MagSafe Socket Base on our list. Compatible with only iPhone 12 and 13 series, this MagSafe Socket Grip Base will not stick to any other device or even non-MagSafe cases.
With this valuable product, you can enjoy the in-built MagSafe magnet, which offers a suitable attachable and detachable experience. The product is quite slim, easy to use, and pocket-friendly. Its magnetic base will ensure a strong adhesiveness to your iPhone, leaving you with no complaints. So, if this product sounds like something you have been looking for, do not think further and place a quick Amazon order today!
Pros of buying SUPER ONE MagSafe Socket Base
Strong adhesiveness
Easy to attach or detach
Slim and pocket-friendly
6. PopSockets Slide Stretch with Square Edges
Attach a PopSocket to your device and increase the everyday usage compatibility and ease to a greater extent. Recommended by users worldwide, this PopSocket Slide Stretch from the PopSockets Store can be a valuable addition to your phone accessories list.
The biggest advantage of having this slide stretch is that it can easily match the needs and requirements of your angle placements, whether you wish to place the PopSocket at the middle, lower middle, lower corner, etc. However, this PopSocket will not fit any device without a phone cover. The Pop Top can also be easily removed within a second! Make your life easier by grabbing this pop-top today and placing an Amazon order without any delay.
Pros of buying PopSockets Slide Stretch with Square Edges
Vast compatibility
Easy sliding
Quick and easy placements
Quick removal of the Pop Top
7. PopSockets PopGrip for MagSafe
Secure a PopGrip perfectly over a MagSafe case and slide and place it whenever and wherever you wish to, for MagSafe charging. The best suited placement for a PopSocket is at the lower middle, as it makes it easier to handle your device. Also, this magnetic removable PopSocket comes with a swappable top that can be used at your convenience whenever required.
Users have recommended this PopSockets PopGrip for its magnificent output and elegant look, which enhances the overall attire of your phone. This PopSocket will appropriately be a suitable addition to your iPhone 13 Pro Max. Therefore, we suggest you get this removable popsocket from Amazon and beautify your device one step ahead.
Pros of buying PopSockets PopGrip for MagSafe
Adjustable PopSocket
MagSafe friendly
Swappable top
Convenient to use
Removable PopSocket
8. PopSocket PopGrip Pocketable
Bring ease and convenience to your everyday phone usage by adding a perfect grip. One of the best products available in the market, this one consists of a low profile and a comfortable grip to hold your phone still. Use your phone easily with a single hand with this grip on, and forget your worries of dropping your device midway through its usage.
The removable PopSocket makes this product more desirable, which will allow you quick wireless charging. You can also place your phone on a PopPower wireless charger with the PopGrip on. So, enhance the beauty of your device, make it more convenient to use, and invest in the best accessories that you could ever find! This one from PopSockets Store is available at the lowest prices on Amazon, so make your purchase right away without further ado!
Pros of buying PopSockets PopGrip Pocketable
Perfect grip
Low profile
Access wireless charging quickly
Supports PopPower wireless charging
We strongly believe that you must grab solutions that can fruitfully make your life easier. We are sure that you will face no hindrance in adding more convenience to your daily lifestyle with these listed products. A PopSocket is an absolute solution if you plan to bring in user-friendly access, such as using your phone hands-free or with a single hand. The listed products have all been reviewed by users across the globe to assure you about the quality measures of these products. If these PopSockets sound like something you can grab, do so without further ado and place your Amazon orders today!
Frequently Asked Questions –
1. Do PopSockets work with iPhone 13 Pro Max?
Ans. Yes, they do. A PopSocket with MagSafe is the most suited accessory that you can grab for your iPhone 13 Pro Max.
2. Are PopSockets still popular in 2022?
Ans. Though many phone grips and cases have gone out of style, PopSockets remain the most popular today. Swappable PopGrips are the most popular purchases, so in case you are looking for the right product, consider checking out a PopSockets PopGrip for MagSafe on Amazon!
3. Can I use a PopSocket with MagSafe?
Ans. You can, if you are attaching the PopSocket over MagSafe compatible cases. One of the best MagSafe-friendly options in our recommendations is a PopSockets PopGrip Pocketable available for purchase on Amazon; grab it now!
4. Are PopSockets worth it?
Ans. It may seem that the PopSockets are a bit overpriced, but they are completely worth it, considering the number of advantages they bring along. With a PopSocket, you can easily use your phone by placing the PopSocket wherever you like, removing the PopSocket, or using it for hands-free actions on your device. Such advantages make this device beneficial.
5. Can I use a PopSocket with a wireless charger?
Ans. You can, but the PopSocket may not connect very well with a wireless charger as it may lose its connectivity within a minute or so. Therefore, it is recommended to remove the PopSocket while charging wirelessly.
6. Can I use a PopSocket with a Qi charger?
Ans. You will not get the best results, as the PopSocket may restrict the connectivity within a few seconds. Therefore, while charging, ensure removing the PopSocket and attaching it again once your device is charged.
7. Are PopSockets removable?
Ans. Yes, PopSockets are removable. Check out PopSockets like SUPERONE, OtterBox, etc., in our recommendations, all removable PopSockets.
8. How do you remove a PopSocket and reuse it?
Ans. You can easily remove the PopSocket by pushing it inside, using your fingernails, and pulling it gently. Similarly, you can reuse the PopSocket within fifteen minutes as a precautionary timeline only for the sticky gel to not dry out.