Last Updated on Aug 20, 2020
Protect your iPhone 6 with a screen protector, for those guys who don't use flip or wallet case, So users must care about iPhone's sensitive screen from damage, finger Knock, Finger touch print. Simple screen protector less durable and stable compared to the tempered screen protector. The tempered glass absorbs all the impact coming on the iPhone's screen. And Some technical improvement added UV protection, Reflect rays and HD transparency made easy access from any conditions.
we are happy to help you, submit this Form, if your solution is not covered in this article.
Here, Best iPad Air 2 Screen Protector, You should buy from the top best list.
Top Best iPhone 6 Glass Screen Protector: 4.7 inch
#1. Power Theory iPhone 6 Glass Screen Protector
For your Brand new iPhone 6 -Black/ White, Complete solution on screen protection, Tempered technology adds all the features that you didn't think. Perfect fit, Full coverage, Best user reviews compare to other top best iPhone 6 glass screen protector in a list. 0.33mm think enough for iPhone screen. Easy for Multitasking, Gaming, Browsing, and Chatting.
#2. Tech Armor Glass Screen Protector for iPhone 6
#1 Brand in iPhone accessories, Mostly for Screen Protector and Case. Curved (Rounded) cutting edge completely cover your iPhone 6's Screen. Prevent dust gather on the corner you have to lamination with this glass cover. Lifetime warranty. 3 pack in just a few dollars after a big discount.
#3. Maxboost Glass Protector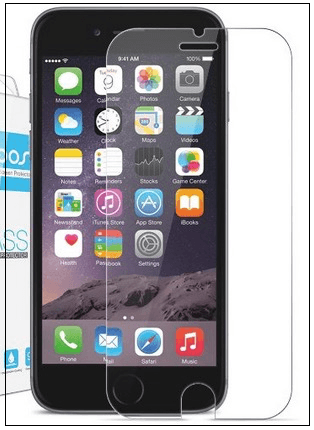 Thinnest glass screen protector for iPhone 6, 0.2mm thickness serve all the features that are you got from others, Thickness is the plus point of MaxBoost. Scratches, Bumps, Fingerprints avoid with this protector, Maintain maximum touch accuracy from this protector.
⇒Check iPhone 6 Screen Protector Price on Amazon
#4. Mr.Shield Screen Protector for iPhone 6
Adjust on complete screen with a body covered, Complete solution for resistance coming as a hard impact. Good transparency rate, Easy installation. The precise ballistic glass cutting makes the iPhone 6 covered from all the edges while delivering the protection against key scratches and bumps. 
Check Mr.Shield Screen Protector Price on Amazon
Want more protection solution try with amFilm , JETech iPhone 6 glass screen protector.
Premium Support is Free Now
We are happy to help you! Follow the next Step if Your Solution is not in this article, Submit this form without Sign Up, We will revert back to you via Personal Mail. In Form, Please Use the Description field to Mention our reference Webpage URL which you visited and Describe your problem in detail if possible. We covered your iPhone 12, iPhone 12 Pro, iPhone 12 Mini, iPhone 12 Pro Max, iPhone 11 Pro, iPhone 11 Pro Max, iPhone 11, iPhone 8(Plus), iPhone 7(Plus), iPhone 6S(Plus), iPhone 6(Plus), iPhone SE, SE 2(2020), iPhone 5S, iPhone 5, iPad All Generation, iPad Pro All Models, MacOS Catalina or Earlier MacOS for iMac, Mac Mini, MacBook Pro, WatchOS 6 & Earlier on Apple Watch 6/5/4/3/2/1, Apple TV. You can also mention iOS/iPadOS/MacOS. To be Continued...
Which do you like most? and go for buy from the above top best tempered iPhone 6 glass screen protector. Share with your friends on Facebook, Twitter, and G+.