Thinnest battery case for your new iPhone 6S, first time you can buy best iPhone 6S battery case made by Spigen on amazon. If you are looking quality accessories as a power bank then Spigen accessories are best option, based on past history and trust on brand name. Now for your new iPhone 6S, you can buy spigen battery case as a portable power source.
You might also like: Best iPhone 6S case 2015.
we are happy to help you, submit this Form, if your solution is not covered in this article.
Spigen: Best iPhone 6S battery case: reviewed
You have a great option for buy battery case for your new iPhone 6S, this time spigen ready to deliver battery case and other best protection case (Wallet case, simple case) from amazon.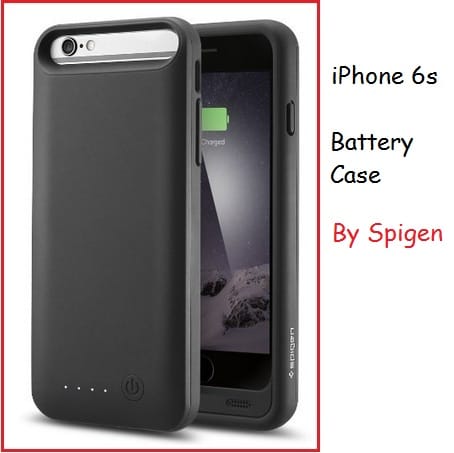 Features of Spigen iPhone 6S battery case
Battery case protect your iPhone on charging time, and case gives best protection on accidental drop, Scratches, When you have this case you can use your iPhone for 60+ hours for enjoy song, 13+ hours for watch movies, 13+ hours for browsing with Wi-Fi network, 17+ hours for calling, and put stand by for 288+ hours.
Interchangeable frame for different and fresh look for all time
Four LED light indicator: Measure power storage in battery case, each LED indicated 25% level. First light (0% to 25%), Second light (25% to 50%), Third light (50% to 75%), fourth light (75% to 100%).
Micro USB charging cable for charge battery case
Order Now ($39.99) – Spigen iPhone 6S case
Rumors are saying iPhone 6S size will equal to iPhone 6, Hope that it will be right. So spigen also saying and selling battery case for iPhone 6.
If you are interested to buy external power adapter then not wrong decision, you can buy it small in size and high power storage capacity from below.
RavPower Portable battery charger for iPhone (3200mAh) Small size: $9.99 (Buy now)
JETech Power bank charger (10000mAh): $16.95 (Buy now)
Techmate Power bank for iPhone 6S (10000mAh): $19.99 (Buy Now)
Share your experience and expectation about your upcoming Best iPhone 6S battery case in below comment box.
Jaysukh Patel is the founder of howtoisolve. Also self Professional Developer, Techno lover mainly for iPhone, iPad, iPod Touch and iOS, Jaysukh is one of responsible person in his family.
Contact On: [email protected] [OR] [email protected]
Premium Support is Free Now
We are happy to help you! Follow the next Step if Your Solution is not in this article, Submit this form without Sign Up, We will revert back to you via Personal Mail. In Form, Please Use the Description field to Mention our reference Webpage URL which you visited and Describe your problem in detail if possible. We covered your iPhone 11 Pro, iPhone 11 Pro Max, iPhone 11, iPhone 8(Plus), iPhone 7(Plus), iPhone 6S(Plus), iPhone 6(Plus), iPhone SE, iPhone 5S, iPhone 5, iPad All Generation, iPad Pro All Models, MacOS Catalina or Earlier MacOS for iMac, Mac Mini, MacBook Pro, WatchOS 6 & Earlier on Apple Watch 5/4/3/2/1, Apple TV. You can also mention iOS/iPadOS/MacOS. To be Continued...