🗓️ September 14, 2023 By ✍️ Jaysukh patel
The future of smartphones is now dependent on other accessories that help to increase your Entertainment, Experience from visualizations, and Effects. In the Shortest time, VR (Virtual Reality) Headsets or Goggles became more popular in the technology industry. And Most of the media channels (Movies, TV Shows, History Channels, and Game promo), Social sites (Facebook, ) or Live Video streaming sites (YouTube) support and developing for use on VR. Be ready by purchasing one of the below lists of best VR Headset iPhone 7 & iPhone 7 Plus, before other social sites Enable option for VR Users.
With time, New upgraded VR Headsets available in Market, So the list of top best VR headset always updated. We are trying to cover all new and Very functional easy to use VR headsets for compatible smartphones.
Try: Best iPhone VR Games
Best iPhone VR headsets: Light, Comfortable
#1. VisionCast VR Headset for iPhone
This is vision cast VR headset for the smartphone And made for Plays 3D games, watch 3D movies or other 3D Virtual reality apps. VR Helmet pays good roll in the whole experience. Auto adjustable focus technology cares your Eye from Near to Device. This VR designed for all size models, Very in screen size doesn't make unused, it's compatible with iPhone 5S/ 5 (4 inches), iPhone 7 Plus  (5.5 inches), iPhone 7 (4.7 inches) and other Samsung models. Auto fixes overheating problems from the magnetic ventilation panel. Leather padding, Adjustable elastic belt in headset keep it secure in use. 30 Days money refund policy covered on Amazon.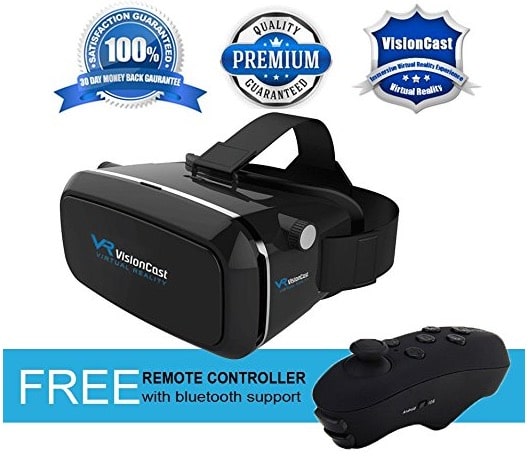 #2. 3D VR Glassed – by Infina
This is infinite Virtual Reality headset for watching 3D movies, play 3D games, and analyze any other thing in the 3D effect in office, School, College, and Library. Upgraded VR headset from cardboard, People are saying after use: more Clear picture. Feel free to use for any age people: Kids or Adults. Just under $30, you get money value VR Glasses. Have your 3D game it's controllable via Bluetooth remote. 12 Month Warranty and 30 Days money-back guarantee.
#3. Best VR Headset by Pansonite
This is a very smart iPhone 7 or iPhone 7 Plus VR Headset. Immersive Virtual Reality headsets for 360 angle. in the box free screen protector, Anti-blue ray glasses, 3D machines, Compatible with 300+ iPhone VR apps, outside physical button for adjusting the distance between focal lenses and Eye. Soft adjustable spandex straps comfortable with any head, Think plush cushioning around the eye for comfort and extended use.
Check Pansonite Price on Amazon
#4. VR Empire Headset for iPhone 7, 7 Plus
Another Alternate VR headset under 20 is VR Empire for iPhone 7 & 7 Plus. 3D Headset Google Box Glasses for all relative size smartphone screens. amazing Design that distributes the whole VR headset equally to the user's head. So it's can use for a long time continuously. Test and daily use to watch 360 videos. Private multiplex feels at your home or office. Lightweight & Durable material explore the use day today.
Bluetooth Gamepad for remotely controlling
Check Price on Amazon buy on Amazon
#5. Bnext VR headset for iPhone 7 and iPhone 7 Plus
Under 50 get money value return, Adjustable eye care technology. Also Good management on Output headphone Audio port and Cable. Some 3D or VR apps we can use for watch & record scenes live using Camera slot. Find VR ready game on App store & Test with this VR Goggles. Supporting to Popular VR apps Google Cardboards apps and VR adventure apps.
You are beginners or never purchase VR earlier, You can go with this expert-reviewed VR.
#6. Virtual Reality Headset for iPhone 7 & iPhone 7 Plus
Shop VR headset with the Remote controller, Bluetooth technology help to instant change running picture, Media, Apps and more remotely. 360 Video experience, Gaming support. Manual FD and OD adjustment for more clear vision. Not for the selected model, But other smartphones that have a screen between 4 to 6 inches.
iPhone Gaming controller is the best combination with VR Headset to play any 3D Game on a remote.
See more Specs and Order on Amazon
#7. VOX+ VR headset
VR headset with Headphone, Plug your audio jack to Vox+ Speaker Headphone. 3-D VR Headset Under 50, Enjoy 3D movie or Game with 3D Sound with More beautiful sound and Extra Bass. No side effect on health and Body parts, One the Sensitive organs in Whole-body "Eyes". Soundproofing technology filters unwanted and disrupting noise (Outside VR world) automatically.
Check Price on Amazon VR Headset on Amazon
#8. Bonus: Playstation VR Headset
most trending headset for the ps4 virtual reality games & gamers. Are you looking for it? Here's the Direct link for order on Amazon (HDMI Cable, USB Cable, Officially released by Sony). 3D audio and Video technology speechless on experience.
Above all are the best VR goggles for iPhone 7, iPhone 7 Plus compatible. That's all are very useful on 3D Game, Video and Apps view.