🗓️ November 10, 2020 By ✍️ Jaysukh patelHere are the best iPhone apps gas station locator and fuel fill up station finder iOS apps. These are most useful apps for the car drivers because can save time through GPS and not need to find stations manually. Best iPhone apps gas station finder for travel planner servicers and for car vehicle owners and drivers.
Top useful for Car drivers/ Owners: Car maintenance reminder iPhone apps
Many of the apps allows track nearby gas stations like Mobile, hess, getty, Conoco, chevron, shell, Safeway gas station locator app for iPhone, iPad.
Collection of best iPhone Apps Gas Station locator: iPad, iPod Touch
Gas Buddy – iPhone apps gas station Finder
You can find nearest gas station and cheap price gas locator by using Gas buddy iOS app. There are more than 53 million+ drivers saving money on gas every time by searching cheap gas on Gas buddy. An app is useful for those folks who are from the USA, Canada and Australia. It will help you to manage finance. Find Gas station near you by tap on Find Gas near me. This app work flawlessly and charm interface. Nice travel/ road trip app for iPhone, iPad and iPod users. Get Gas price report that helps you save money on gas. App last updated Feb 2016. Use app and get chance of winning $100 of gas every day.
FuealZee – Best iPhone apps gas station locator
Let's find now best gas station near you on your iPhone, iPad, or iPod Touch using FuealZee. This is a meritorious app for Zip car drivers cause with the near gas locator, it will also work for you to find cheap gas anywhere in USA by City/Zip/address wise. More it will give you ambrosia thing, want to know how? For that, you need join fun community, in them people helping each other for save money on gas and earn reward and get free of charge gas. Furthermore, also help you for tax refund mean you can also track mileage and gas purchases. It has supports for iOS 8 and later devices.
Around Me – best iPhone apps gas station locator
Around me is a special free app for iPhone users. It's a comprehensive app for daily use. You need finding closet gas station, Taxi. I addition, it allows to choose around you Hospital, Hotel, Movie Theatre, Banks/ATM, Bar, Coffer bar, Pubs, Restaurant, Supermarket, Pharmacies and Car Parking. The app work by GPS and internet needed for accurate location find.
Very simple design and allows two theme view grid and list view in free of charge, if you want to add free service then you need to upgrade premium version. So get started to find nearby you with a single tap. It has compatibles with running all iOS 9 devices such as iPhone 6S Plus to iPhone 5, iPad Air, iPad Mini, iPod as well as Apple Watch, too. It's also best car parking finder app for iPhone 2016.
My Conoco Gas station locator near me app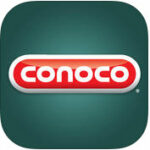 Using My Conoco app is a closest Conoco gas station finder. You also get directions from your car and you current location.  In addition, you can also explore nearby store based on city and state, or enter Zip code. It designed user friendly, you can also save gas station that you like. It's compatibles with iOS 7 and later iOS devices.
Many other daily useful Gas station near me apps, while you are on the road trip at the unknown places and street drive.
Do you have any top best iPhone apps gas station locator or find and not mentioned? Please share your in the comment box.