🗓️
November 24, 2023
By ✍️
Jaysukh patel
Apple's iOS Health app integration makes its iPhone more powerful. It takes care of users by counting walking + running distance, walking steps in mile/kilometer. Apart from that, App has also measured lots of human health-related databases like tracks sleep, Cycling distance, workouts, reproductive health, Nutrition, and many others. All of these health-related units, some of the data have been generated through iPhone's built-in sensors while remaining body activities you can track by third-party apps that are running on available best iPhone Health App compatible devices.
Below listed all health devices are works only on Apple's iOS 10 and later running iPhone models. Check out the bottom list to make sure.
iPhone 6S, iPhone 6S Plus, iPhone SE
iPhone XR, XS Max, XS, iPhone X, iPhone 8 Plus, iPhone 8, iPhone 7 and iPhone 7 Plus
iPhone 12, iPhone 12 Mini, iPhone 12 Pro, iPhone 12 Pro Max, iPhone 13 line-up
iPhone 11, iPhone 11 Pro, iPhone 11 Pro Max
iPhone 6/ iPhone 6 Plus
iPhone 5S/iPhone 5/ iPhone 4S
Best iPhone Health App Compatible Devices: Be Healthy Forever
25+ Best Health Accessories for iPhone & iPad 2022
1). Bluetooth Blood Pressure Monitor
The iHealth Bluetooth Blood Pressure Monitor delivers instant results in just 20-30 seconds of testing, in just a single tap. The BP monitor is approved by FDA and also recommended by doctors to measure BP anytime since we can't have doctors around us every time and if you have blood pressure issues, then buying iHealth BP Monitor is worth investing. Dock shaped stand gives an iPhone space for seamless reading and results over the app; however, your iPhone must be running iOS 8 or later and Bluetooth 4.0 or newer to support this machine and track BP on the go. Besides, you can backtrack the historical data of BP, share the current readings with a family doctor and take quick health check-ups right from the device.
2). AliveCor Heart Rate Checker

AliveCor is the smallest EKG that fits into your pocket, so you can anytime take EKGs without any limitations. Within 30 seconds, it delivers the results and shows what your heartbeat status is and if there's any Fibrillation is detected or not. How does it work? Take out your iPhone, launch the Kardia App and put your thumb onto the AliveCor sensor and make sure the below part touches your knee or ankle and wait for 30 seconds to see the results on the app. All the EKG reports will be saved in the Kardia app, so you can verify with the family doctor on the go and compare it.
3). Smart Body Composition

Withings Smart Body Composition analysis the body and differentiates different elements of your body with high accuracy. It supports up to 8 users and records their weighing details in the app. Besides, you can sync the app with the Apple Watch, Health App, and Google Fit automatically to access your health data in one place. You can get precise results, by following the guidance of the position control technology inbuilt on the digital scale and measuring weight from anywhere. Download the health mate app on your iPhone and let all the health data synchronizes over Wi-Fi.
4). Spire Mindfulness & Activity Tracker for iOS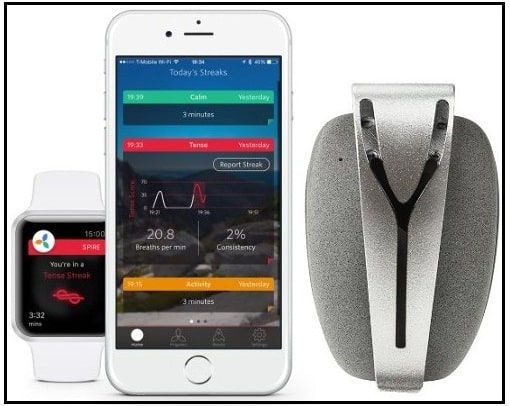 Are you looking for digital health and medical wellness device? Look Spire mindfulness and activity tracker that is running on the iPhone. Useful human health device even when you are not active, Spire tracks your breath and determines your well-being based on your daily breathing pattern. In addition, when you're berating indicates tension, a gentle notification reminds you to take a deep breath.
#5). Upright Posture Trainer: iOS health app device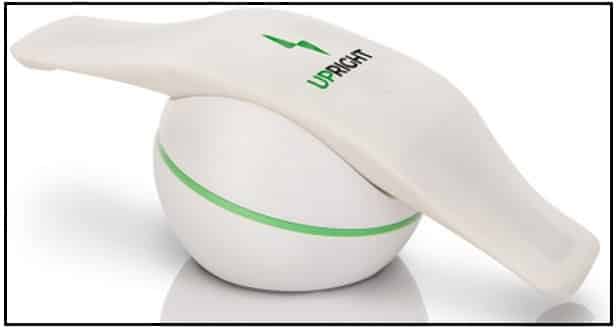 It is an iPhone-controlled best wearable device that trains you to improve your posture. It has multiple sensors designed to track your back's movement. Almost the population feeling back pain due to the sitting job and poor posture, they have complaints related back pain. So if you're an iPhone user and want to overcome that kind of pain then we recommend you this best upright posture trainer, it runs on its designed iOS app but is easy to sync with the iPhone health app.
#1 health care iPhone monitoring accessory designed and built with doctors and trainers. You will require an attachment, don't worry, that's very simple just attaches to the lower back so while you will trying to seat in a lazy posture then Upright gently vibrates every time you correct your posture. Best iPhone health app compatible devices out of all.
Benefits of the device:
Keep away from back pain
Sedentary lifestyle
Body language
Psychological effect
Get more information here – Check Price on Amazon
Do you have any best iOS health compatible devices? please share it with us.
Get More Health Devices for iOS to stay healthy for all time