🗓️
April 25, 2023
By ✍️
Jaysukh patel
Cycling has become one of the most preferred forms of exercise. Indeed, one of the best ways to keep your body fit easily is by using these applications. You can use some latest indoor cycling apps to track your indoor workout activity and ensure good health. These apps enhance your indoor training level and keep you motivated.
These apps are beneficial to both beginners and experienced workout freaks. It helps beginners with all the necessary knowledge to achieve fitness. On the other hand, it also helps experienced fitness enthusiasts upgrade necessary fitness equipment. The following article helps you to pick the best indoor cycling trainer to suit your needs.
Also Helpful: Best Outdoor Cycling Apps for iPhone
1. Zwift: Ride and Run
REASONS TO BUY:
Equipped with new maps and routes
Allows you to make your avatar
Various on-demand short sessions
Now you can devise the most effective indoor cycling workout plan for your body using the Zwift app. It lets you ride with realistic people throughout the globe. You can select from various routes with stunning views. You can work out, race, or enjoy a casual pedaling experience. Experienced coaches build fitness plans and ensure the most effective body training experience.
You can easily customize your current fitness regime to improve your overall fitness. Moreover, you can select from various group rides or join any pacer group. You can choose your desired pace for a workout.
2. RIDE Indoor Cycling
REASONS TO BUY:
Latest class check-in reminders
Clean app interface
Significantly improves your fitness
This app allows you to easily manage the indoor cycling class profile and customize your fitness. You can purchase and reserve cycling classes in the app's Houston and Austin studios. The app is being updated with multiple advanced features.It incorporates the latest screen prompting feature that updates the app whenever any new update feature arrives. Also, there is a facility for bug fixes to ensure smooth operation.

The advanced class check-in reminders give you a suitable message when booking any standby reservation. Furthermore, the updated mobile check-in helps you instantly check-in for the cycling class.
3. Tacx Training
REASONS TO BUY:
Easy analysis of training stats
Streams high-quality video workouts
Easy sync of workouts and activities
If you are searching for the best indoor cycling apps for Apple watch to analyze your workout regime thoroughly, then you can use the Tacx Training app. It elevates your indoor training experience to the next level. You can use it on your desktop, tablet, or phone. Irrespective of the device used, it provides a superlative virtual cycling experience.
You only need to connect the app to your Tacx Smart Trainer. Consequently, you can explore a vast collection of superior-quality training films. Download the application for free or opt for the Premium or Premium HD version.
4. Wahoo SYSTM
REASONS TO BUY:
Vast library of workouts
Uses comprehensive 4DP fitness test
Easy-to-follow training plan
When you subscribe to Wahoo X, you obtain comprehensive access to all the functionalities and content of the app. It helps you to achieve a comprehensive fitness experience with an outstanding virtual cycling platform, i.e., Wahoo RGT. You only need an account and a subscription. Subsequently, you can enjoy endless training, riding, and racing experience worldwide.
It is an immersive and comprehensive training app for endurance, triathletes, and cyclists. Moreover, it is implemented with cutting-edge fitness features to eliminate guesswork during cycling or workout sessions. Hence, it helps you follow the beginner indoor cycling training plan.
5. Kinomap: Ride Run Row Indoor
REASONS TO BUY:
Compatible with various equipment
5 training modes to ensure fitness
Helps in weight loss
If you aim to use an app for indoor cycling for weight loss, then you can use Kinomap. It is designed for walking, running, cycling, and rowing. It is compatible with a home trainer, exercise bike, rowing machine, and treadmill. The app offers easy access to the biggest geolocated video-sharing platform with many routes worldwide.
The app controls the connected equipment and automatically modifies the bike's resistance. Also, it helps you to change the treadmill's inclination per the selected stage.
6. CycleGo – Indoor cycling app
REASONS TO BUY:
Supports virtual cycling and running
Allows selection of workout music
Presents wonderful personalized landscapes
CycleGo is a suitable Apple watch indoor cycling app to stay fit and effectively lose weight. It includes treadmill workouts and virtual bike trainers to help you lose weight. You can instantly use this app if you own a treadmill or stationary bike.
It elevates your treadmill workouts and indoor cycling regime to the next level. Moreover, it is one of the most encouraging home workout apps equipped with running and indoor cycling classes. It is an ideal choice if you want to lose weight without harming your body.
7. Motosumo – Live Indoor Cycling
REASONS TO BUY:
It helps you follow a fitness routine
Accurate motion-sensing mechanism
Includes world-class instructors
Motosumo is renowned as an easy-to-use virtual cycling app for iPhone to achieve fitness goals. It is compatible with any indoor spin bike. Hence, you can attend a class irrespective of your place. Specifically, you can follow a workout regime at the gym, at home, park, etc. Hence, Motosumo presents the simplest way to adhere to your fitness routine.
You can easily select from a global schedule of workouts with experienced instructors. Also, you can on-demand and live classes using a preferred bike. You can plan your workout with a simple tap and seamlessly sync it with your calendar.
8. Exercise Bike Workout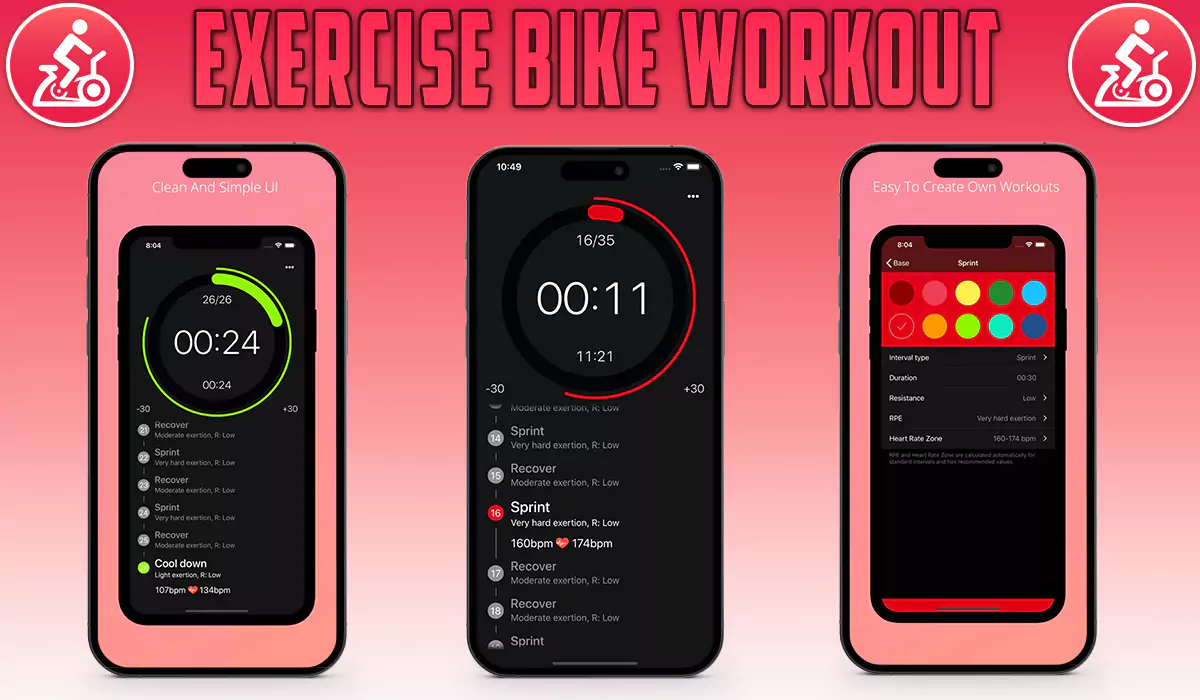 REASONS TO BUY:
Accurately calculates burnt calories
The clean and intuitive app interface
Creates and customizes workouts
This app for indoor cycling on Apple watch supports HIIT (High-intensity interval training) and cardio workouts. It helps burn calories and extra fat effectively and builds muscles quickly. The app is implemented with multiple advanced features like heart rate zones' calculation, calculation of burned calories, and the capability to develop customized workouts. Moreover, the app provides sound, voice, and vibration prompts.
You can instantly share workout data through Apple Health. If you are suffering from knee pain while running, you can use this app for an effective workout plan. You can go through data on calories burnt to shape your body.
9. ROUVY
REASONS TO BUY:
Latest and intuitive UI
Supports 4K-ready video quality
Animated 3D riding experience
ROUVY platform supports 4,000+ geolocated videos that guarantee accurate 1:1 simulation of workout routes and races. It is implemented with d-reality technology and advanced algorithms. Its advanced routers include quality geo-synced video footage with vibrant 3D riders. Hence, you can experience a lifelike cycling experience on the road.
Its advanced features include augmented routes, digital races, virtual routes, the latest UI, and a user-friendly one-click interface. Moreover, you can put on the latest avatars with a customized appearance. You get a detailed view of each workout plan. Hence, you can effectively track your fitness progress.
10. MyWhoosh: Indoor Cycling App
REASONS TO BUY:
Accurate workout progress tracking
Allows customization of your avatar
Supports various time zones
MyWhoosh can be your best free indoor cycling apps for iPhone that offers an amusing fitness experience. It lets you discover an outstanding virtual world, enhance your fitness, and become a part of a dynamic global community in the comfort of your home. You can effectively train your body with over 720 workouts and plans created by experienced coaches. Therefore, you can elevate your fitness regime and cycling goals to the next level.
It is a perfect app for triathletes, road cyclists, and anybody looking to enhance their health. Furthermore, you can design your workout. You can effectively track your workout progress and inspect your cycling performance.
11. FulGaz
REASONS TO BUY:
Supports various fitness sensors
Regular release of new routes
Quick connection to the training platform
Now you can track indoor cycling on Apple watch using FulGaz, which supports more than 1,600 realistic routes from across the globe. Pair your indoor cycling setup with this app and chase your fitness goals.
You can begin one of its world-class training programs that immediately connect from TrainingPeaks or your desired training platform. Moreover, you can experience an amusing ride on any route this app supports. It supports various smart bikes, power meters, trainers, and other fitness sensors. These features help you make the most of your workout plan.
You can experience a more effective and realistic indoor cycling experience with any of these apps. It provides a more immersive and fun-filled riding experience focusing on enhancing the body's fitness. Besides being easily accessible, they help you fulfill your fitness goals without harming the body. They offer challenges and adventurous experience and guides you to achieve your fitness goals. You can choose one of the most suitable iPhone indoor cycling apps based on the desired fitness features. Remember to read the article above to end up with the desired indoor cycling app for iPhone.