Last Updated on Sep 14, 2023
The process of scanning documents is no more a tedious job now. You can easily scan even using an iPad, iPhone, or another high-end mobile device. This is possible with the use of dedicated document & photo scanners. They are popular for being compact, portable, and efficient. Besides, they are implemented with cutting-edge scanning capabilities that accelerate your workflow to increase your work productivity. They facilitate easy access, collaboration, and quick sharing. Most of them are equipped with fast wireless connectivity and broad media compatibility. Moreover, the high-resolution guarantees quality scan results. It is imperative to attain a detailed familiarity with various document & photo scanners for iPad & iPhone available in the market. The following product selections streamline the task of selecting the best photo scanner for iPhone, conforming to your expectations.
You might also like Best iPhone Printer: Print Remotely on Mobile.
Scan Document Remotely over Wi-Fi From iPhone, iPad
1. Doxie Go SE Wi-Fi Wireless Document & Photo Scanner
TODAY'S BEST DEALS: View at Amazon
REASONS TO BUY:
Fast wireless connectivity
Powerful rechargeable battery
No computer required
The qualities like portability, wireless connectivity, decent battery performance, quick scanning, etc., make this device the Best Portable Scanner for iPhone and iPad on this list. You can use it at home, the office, school, etc. It supports unlimited searchable document functionality, enriched with machine learning and Artificial Intelligence (AI) for exceptional accuracy. You can easily search all your files' content by typing an account number, name, or details from your documents. The Doxie apps allow you to save, share, and send copies to the cloud. You can place a quick Amazon order for this Doxie scanner to perceive its powerful scanning capabilities.
2.1. Brother DS-740D Duplex Compact
TODAY'S BEST DEALS: View at Amazon
REASONS TO BUY:
Space-saving and compact design
Optimizes text and image
Fast duplex scanning
If you are looking for a Portable Scanner for iPad & iPhone capable of scanning single and double-sided documents in one pass, then you can use this device. It supports up to 16 ppm scanning speed to accelerate your workflows. Moreover, it ensures high-quality scanning results for both black and white and color scanning. It runs through an included micro-USB 3 0 cable. Some extraordinary features include automatic color detection, image rotation, background removal text, etc. This Brother document scanner can improve your business workflows if you place an instant Amazon order and deliver it to your doorstep.
2.2. Brother DS-640 Compact
TODAY'S BEST DEALS: View at Amazon
REASONS TO BUY
Readily usable anywhere
Broad media compatibility
Bundled software improves efficiency
The DS-640 mobile scanner runs through the packed micro-USB 3.0 cable. So, you can use it at any place, even without a power outlet. It is ready to scan from your laptop or PC. You can easily use the Brother free iPrint & Scan desktop app to scan multiple destinations. Moreover, the OS support includes Windows, Linux, Mac, and TWAIN/WIA. Some outstanding features include automatic color adjustment, image rotation (computer only), bleed-through prevention, and color drop to enhance scans. Make sure to place a quick Amazon order for this Brother document scanner if you aim to use its advanced scanning capabilities.
3. Fujitsu ScanSnap iX1300 Compact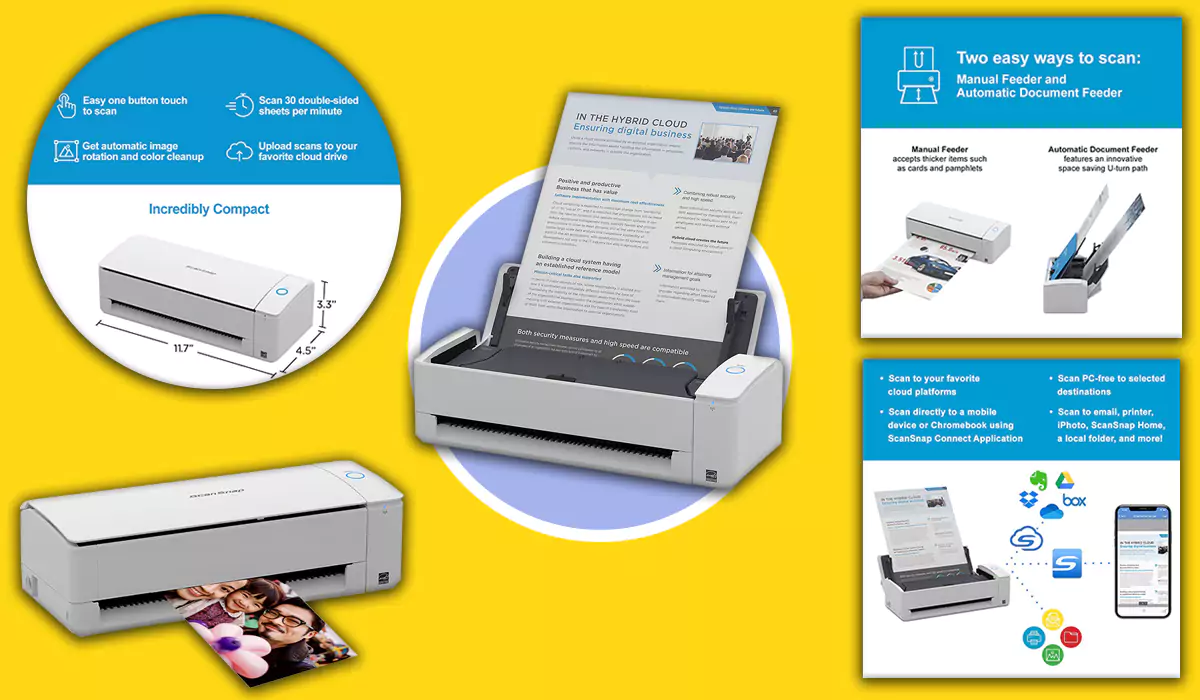 TODAY'S BEST DEALS: View at Amazon
REASONS TO BUY:
Large auto feeder capacity
Long document supports
Allows two-sided scanning
In terms of scanning efficiency and portability, this device is the Best Wireless Scanner for iPad. Its compact and portable design allows use on the go. It supports advanced and intelligent paper-feeding enhancements to support many document types. In addition to USB connectivity, Wi-Fi compatibility offers versatility compatibility to PC, Macs, cloud services, and mobile devices. Moreover, it can scan 4″ x 6″ photos within a second with intelligent features like red-eye reduction and auto facial orientation. This Fujitsu wireless scanner guarantees high-quality scan results, which you can benefit from by placing an Amazon order.
4. Raven Pro Document Scanner 
TODAY'S BEST DEALS: View at Amazon
REASONS TO BUY:
Large 8-inch LCD touchscreen
Automatic blank page removal
Free unlimited document storage
This device is the Best Wireless Scanner for iPhone in terms of document storage space, scanning efficiency, and user-friendly interface. It can effectively scan documents to generate searchable PDFs equipped with OCR to identify handwritten or printed text. The scanner includes a free Raven Cloud subscription for unlimited safe cloud storage. With Ethernet and Wi-Fi connectivity support, this scanner can scan and deliver documents wirelessly; no computer is needed. Besides, Automatic Document Feeder comes with ultrasonic detection ability. Remember to place a rapid Amazon order for this Raven scanner and begin using its great scanning functionalities.
5. Canon imageFORMULA P-215II
TODAY'S BEST DEALS: View at Amazon
REASONS TO BUY:
Broad OS compatibility
Fast and efficient scanning
Simultaneously scans both sides
Being portable and convenient, you can use this Canon document scanner in offices, homes, classrooms, travel, etc. It supports various document types that prove its versatility. Simultaneously scanning both sides of any document suggest its efficient scanning capabilities. Moreover, it can scan color documents at up to 15 ppm speed with a 20-sheet automatic feeder. This scanner can scan Google Drive, Dropbox, Box, OneDrive, Evernote, QuickBooks Online, SharePoint, etc. This Canon document scanner benefits you with fast scanning speed, which you can experience by placing a quick Amazon order.
6. Fujitsu ScanSnap iX1600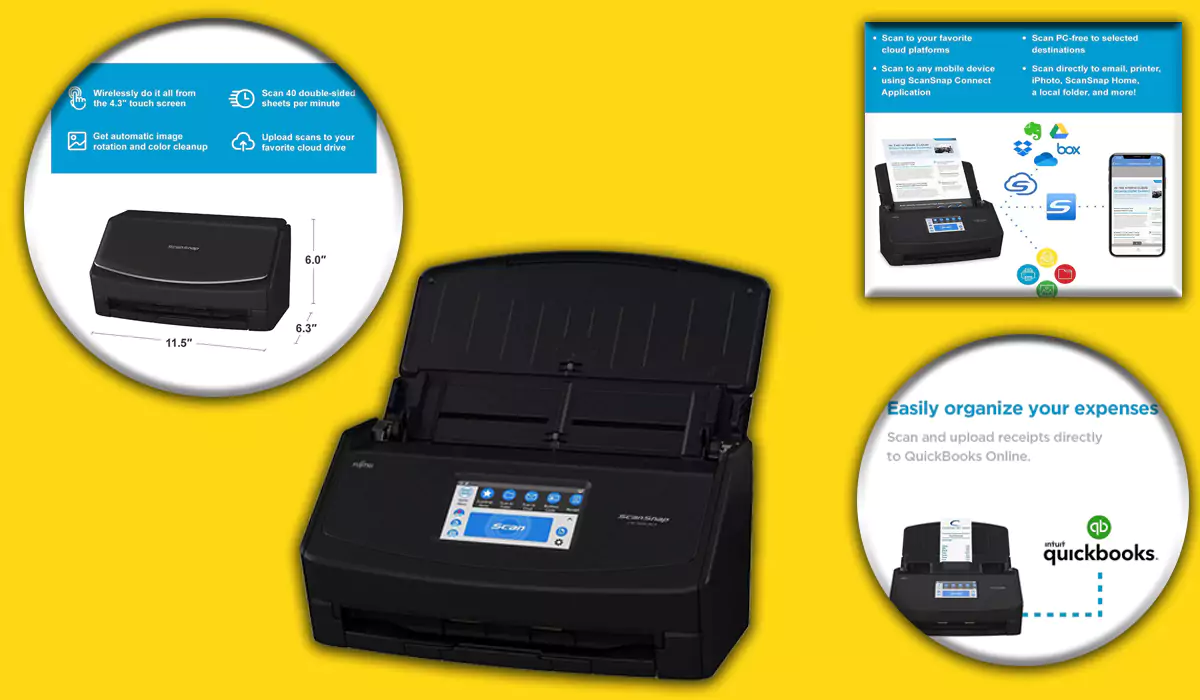 TODAY'S BEST DEALS: View at Amazon
REASONS TO BUY
Allows team sharing
Bright touchscreen display
Fast duplex scanning
This Duplex Compact Mobile Document Scanner is built to increase your business efficiency. It has a user-friendly 4.3-inch touchscreen for efficient data utilization and end-to-end scanning. The support for up to 30 personalized profiles indicates the versatility of this scanner. You can easily personalize the profile on the available touchscreen per your scanning requirements. Moreover, the scanner supports up to 4 user licenses each that allows the customization of icons and user profiles. Remember to place an instant Amazon order for this Fujitsu scanner and enjoy its advanced scanning features.
These document and photo scanners are renowned for broad device compatibility, including iPads and iPhones. They not only provide fast and efficient scanning capabilities but also provide portability for use on the go. They have become important devices for personal and professional usage. Whether it is scanning school documents, receipts, legal documents, photos, etc., you can use any one of these scanners. You should consider the key specifications when buying the best document & photo scanner for iPad & iPhone. The recommendations for document & photo scanners for iPad & iPhone discussed above help you to filter your search and pick the best one fulfilling your budget and anticipations.