🗓️ September 14, 2023 By ✍️ Jaysukh patelAre you want to track your running activity on your brand new iPhone and iPhone plus? But all runners having a question, what is the perfect solution to keep the device safe and secure during his/her running activity? Then, athletes and many other runners firstly choose Accessories like iPhone 7 Plus armbands and best iPhone X, iPhone 8 (Plus), iPhone 7 (Plus) Running Belt, and iPhone 7. Not slow down while you are running an all-time good for fitness activities.
This belt contains several zippered pockets so that you can easily lift your essential items with you and which is necessary for you to carry with you. Every person has different waist sizes and as per that various sizes of belts are available.
The Best iPhone X, iPhone 8 (Plus), iPhone 7 (Plus) Running Belt: Fits with all iPhones
Sporteer Kinetic Sports Belt for iPhone X, iPhone 8 (Plus), iPhone 7 (Plus)
This Waist belt specially prepared for sports activities like hiking, jogging, playing games, etc. You can comfortably fit your otterbox and lifeproof iPhone cases of dimension up to 160mm x 85mm x 16mm. After inserting iPhone 7/7Plus on this running belt, it is straightforward to access the functions. Extra zippered pockets also included so that you can carry some of your necessary items. The sports belt is very light in weight and adjustable up to 24 to 40 inches.
It is water & sweat resistant so that it makes your device water and sweatproof. Order today and get a 1-year USA warranty.
Most Durable Running Belt offer by Runtasty
It is a #1 brand Runtasty sports belt is adjustable up to 28" to 45" as it contains soft elastic straps. There are two pockets so that your device gets easily fits in that pocket. Extra pockets are handy because you can put your money, cards, etc. in that pocket.
Running belt is waterproof so that in any circumstances your device gets protection against water and sweat. It has visibility reflectors so that you can walk, play, etc. very safe at night time also. Perfect + Secure product to place your iPhone while you are running, cycling, fitness workout, hiking, walking, etc.
Best Running Belt for iPhone 7/ Plus- Easy to put Phone with case
The sports waist belt consists of neoprene material hence it is excellent for jogging, walking, and hiking purposes. For convenience purposes, extra pockets have given for setting up money, cards, earphones, keys, etc. it is waterproof and also moisture resistant since neoprene is used. The opening of this belt is from the front side with an elastic strip which provides comfortability to the user.
Check Price on Amazon: Big Discount on real price iPhone 7 Plus running belt
EOTW Running Waist Belt for iPhone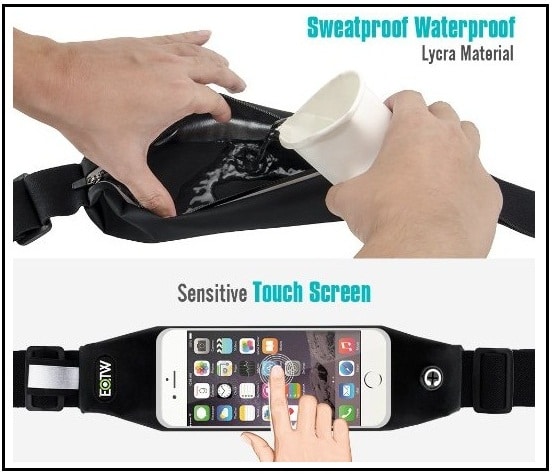 The distinct property of the presenting belt is, it is hand washable. The superior quality of the material used for the manufacturing of this belt. Reflective straps which are very necessary when you are busy with jogging, cycling, hiking, etc. at night and also in the early morning.
The zipper pocket is essential for this type of belts for protecting your valuable things. For proper fitting, it can be adjustable according to your waist size up to 150cm.
Add to bag: Discount + Free shipping for Amazon Prime members
Hydration best Running Belt for iPhone 7 Plus/ iPhone 7
The new thing about this belt is that you can carry a water bottle of 60z capacity. It will be helpful while you are running. The adjustable waist size of this belt is 43" and it can be flexible with the help of velcro. After using this belt, you will not feel that it is on your waist because it is light in weight and comfortable. This belt is unisex.
Add to bag– Good Reviews waist belt
uFashion3C Running Belt with Zipper
Running belts are dedicated to persons who are interested in exercises and sports activities. The adjustable waist size of this belt is from 25.5" to 39.3". Specifications of this belt are it is washable, contains elastic straps, sweat-proof, water-resistant, and zipper. As neoprene is there, it is light in weight and you will not feel that it is on your waist.
Check Price on Amazon: Running belt waist pack
Do you ever found the Best iPhone 7 Plus Running Belt expect given above? please share it with us in the below comment box.