🗓️ November 10, 2020 By ✍️ Jaysukh patelIf you are an iPhone SE/5S/5 owner, please don't miss to look out these cases. Because here I'm showing you those cases, which are most reliable to buy, to give as a gift and protect your worth phone with a durable cover and nominated as best iPhone SE/5S/5 Cases.
We reviewed first and then gather all cases like waterproof, life-proof, and protective case for iPhone 5s.
Best iPhone SE/5S/5 Cases
#1. JETech Protective Case for iPhone SE/5S/5
JETech offers a super 
protective
case for
iPhone SE/5S
/5. It was designed in two layers and constructed from harder protective plastic. What you want to look more beautiful your iPhone 5S, then put it in this slim fit case.
As well as, try to give it protection from drops and scratches. Buy now this sturdy, access all controls and easy to carry case and get a lifetime warranty from the manufacturer.
Check JETech Case Price on Amazon
---
Get More: 5 Best iPhone SE/5S speaker docks: Docking station
---
#2. Top iPhone SE/5S/5 Otterbox Case
Are you looking for a durable, lightweight, and protective case for your iPhone 5S or iPhone 5? Then let see in this case, before buying any other case. The Otterbox, it is good in demand and famous cases maker brand in the USA.
It has offered so many Covers as series wise. This case is an instance of the commuter series. It is best to buy an affordable price case for iPhone 5S/5. An advantage is you can charge your iPhone 5S/5 with the Case.
Check OtterBox Case Price on Amazon
#3. i-Blason Armorbox heavy duty case for iPhone SE/5S/5
Top ratings and nice designed case specially made for Apple iPhone 5s/5. Let's look at features of this hybrid case like shockproof, bumper protection, built-in screen protector.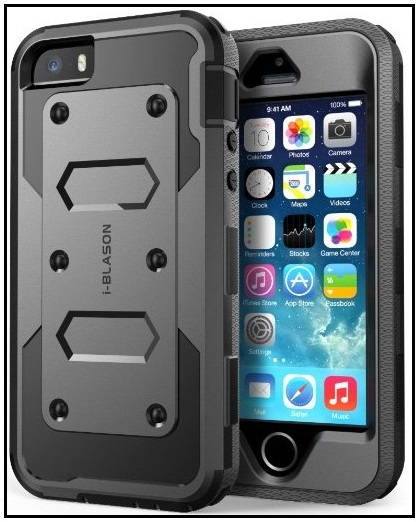 The Case can survive your iPhone 5S Screen against scratches, dust, buy this case and get this cover with the holster for Apple iPhone 5S, precious cutout so you can access all controls with this case such as speakers, cameras, sensors, and all ports.
Check i-Blason Case Price on Amazon
---
Don't Miss Out: Best Bike Mount Holder for iPhone SE/5/5s
---
#4. Best iPhone SE/5S lifeproof case
It's dual color iPhone 5S lifeproof case. Want to keep your iPhone 5S/5 inside hard proof protection. Then this case is a great sound option for you.
It is a slim fit, good profile, superior design, and multiple colors option case pack against all cases. It is one of the best waterproof cases for iPhone 5S/5.
Check Lifeproof Case Price on Amazon
#5. Best Spigen iPhone SE/5S/5 case
The USA leading case maker brand Spigen offers 
iPhone 5S case with Screen protector
.
It has come with features like extreme Drop Protection, Air cushion technology corners; back protect the screen, and the back panel from scratches.