It was known that Apple was going to remove the music port from iPhone 7 and later models, iPhone 8, 8 Plus, iPhone X. So we need Best iPhone X Adapter that gives two options to listen to music one is using Bluetooth headphones or by wired earphone using the connector. If you have Bluetooth earbuds then there is no need to worry, but you are using wired earphones then you have only one option to enjoy music with charging.
With this headphone adapter Apple, you can charge the device as well as listen to music with the same quality. The adapter is very compact and straightforward to use with your iPhone X.
we are happy to help you, submit this Form, if your solution is not covered in this article.
The Best iPhone X Adapter for listening to music and Charge at a time – 5 top iPhone X accessories
Belkin – Fast charging while listening to music via USB 2.0
Belkin's adapter for iPhone X will not let you feel the absence of headphone port. The adapter is meant to give a better experience of headphone along with fast charging. Without this you can charge the device or listen to songs that means only one activity at a time is possible. The product is MFi certified to support all the features of iPhone, and it delivers clear crystal sound during listening songs or talking on a call.
Plug this adapter into iPhone X Charger port and Get two extended port one is for listening to music and other is for charge the device.
Order On Amazon ($34.99)
RayCue – The best Apple power adapter for the iPhone
RayCue's this adapter will make you feel relax with its service. It supports all the iOS versions including iOS 11 and works great with all. The adapter will not affect the speed of charging, and correspondingly you can play music on headphones and charge iPhone. Just one step gadget only you need to plug into the iPhone and carry on with your stuff.
Order On Amazon ($12.99)
Steanum – The best power adapters to fast charge iPhone 8 and iPhone X
The main function of this adapter is to provide charging at regular speed and simultaneously play music using earphones. After the elimination of music port from iPhone 7, you can't do both this activity at a time. Just plug into the iPhone X and play music without compromising the quality of music, enjoy clear sound.
Buy on Amazon ($15.99)
ZHUIMENG – iPhone X Charger
ZHUIMENG's this deal is worth buying because they are offering adapter, headphones and stand for the adapter. Along with charging the device and listening music you can sync data with it. Outstanding sound quality will give you clear sound while calling as well as while playing music.
Order on Amazon ($15.99)
Rockever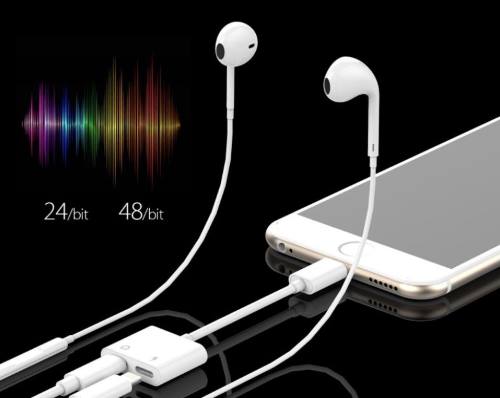 The Rockever's delivers 24-bit output and hence maintains the quality of Apple's earphones. When your device is running out of battery and at that time you are enjoying music than without this adapter, you can perform both activities. Thus to continue both things you need to purchase this adapter and then enjoy with your iPhone X.
Order On Amazon ($12.99) [57% off while written this post]
Above is the great solution that also recommends by apple for listening music, Watch Video, Gaming and Charge your iPhone X without Wireless charger and Air pods.
Premium Support is Free Now
We are happy to help you! Follow the next Step if Your Solution is not in this article, Submit this form without Sign Up, We will revert back to you via Personal Mail. In Form, Please Use the Description field to Mention our reference Webpage URL which you visited and Describe your problem in detail if possible. We covered your iPhone 11 Pro, iPhone 11 Pro Max, iPhone 11, iPhone 8(Plus), iPhone 7(Plus), iPhone 6S(Plus), iPhone 6(Plus), iPhone SE, iPhone 5S, iPhone 5, iPad All Generation, iPad Pro All Models, MacOS Catalina or Earlier MacOS for iMac, Mac Mini, MacBook Pro, WatchOS 6 & Earlier on Apple Watch 5/4/3/2/1, Apple TV. You can also mention iOS/iPadOS/MacOS.
Jaysukh Patel is the founder of howtoisolve. Also self Professional Developer, Techno lover mainly for iPhone, iPad, iPod Touch and iOS, Jaysukh is one of responsible person in his family.
Contact On: [email protected] [OR] [email protected]