Last Updated on Nov 10, 2020The bike mount holder is a handy accessory that gives you safety and flexibility during your cycling trip and much more that includes trekking, riding, Cycling, Drive Bike, or more. They give you perfect security and also you can efficiently use your smartphones entirely without any disturbance. Below is some Best iPhone X bike mounts holder that you can use for your easy convince.
Grab money value protective stand for your Two-Wheelers and Car as well, easy install on your Bike, Bicycle, Moped, or Handlebar in all vehicles.
Money Value Top Best iPhone X Bike Mounts Holder for Edge to Edge Screen
#1. Macally Aluminum Bike Mount Holder for iPhone X
The phone holder is congruent with iPhone X, 8, 8+, 7, 7+, 6+, 6, and other Android smartphones. The look is such an eye-catching having excellent craftsmanship with a double-sided opening that gives guarantee security and grip without any harm and damage to the phones.
Macally Aluminum Bike Phone Mount Bicycle Holder gives complete rotation and selectively options for landscape and portrait views during any GPS usage or bike riding apps during your bike journey. The knob is perfectly attached to a vice structured grip in the prevention of any drop or slip. The mounting clamp contains a width of 0.88 " – 1.25″ this perfectly fits the handlebar without any falls.
#2. AONKEY Bike & Bicycle Motorcycle Mount for iPhone X
AONKEY MegaGrip Bike Bicycle Motorcycle Mount is compatible with iPhone 7 Plus, 6S, 6, and other Android smartphones. It fits the helm of motorcycle or bike bicycle handlebar of 1.3″ or smaller correctly and one can use this holder while trekking, touring, drop, or straight ways. Additionally, the security strap adds more convenience to the joint of the smartphone with the bungee strip that increases the security.
It gives a 360° rotation for easy access to landscape or portrait view. The material is strong all over that makes the smartphones secured and prevents it from any falls and damages. Best iPhone X Bike Mounts Holder you can buy on Amazon.
#3. iPhone X Bike Mount holder: Adjust with All Smartphone screen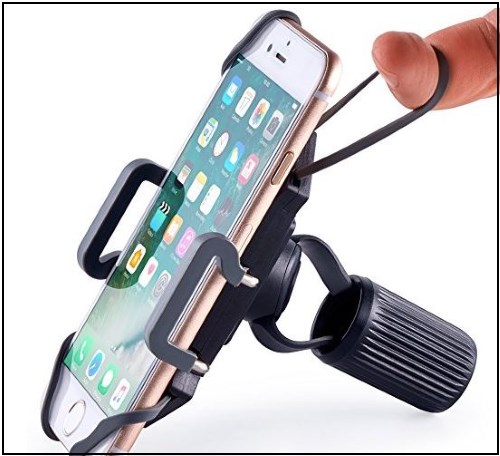 CAW car accessories: phone holder is cooperative with many of the iPhones and Android smartphones having tubular handlebars. It gives extra secured with their rubberized clip attached with silicone belts that holds the smartphones perfectly and absorbs the shocks. Even during your most extreme rides, the phone is secured from any falls.
The grip offers here gives you an adjustment according to you that means you can adjust the screen according to your comfort and has a 360° complete rotation with the use of a screen, buttons and mic jack for music, so the process of unmounting the smartphones or iPod is neglected. this is best bike phone mounts 2018,
Order on Amazon – $18.95
#4. Roam X Grip Universal Bike Mount holder
Phone mount for a motorcycle. it is congruent with many iPhones and smartphones with a clean and sharp four leg design for great holding capacity without any screen covering pads or plastic so you can observe the whole screen and enjoy your ride. It is compatible and interchangeable with many Roam products. It is rustproof so no matter it is wet even. phone holder for motorcycle allows the versatile of a holder for all attachment to ball mounts.
#5. Universal Phone Mount by IPOW
The best iPhone bike mount is compatible with iPhone X, 8, 8+,7,7+, 6+, 6, and other Android smartphones and iPod touch. The material is durable having a strong bell socket that increases durability and security. this is Best Bike Mounts for iPhone X, iPhone 8, and iPhone 8 Plus.
It inbuilt two silicone bands with a black band at the center with brightens itself during the low light condition and a QUICK RELEASE clip offers easy-going on and off that helps in comfortable mount ride. The silicone band grip and the adjustable clamp allow the flexibility and firm attachment to the smartphones, and it fits the tubular handlebars. Additionally, this allows full access to the entire phone screen and buttons and other accessories without any removal of the device from the holder.
#6. Arkon Bike handles for iPhone X Bike/Bicycle Mount holder
phone holder for motorcycle is compatible with iPhone X, 8,7, 6S and other Android smartphones. The elastic strap wraps around the gadget for protection, and the patented holder gives the adjustment to screen up to 8 inches. It comfortably fits with the handlebars of the motorcycle or the bike bicycles of 33mm diameter.
Order on Amazon – $16.95
#7. Aduro grip: iPhone X Universal iPhone X Bike Mounts holder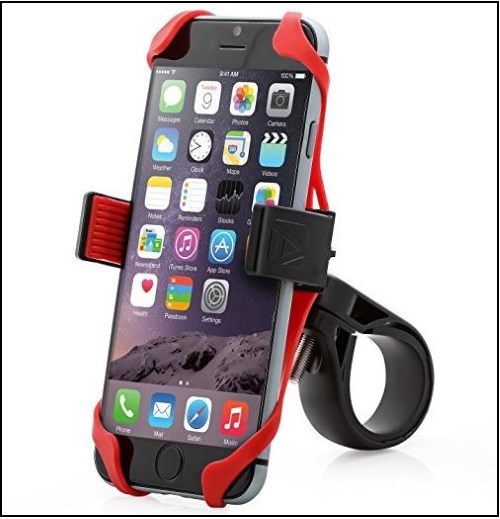 The universal bike or motorcycle mount fits many smartphones and iPhones. It provides the handlebars of 1.5-inch diameter and smaller with a fully rotative in 360° direction and tilt. best bike phone mount holds ups the smartphones till 5.5′ screen, and it also includes the silicone band for additional security and safety.
Buy on Amazon – $17.99
#8. Bovon Bike iPhone X Mount
Bovon Bike Mount is one of the best rated universal bike mount for smartphones that can hold the phone with the size between 4.0" to 6.5", tightly, including iPhone X and other compatible devices. For a detailed list of compatible devices, apart from iPhone X, you can check the Amazon. The construction is done using the Silicone material, which really fits up on the bike without scratching the phone, mount holder and the bike itself. Rotate the iPhone to your convenient angle, while riding the bike on the streets.
#9. Mongoora Bicycle Mount for iPhone
Mongoora is an all-in-one Mount that flexibly fits with the Bicycle and Motor Bikes to ease navigation while roaming around the unknown streets of the Cities and Countries. It round ups the phone from all sides, so even if you are climbing the mountain with the iPhone, it stays safe and sound while your bike jumps. For extra protection, they have added three durable silicone bands and a high-quality durable material that lasts long.
Check Mongoora Bike Mount Price on Amazon
#10. visnfa Cradle Clamp
visnfa's unique design makes it easy to install the phone inside without scratching the edge panels of the iPhone's case. You don't need any additional tools to set up the bike mount holder on the Bicycle or Bike, or also on the Treadmills, it doesn't matter what cycle or bike you have, visnfa is built for everyone. It costs around $14, but the best part is it is compatible with numerous devices ranging from 3.5-inch to 6.5-inch.
Check visnfa Bike Mount Price on Amazon
#11. Adjustable Bike Mount for iPhone X
This Bike Mount is compatible with almost all the phones with the most common sizes, with many more flexible options. It contains rubber sling that controls the bumps and damages that might occur to your phone while riding the bike on the mountain or in bumpy places. It supports 360-degree rotation, and orientation to conveniently access the phone.
Check Bike Mount Price on Amazon
Others also in interested for:
You can go with this option for better security and comfort according to your convenience and need. Like it! Share it! Also, recommend your Best iPhone X Bike mounts holder.