🗓️
October 5, 2021
By ✍️
Jaysukh patel
QI charging feature is relatively new and introduced in selected models. This function will enable you to charge any QI chargeable supported device to charge wirelessly by just putting the invention on the charging pad. Only you need to connect the pad with a power source using the almost suitable adapter. This is because there are so many companies that are offering new charging pads at different prices.
The advantage of using a QI charging pad is that it charges the device fast compared to regular chargers and keeps the smartphone fresh. Below I have mentioned some of the best charging pads at a very cheap cost, and they will give reliable service.
Also Buy:-
iPhone 12 Pro Max Wireless Charging Pads: Experts Collection
---
#1. Anker wireless charging pad
#2. Belkin's Wireless Charging Pad for iPhone 12 Pro Max
#3. BEZALAL Wireless Charging base for iPhone 12 Pro Max
#4. Spigen- Top Best Charging base for iPhone
#5. VersionTech – iPhone 12 pro max Wireless Charger
#6. Turbot – Speed up Wireless Charging Pad for iPhone
#7. Techmatte Charger for iPhone 12 Pro Max
#8. Smart Electronics Solutions AirPower Alternative
---
#1. Anker Wireless Charging Pad
Anker's wireless charging pad is a top leading Qi-certified charging pad among showcased all chargers. I recommend an Anker wireless charger pad because it looks amazing and works perfectly to charge the X-series iPhone model.
It also supports iPhone 8 and 8 Plus models; that's why your second driver or your other family members can also charge its phone.
Apple AirPods Wireless Charging Case and wireless charging Android smartphone like 10W Fast-Charging Galaxy S10/S9/S9+/S8/S8+.
So order today and get this charger on your hand as soon as fast.
It is cheaper and readily available on Amazon's online store via this buying source.
#2. Belkin's Wireless Charging Pad for iPhone
Belkin delivers an optimal charging solution for QI-compatible devices. At first, you have to connect the pad to a power source, and for that, you will get a 5" cord and then place your iPhone on the charging pad.
The case is crafted so that you don't need to remove thin Cases from iPhone, and overheating will be prevented too. It has a green LED which shows that your device is placed correctly and charging on the pad. In addition, 3-year protects the charger pad with registration.
Click here to Get More on Amazon.
#3. BEZALAL Wireless Charging base for iPhone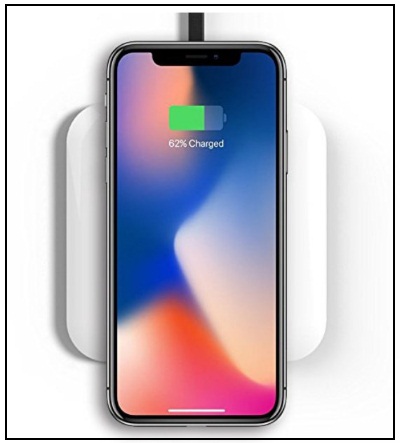 BEZALAL's charging pad for QI-enabled devices is a fantastic way to charge with excellent efficiency. First, you have to connect the pad with a power source and, after that, put your device on the pad.
The aluminum base and acrylic surface help the pad to remain cool. The charging pad is very slim and sleek, compact to carry anywhere, and gets rid of cords for charging the iPhone.
#4. Spigen- Top Best Charging Base for iPhone
Spigen's charging pad is very cheap compared to other charging pads and also convenient for the iPhone. In addition, this pad is circular, tiny, lightweight, and portable.
The LED light will show that the iPhone is getting a charge or not. In addition, the upper surface of the pad is crafted with an anti-slip surface that will secure your device from damage.
#5. VersionTech – iPhone Wireless Charger
VersionTech's charger is the only one that allows the user to charge in both positions that are vertically as well as horizontally. It is meant to charge the iPhone with the fastest speed, and it is a requirement of every person.
With fast charging, you also have to take care that your device remains cool. Otherwise, this will affect the iPhone's performance, so it has the best cooling technology to prevent damages.
#6. Turbot – Speed up Wilress Charging Pad for iPhone
Charge iPhone 12 Pro Max quickly with incredible speed with turbot wireless charger. The charging pad has a secure grip so that your device doesn't let slip from the pad, and its perfect fitting enables charging with impressive speed.
For better results, you have to use an adapter of 2A from outside, and the adapter is not included with the charging pad. Also, sometimes you didn't precisely set the device, and the loading process gets slow, so to alert you, the LED indicator will turn green if it isn't placed appropriately.
#7. Techmatte Charger for iPhone 12 Pro Max
Techmatte's charging pad has an elegant design. With improved charging technology for the iPhone 12 Pro Max, while charging, you can enjoy movies or read books because you can Charge the device horizontally or vertically at your convenience.
Smart LED indicators to show the status of charging and advice like if there is no device, it will turn to blue when you put device it will turn to red and after fully charged the light will turn again to blue.
The power adapter is not included with this charging pad, and for better results, a 2A adapter is suitable for this.
#8. Choetech Smart Dual Wireless Charger
it looks like an Airpower alternative, and it has invented an unusual charging pad for iPhone 12 Pro Max, which can charge with its incredible speed. The compact shape and design of this Pad enable you to carry it comfortably, and the LED indicators will show the status of the remaining battery.
This Qi-certified charging pad is universally made up for all the Qi-supported devices, and safely you can charge an iPhone without overheating or shock. In addition, it will improve the efficiency of the device.
Get More Accessories for iPhone
>Best Charging Pad Alternative iPhone battery Case Covers
>Best iPhone Bike Mounts holders
Also Buy:-