Find Wishlist of Top Best iPhone XR Clear Cases From Best Protective, WaterProof, Bumper and Wireless Charger compatible. Apple has finally upgraded its flagship Smartphone, i.e., iPhone X to a new avatar with advanced features and pleasant looks. Yes, we are talking about the new flagship device iPhone XR. This device has a beautiful 6.1 inch LCD display and a top-notch design that deserves ultimate protection. We know how eager you are to flaunt your new device to the envious eyes, but taking it naked isn't a wise move.
Clear cases are best for many reasons. They'll fortify your phone while revealing the look from all ends. Here are some crystal clear cases for iPhone XR that you should adopt for a smooth and long-lasting experience.
Best Clear Cases for iPhone XR: Never Give up the Beauty of iPhone XR
1: Trianum Clear Case for iPhone XR:
With a complimentary air-cushioned design, these iPhone XR clear case features drop protection so that you are not worried about the camera or screen to break down.
Trianium has a TPU made bumper phone case which can surpass the mild shocks easily. It has a crystal clear back that is transparent and doesn't contain even a single dot. This case comes with a multi-functional ring holder and a lifetime warranty that can easily drool anyone.
2: Spigen Clear Case for iPhone XR
If you are searching for a voguish clear case for your iPhone that has a snug fit, go for this one. This clear case has a slim fit and conveniently wraps around the corners.
With a brand new hybrid design, it cushions your phone from drops and shocks and offers a robust protection from all the scratches with its strong PC translucent cover.
The iPhone XR clear case's front half is patterned for an efficient grip while the back half is kept smooth for easily keeping in and taking out from the pockets.
3: Ounee Clear Case for iPhone XR with Waterproof case:
Want a clear case for your iPhone XR that's waterproof too? This precisely designed case from Vapesoon is IP68 certified and is tested to stand in water for over 30 minutes.
So, if you want to take your phone while sporting outdoors or while surfing around, this iPhone XR clear case is a perfect companion. Along with high-grade protection, it also comes with a one year warranty.
4: iBlason: iPhone XR Clear tough case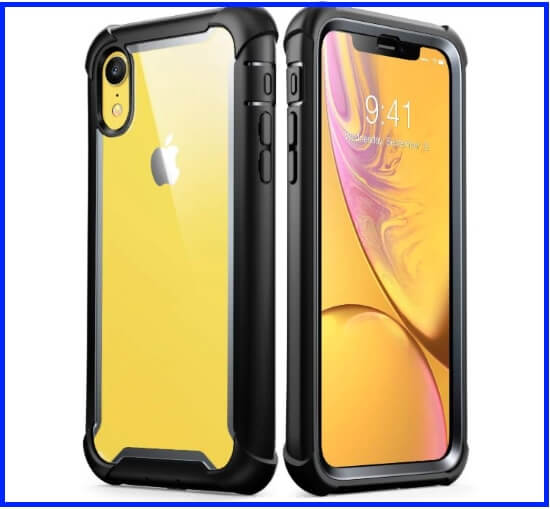 The iBlason's iPhone XR clear tough case comes with a polycarbonate backplate and a TPU bumper for added protection. This soft yet slim case protects your phone from scrapes and keeps it away from all the possible scratches. The clear back portrays your device beautifully along with defending against utmost damages.
5: SUPCASE Clear Case for iPhone XR:
This case from SUPCASE has a form-fitting and a minimal design. The transparent back looks attractive and catches the eyes in the first look. This iPhone XR clear Phone case features a smooth finish while all the buttons are covered with a soft material so you can tap then easily. Don't miss the raised bezels as they can provide your phone with extended protection.
6: ESR Clear Case for iPhone XR:
ESR is renowned for manufacturing best-in-class cases for iPhones. 1 mm thick and lightweight, this iPhone XR clear case will be your real inmate. It's constructed with TPU and has a PC back, so there's no scratchy back. ESR has raised edges that ensure that the camera lens and phone's display are far away from getting vandalized.
7: MoKo Clear Case for iPhone XR:
MoKo is one of the most prominent brands in the case and Smartphone accessories. This crystal clear iPhone XR clear case from MoKo has a hybrid appeal and is very flexible.
The outer surface is shock absorbent, and reinforced corners protect the screen. Lastly, the material is mushy and portrays a premium look when held in hand. If you want to adore thinness, go for this!
8: Ztotop Clear Bumper Case for iPhone XR:
Ztotop has got a transparent body that reveals the beautified design of your iPhone XR. With its anti-slip frame designing and TPU shock-absorbent frame, the iPhone XR clear bumper case offers a slim profile with a convenient grip. This manufacturer offers a lifetime warranty. So if you aren't satisfied, you can claim your money back.
9: Luvvitt Clear Case for iPhone XR:
If you have been searching for a premium iPhone XR clear case, you will be enticed to have it. The flexibility along with splendid Greman Bayer TPU offers a hassle-free functionality.
The case possesses a non-slip edge design so that you can comfortably hold your phone without worrying about the slip. You get an added benefit here with its clear micro-dot technology that prevents your phone from getting any watermarks.
10: DTTO Clear Case for iPhone XR:
This case features metal luster edges so that you can flaunt your slim and trendy iPhone. It's incredibly stylish, modern and provides you with a beautiful and premium feel.
The refined design keeps your phone protected from scratches and gives you a perfect buying experience. It also comes with a lifetime warranty period for all the promised capabilities.
Wrap up
Holding the freshness of this delicate device takes innovation, and these clear cases are highly innovative. The clear cases for iPhone XR mentioned above are a new realm of clear cases and will retain the charisma of your phone throughout life.