My Wishlist of Top best iPhone XS Max Battery Cases With the vast display size and robust features, you will need some battery backup for your iPhone XS Max. So today we are listing some of the best battery cases for iPhone XS Max. However, if you are the person that doesn't keep the iPhone XS Max away for a single second, then battery phone cases are the ultimate option for you, instead of running towards the socket merely press the button and get your device charged.
It is obvious we don't like to carry heavy and bulky cases because it creates difficulties while traveling and giving around the Malls. Keeping in mind, we have gathered five best battery cases for iPhone XS Max.
we are happy to help you, submit this Form, if your solution is not covered in this article.
Top list of the Best iPhone XS Max Battery Cases
#1. Alpatronix battery case for XS Max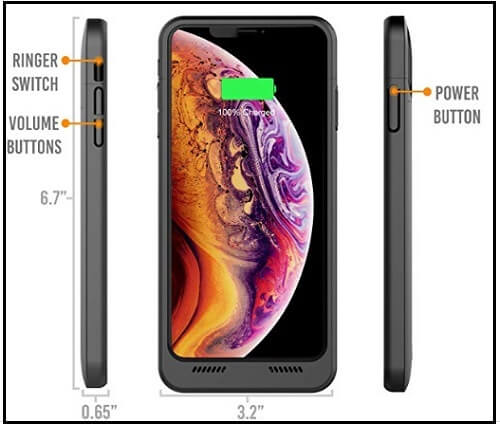 Alpatronix's this battery case is built to extend the battery life of iPhone XS Max by 5000mAh. This means you can fully charge the device once and with the remaining battery, iPhone XS Max will get around 20% to 30% battery life.
It is an advanced battery case that can charge on the wireless smart charger. However, it will charge your iPhone, and then the battery case will get charged. Along with this battery case for iPhone XS Max, you will also get a tempered glass screen protector to guard the display from scratches and cracks.
Alpatronix's battery case cover for XS Max: Reviews 4.5 stars out of 5
#2. Lonlif, 5

000mAh Portable Battery Juice Case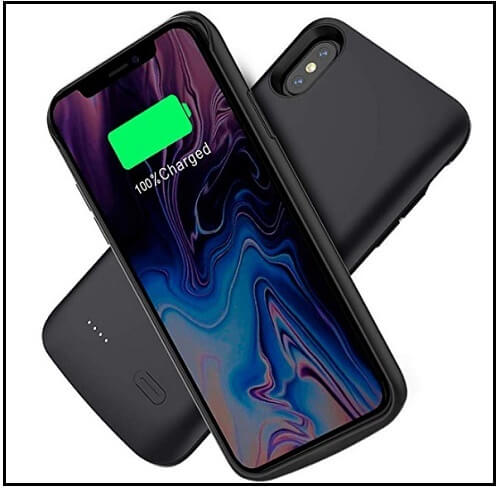 If you are looking for a stylish battery case for iPhone XS Max then here it is. Lonlif's battery case for iPhone XS Max is specially shaped to give a glossy look along with battery backup.
The positive note of this battery case is you will get a lifetime warranty and so without worrying about the phone case you can enjoy battery back of 5000mAh. Forget the cases which embarrass you and bring this ultra-slim and the travel-friendly case for your iPhone XS Max.
Click to buy Lonlif battery case cover for XS Max: Reviews 5 stars out of 5
#3. Moonmini,

Extended Charger for iPhone Xs Max
Add a 105% battery life on your iPhone XS Max with Moonmini battery case. Its ergonomic design is, and it is convenient to carry the device with side grip. With its full edge protection, the iPhone is safe against the drop and bumps.
Additionally, it is designed by considering the protection of intelligent security like Temperature Protection, Over-charge Protection, Short-circuit Protection, eset Protection, Cell PTC Protection, Input overvoltage Protection and so on.
This Back Battery cover is Qi Wireless Charging Compatible.
Moonmini power case for iPhone XS Max: Reviews 5 stars out of 5
#3. Ztesy, Protective Battery Case for iPhone XS Max
Quick On/Off buttons and four levels indicator light the battery phone case is straightforward to operate. You can sync and charge the device simultaneously using one lightning cable.
Generally, if you want to give real edge protection, then the material of the case should be soft, and fortunately, you will get in this case. Also, it includes conductive built-in magnetic metal so that you can mount in your car's magnetic mount and charge the device while driving.
Vocalol 6000mAh battery case for XS max: Reviews 5 stars out of 5
#4. Maiphee, iPhone XS Max 

Portable Charging Case
The unbelievable advantage of this battery case for iPhone XS Max is it only adds 0.22 inches to your iPhone which is negligible compared to other battery cases. Although some of the typical phone cases make your device bulky and so you always have to carry that load in your hand.
The hard shell texture of the battery case gives extra protection from daily wear and tears like scratches. Quickly get to know how much power is remaining in the battery case by its LED light indicator.
Order here Maiphee battery case for XS Max: Reviews 4 stars out of 5
Like it & Share This Top best iPhone XS Max Battery Cases that will also care for your Friend's iPhone battery.
Premium Support is Free Now
We are happy to help you! Follow the next Step if Your Solution is not in this article, Submit this form without Sign Up, We will revert back to you via Personal Mail. In Form, Please Use the Description field to Mention our reference Webpage URL which you visited and Describe your problem in detail if possible. We covered your iPhone 11 Pro, iPhone 11 Pro Max, iPhone 11, iPhone 8(Plus), iPhone 7(Plus), iPhone 6S(Plus), iPhone 6(Plus), iPhone SE, iPhone 5S, iPhone 5, iPad All Generation, iPad Pro All Models, MacOS Catalina or Earlier MacOS for iMac, Mac Mini, MacBook Pro, WatchOS 6 & Earlier on Apple Watch 5/4/3/2/1, Apple TV. You can also mention iOS/iPadOS/MacOS.
Jaysukh Patel is the founder of howtoisolve. Also self Professional Developer, Techno lover mainly for iPhone, iPad, iPod Touch and iOS, Jaysukh is one of responsible person in his family.
Contact On: [email protected] [OR] [email protected]