🗓️ November 10, 2020 By ✍️ Jaysukh patelThere is a myriad of cases available in the market that can provide best-in-class protection for your iPhone. However, the ones that are adored among the significant segment of individuals are the sleek covers. A slim case lets your iPhone flaunt its class, but somewhere there is a doubt for protection.
You will be astonished to know that some of the top thin cases which are available nowadays provide an incredible defense to your iPhone and with them, you will never have to compromise with style.
Have a look at this line-up of the best slim covers that will better compliment your brand new phablet. And if you like exhibiting colors, most of them come in multiple colors, so choosing a hot suit is a piece of pie for you.
Top Slim Cases for your iPhone XS: Feel Grip like No Cover
---
1. Spigen Slim Case for iPhone XS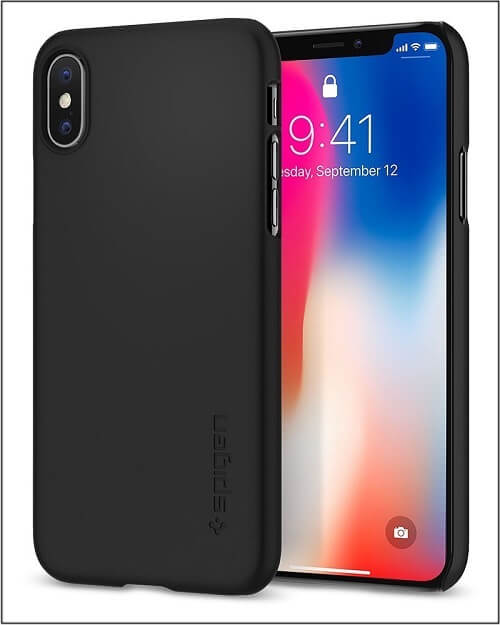 Featuring an elegant and beautiful sleek design, this iPhone XS slim case is a perfect match for your iPhone. Even with its slimness, it can withstand small impacts and can also defend your iPhone against significant scratches.
It also includes a great feature that offers effective assistance for the magnetic car mounts. So now you can drive around with a much-enhanced angle of viewing.
---
2. CASY MALL Slim Case for iPhone XS
This iPhone XS slim case comes in a twofold layer design that incorporates a TPU bumper and an anti-scratch panel having optical clear back. It provides the ease of clicking buttons which is a great functionality feature.
Since the cover is sleek, it feels super light to carry the phone, and you don't feel any bulk. Charging the phone when the battery is dead is also convenient as it supports wireless charging, so there is no need to take off the cover.
---
3. ESR Slim Case for iPhone XS
Like to exhibit your iPhone XS design? Everyone does! With its crystal clear clarity, this iPhone XS slim case is a top pick. The case is incredibly smooth and flexible and fits in your phone spotlessly. That one thing that takes its profile to the ultimate level is the blend of TPU and PC. The case's USP is the microdot pattern that makes it fit comfortably in all your palm contours.
---
4. RANVOO Slim Case for iPhone XS
If you fall for minimalist patterns, go for this top-line case from RANVOO. This slim case comes without a back panel so that you can flaunt the ultimate charm of your iPhone.
With its notable features like prevention of over-heating, you can watch unlimited shows and movies, play games and talk for extended hours without any worry. Other than that, the iPhone XS slim case offers a strong muscular and metallic style of safety to your Smartphone.
---
5. TORRAS Slim Case for iPhone XS
The case wraps around your phone snugly and literally looks svelte. Despite being ultra-stylish, it has enough power to prevent any scratches. Its raised lip allows it to function as an additional shield for the display and keeps the screen away from sliding. The buttons are extremely responsive and the cutouts are to-the-point, for effective functioning.
---
6. PUSHIMEI Slim Case for iPhone XS
This slim cover is made from premium quality TPU material that offers a soft touch and great protection to your iPhone. Just like the other slim cases for iPhone XS in the fleet, it has super-sleek design and adds no bulk to your phone. You can make full use of your volume buttons, headphone jack, microphone, and the other ports with its precision cutting.
---
7. i-Blason Slim Case for iPhone XS
Seeking the safety of your iPhone, while still wanting to flaunt its persona? Seek no further than this slim cover from i-Blason. It is a clear, sleek case that possesses a clear back along with impact-resistant, fortified bumpers. 3h rating material has been used to protect your phone from any sort of discoloration or scratches.
---
8. Salawat Slim Case for iPhone XS
This vintage style thin iPhone XS cover is all that you need for your iPhone. It is made up of classical, high-quality PU leather that lets you carry class when you carry your phone along.
The iPhone XS slim case also comes with dual lanyard holes that help you get a solid grip. The case is compatible with wireless charging, so you need not fret about taking your case on and off to get it charged.
---
9. OTOFLY Slim Case for iPhone XS
OTOFLY is well-known among the folks for its best iPhone charging accessories. Yet, you will be astonished by its slim cover. Because of its soft TPU, the case is extremely smooth and flexible.
Feel free to remove or install the cover without feeling hard. The one quality that makes this case outshine is its anti-yellowing feature, which allows you to take your phone out in the sun without worrying to lose its shine.
---
Wrap up
If you are looking for the best slim cases for iPhone XS, you must seriously consider the ones that have walked in this fleet. Opt for any of them and give a stunning complement to your brand new Smartphone.