🗓️ November 10, 2020 By ✍️ Jaysukh patelA screen guard is a requirement for every Apple's iPod Nano users because, it saves screen quality, touch-friendly, and would be increased resale value. The iPad Nano 7th generation comes with the 2.5-inch widescreen multi-touch display. You must fix an Anti-glare screen protector to save your iPod screen from the bumps, scratches, daily wear, and tear, debris. Here we come with a great sound collection of the best iPod Nano 7th generation screen protectors & Cases.
Listed all good reviews and branded Glass screen protectors are perfect to serve to your iPod nano touch display; crystal clear, and military-grade screen protection. So choose a good Screen proctor and keep it, scratch-free Music player.
The best iPod Nano 7th Generation Screen Protectors
The 16GB Apple iPod 7th Gen shipping with Space Gray, Gold, Silver, Pink, Blue, and Red color But doesn't matter what color iPod you have. Protector never impacts the edges of the iPod.
#1. Tempered Glass Screen protector for iPod Nano 7th Gen and 8th Generation
Buy this tempered glass screen protector and take care of your brand new iPad Nano. Hassle-free installation method through the adhesive material.
It is durable, high clarity, and smooth touch feeling glass, also, it gives 99% visual light transmittance, shockwave absorption. 9H glass surface specially designed Oleophobic coating that protects your iPod Nano from sharp objects and wears and tear.
Add to Bag: Amazon
#2. iFlash Suit-Military Grade Screen Protector for iPod Nano 7th Gen
It has a convenient design for Apple iPad Nano 7th  and 8th Gen. it's a made in USA item, it would provide crystal clear and Military-grade protection. Offers a lifetime replacement program for this Screen protector it delivers scratch-proof protection, erosion, impact resistance, and get the same experience that you are feeling still.
Advantage:
Protects touch display against pain, rock, rubbing, chaffing, Abrading.
Easy to install and remove military Shield.
Check iPod Nano 7 and 8 Gen Screen Protector on Amazon
#3. Best iPod Nano 7th Generation Tempered Glass Screen Protector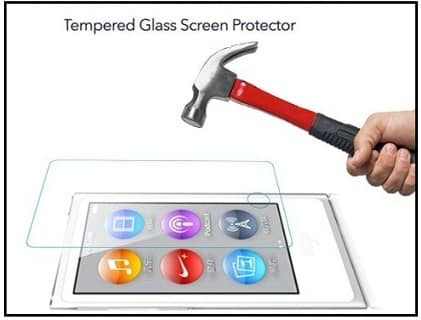 It's made from nano chemical materials, HD ultra-clear with high sensitivity, and comfortable touch feeling. Besides, install one time, and after that, it will do all remain.
Order Here: Cheapest price Protector
Do you found or have any best iPod Nano 7th generation screen protectors? Please share it in the comment box.
Don't Miss Out: