The Italian leather is a genuine and world's most sturdy and A+ grade leather. Keep in mind Italian leather product always high in price than local or other leather items. Italian leather belt, Italian leather bag and more all is the first choice of high-profile businessman and youngsters. Though lets a look the collection of best Italian leather band for Apple Watch that will make your iWatch more classic and elegant. Buy third-party bands, and you would be feeling fabulous, while you wear Apple Watch with Italian leather band.
These all leather bands compatible with Apple Watch Series 3, Apple watch 2, Apple Watch Series 1.
The Best Italian Leather Band for Apple Watch 3/2/1: Stylish look
Apple Watch 3/2/1 Replacement leather band: Nomad
Nomad offers fine grain Italian Leather band for Apple Watch. It is shipping with Clasp.  This band you can be applied only to 42mm Apple watch face. The strap is specifically crafted from the Italian leather, so it is an active, striking band that elevates your Apple watch to rival your Swiss classics.  This leather never odors and is perfect for everyday use. Perfect ring for Apple watch sport, too. Get more information about this Italian leather strap by users reviews.
Order here: Amazon
leather band for Apple Watch UK: Add to bag
Italian Caviar Premium Leather band for Apple Watch 3/2/1: Soanmu New York
The genuine Italian leather strap will make your iWatch look more classic and elegant. This kind of leather also used by channel and often used in high-end designer fashion items. The band is available in three colors like Red, navy, and black. It comes with automatic stainless steel clasp ensure secure lock and takes.
Add to cart: Discount Price
Cheap Genuine Non-Italian leather band for Apple Watch 3/2/1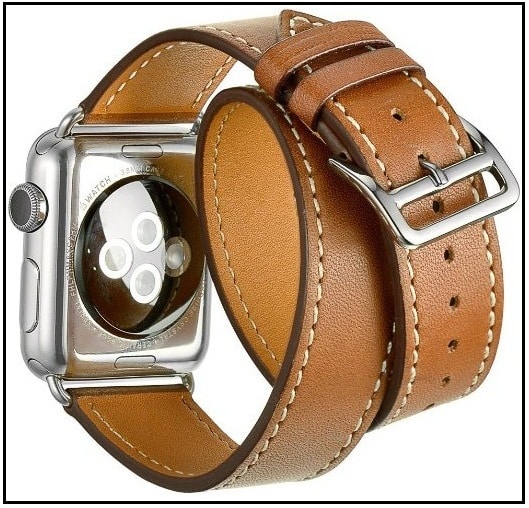 The replacement band for Apple iWatch, genuine leather strap bracelet replacement. Not Italian leather but looks luxurious and it will make your watch unique and optimal look. Enough cut out in the band so you will wear perfect fit.
Get it here: Amazon
You might also like to see collection of Apple Watch Straps