🗓️ November 10, 2020 By ✍️ Jaysukh patelGood rating supplier sells its top value items on the world's largest online Store Amazon and it cheaper than other stores. Here, for instance, The Military duty cover for Apple iPhone SE. It's not necessary that the all-protective iPhone case provides long-lasting protection. Even you looking for standard quality and drop tested military duty case/cover for iPhone SE then you're right on this page.
We will share with you the best military-grade phone case for iPhone SE, it is also compatible with Apple's old version iPhone 5S and iPhone 5.
Highly Reviewed Best Military-Grade iPhone Case for iPhone SE/5S/5
1. UAG Slim Military Drop Phone Case for iPhone SE
The case is MIL-STD 810 516.6 Standard; it's a kind of laboratory test of United States Military standard. Warp this case on your iPhone and make it non-slip. Edge to edge protection with good thickness at all corners. The heavy-duty iPhone SE case is also convenient with the wireless charger.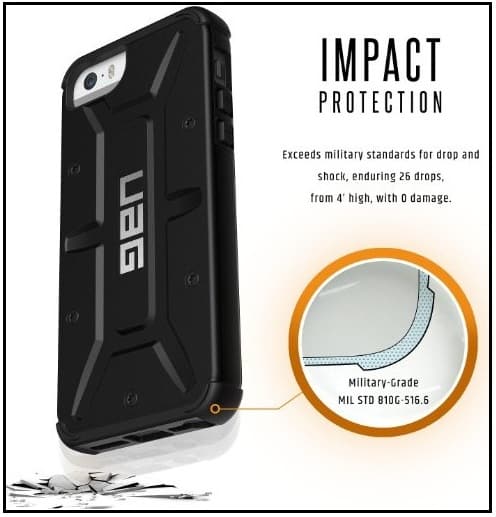 The case makers claim that the case does not damage after the enduring 26 drops, from 4' high. Featured like easy to use Apple Pay Case, allows iPhone camera and all controls. Cute color options black, Ash, Cobalt, Ice, Magma.
2. New Trent iPhone SE Durable Rugged Case
This is a decorative professional & Protective Case for iPhone SE. Different three colors of replaceable plates give options to change it and refresh your mood every day. Because it's matched with official iPhone SE Color: Black, Gold, and Silver. Under 20 dollars case replaceable with 4 inch iPhone models (iPhone SE, iPhone 5S, 5).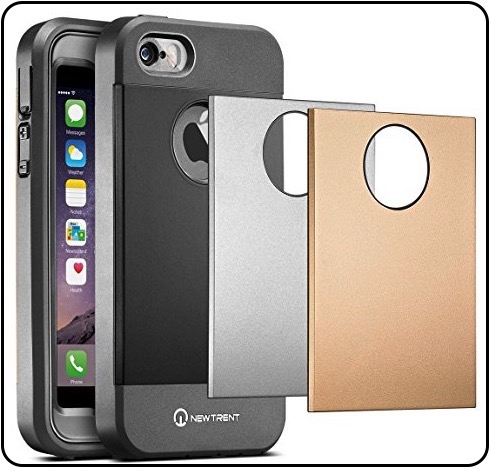 The free screen protector that best suits your usage (Touch ID) and New Trent iPhone SE case. Don't escape this case, it's perfect for all 4 inch iPhone guys.
3. VANSIN iPhone SE Case under 10
Easily press all input side buttons with this hard case. That makes this case classic than other best military iPhone case. All the functional features give more grip (Matte finished rubberized material) on the use or access screen while you drive or walk. 
Lightweight and sleek easy to place in pocket or purse for girls. Great colors: Gold, Red, Silver, Black & Gold, Rose Gold.
4. Ailun iPhone SE/5S/5 Clear Case
This is a transparent iPhone SE case with the toughest protection. Dual-layer impact resistance TPU/PC bumper case. Full age is covering phone case still useful at responsive feedback without missing a single tap on the button. TPU bumper is a shock resistance.
5. LIGHTDESIRE Military Bumper Case
This iPhone SE case perfectly matches the title that's you are looking for it. Water Resistance Shockproof aluminum bumper shell case for iPhone SE and another relative side iPhone. Large discount (70%) in the offer price. 
Never feel meaningless cover on any chemical, dust or water effects. This cover can use like a pouch, holder Thread.
6. 
PATCHWORKS

drop tested versu iPhone SE Military case

High pro shield iPhone SE case offers by the Versu. It's a bulk-free protective case that delivers 360-degree protection. The case constructed from Standard quality TPU and PC in them TPU frame absorb shock.
The PC frame provides protection from low-impact drops. The front side raised 1mm edges to survive your iPhone SE retina display.
7. Spigen iPhone SE military-grade Case
The Military tested best looking iPhone SE case offer by the famous brand of the USA. The Spigen iPhone SE case has a rugged texture inside and the outside so easy to grip and seems modern look.
It shipped with essential cutouts like cameras, volume buttons, charging port, headphone jack, sleep button, and home button along with it provides ultimate protection from accidental drops, shock, debris, and impacts.
8. Luvvitt iPhone SE Case Rose Gold
Keep your brand new iPhone SE shielded by place it in this military tested case. Easy to install, extremely handy to use with a phone case and always safe.
There are two protective lips on both up and downside. Verities in color such as Rose Gold, Black, Gunmetal, and Gold.
9. Top Heavy Duty iPhone SE Kickstand Case
This is a 4-layers + military-grade protection for iPhone SE. Available in various colors with a kickstand for hands-free media watching, playing the game and working, etc. this rugged and tough case for iPhone SE is also compatible with Apple iPhone 5S/5. Not sure for waterproof but the case is very nice for shockproof.
Easy to install case very useful during biking, to run, claiming, cooking, walking dogs, etc. in short, high profile military-grade best iPhone SE belt clip holster case.
Don't Miss out: