Are you worried about how to manage multiple devices when on charge at your home, Office and anywhere? Here is the easy and perfect way to sort out by standing your device on multiport USB charging dock with stand features. Here I listed best all time nominated in the list of multiport USB charger port and AC ports for MacBook Pin. That will give perfect charging conditions and save your device from power load. Not only charge but also useful for as a care or access on your eye.
Apart from charge iPhone, iPad and iPod touch, MacBook, Laptop, Desktop. You can also charge your Camera, Android Phone, Tablets and other USB devices.
Want you buy MacBook External Charger.
Top best Multiport USB charging dock withstand: Separate Stand
Here I listed in series of best in quality, Best Price budget for all friends. Who save more and fantastic solution about charge multiple devices at once and super fast speed.
1. Satechi Charging dock station for All USB device
In the great features, Up to 7 devices charge with seven different port, From Smartphone and tablets. Easy cable management design, Easy to stay on stand and access any of them make this portable charger more comfortable to any users.
2. Wooden Charging stand: For all Devices (iPhone, iPad, MacBook)
Keep your all smartphone, iPhone, iPad and Tablets on only stand in charging conditions. Up to 3 Smartphones, 2 Laptops or iPad and Tablets on the beautiful wooden stand.
3. Avantree: Power charging station and dock for USB devices
Fast way to charge you all USB device at once beautifully on the perfect docking station, Hassle-free installation and access any of the device made Avantree perfect compare to other Multiport USB charging dock withstand. See the list of devices that will make compatible with this charging dock station.
For the USA: Order Now ($39.99)
For the UK: Order here (£29.99)
4. Other Related Best Multiport USB charging dock with stand and Access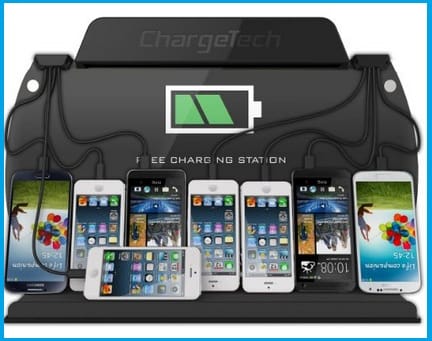 Care you devise with Charger Tech: Most popular and Best for Wall mount. Easy to fit on the public place, like hotels, Restaurants, Coffee shops, McDonald, Toyota, and More. So this is #1 best Multiport USB Wall Charger.
See more and Buy from here ($349.95)
5. ISelector Charging Station
Charge up to 12 devices using this multipart USB & outlets charging station. 10 USB and 2 AC outlets fit with any devices. Also, stand device during charge or not. Space saving charging station is the complete solution at the hotel, Air bus, Office, Home, Cafe and any public places as well. Built in the cooking system, Short-circuit protection, and Voltage manager (110V to 250V).
Buy Now – 49.99
6. Limited 4 port USB charging station with Stand
Charge maximum 4 devices simultaneously via USB charging port. People love for perfect in the travel kit. Safeguarded PVC coper wire, fulfill with over voltage and heating conditions. Perfect and next generation voltage conditions and internationally use.
Order Here NEXAGADGET ($29.99)
7. ORICO 4 USB + 8 AC Outlets
This is only that has multi-device charging capacity. This is Not only for USB gadgets, but also for Laptop, Desktop, and MacBook. Up to 8 outlets, we can use it for. Longer cord (Built-in).
Buy Now ($27.99)
8. Editors Choice: Leviton USB station on Wall
This all are the movable charging station for all device, same kind of Best USB Wall outlets also available that ready to charge all smartphones and Apple Devices at once. Leviton USB outlet is the popular name that has high power USB ports & 3.6A charging capacity. Clean installation hides extra wire and look very beautiful at home or office.
Order Now – $21.46
What a great designed and functional Multiport USB charging dock with stand for your all iOS devices, Android, and MacBook, Tablets.