Receive all types of reminders on your pet's treatment and care guide directly on your iOS devices using Pet care apps for iPhone, iPad). So why we miss a chance about care own pet very well. In the tight daily schedule, you can mind each activity about your lovely pet very well. Most of the pet lovers keep more than one pet at home or office, unfortunately, the owner might be forgetting one of pet care. Each app store your pet data in profile with the photo you can create a complete past record or create a future alert or daily alert, which will receive through notification.
Are you worried about personal health?, Try these best personal health care accessories.
Top best Pet care apps for iPhone, iPad and iPod Touch
#1. PetPartner
High rated feedback from users make this app trust full for your pet care, with this app you will cover all types of care with your pets in any number. So just create a complete profile with Photo, Birthdate, and Name and start tagging what you set as a future reminder. All-time Up to date management with the built-in calendar. Easy to move on the web portal and access your profiles on any were.
#2. Remind My Pet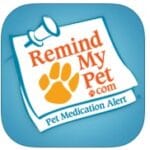 The latest improved iOS supported version added all unique features compare to before, Get Daily, monthly, and Weekly report for the selected pets. Module wise pet care design best for all pets owners. You can save lots of money spent on dog assistance, dog care center. Along with a busy schedule, you can care for your dog amazingly.
#3. P5 Dock Training app for Pet or Dog
Totally unique app compare to other Pet care apps for iPhone, iPad
Not only for the reminder, But pet owners can learn pet or dog training tutorials through video. Set your goal and give complete training own self by installing this app on an iOS device, iPhone and iPad. The app will automatically generate a report on your pet.
#4. Walk for a DOG:
Walk your DOG with you and improve body fitness progressively. Not only run your dog, but this also measures the distance you covered with dog and speed per hour. A totally GPS controlled app gives the perfect result and reports when you use it.
Best Dog Walking Apps for iPhone, iPad
Whether you are looking for the best dog walking app to make money or what is the best dog walking app for iPhone? Here's the answer to your question. Look at the best Dog Sitting and Walking apps for iPhone and iPad.
#1. Wag! – Dog Walkers and Sitters
Planning a trip? But can't manage to take a dog with you or its just one or two day trip, don't worry Wag- the best dog walking app is here for you. Wag app is the ultimate platform to get on-demand dog walkers and sitters real quick. From this app, you can appoint a dog sitter to accompany your dog at home or ask the dog walker to take a dog on a small walk near the street or it could the complete care of the dog. The app lets you stay in touch with the caregiver with real-time GPS and in-app messaging feature. All the caregivers on Wag are verified and safe to appoint.
#2. Rover – Dog Sitters and Walkers
Rover dog sitters and walker companies have more than 2million pet caregivers around the US and Canada that's the reason Rover app ranks top when looking for the best dog walking app for iPhone and iPad. With every caregiver booking, Rover offers premium insurance and 24×7 customer support. Check the real-time location of the dog or directly contact the dog sitter, right from the app. And if you are looking for the answer, which dog walking app is best to work for? Rover is the right choice to earn money by spending a few hours on the go.
#3. Swifto
If you are looking for the best dog walking app Nyc, Swifto is the one. Basically, Swifto is a dog walking and sitting company in New York, but now they are giving their service using the Swifto app on iPhone, iPad. So, it's a kind of innovative way for the company to provide the best dog service through an app on the iPhone. The app will let you know when the dog is been picked up, tracks the entire walking path and when the dog is dropped off at home. Every single information will be sent to you.
Download Swifto from App Store
Which you like most in above the Top best Pet care apps for iPhone, iPad and iPod touch running on the latest iOS?
Share your experience with above Perfect pet management, guide apps in the comment box.