Last Updated on Nov 10, 2020
Having your Question on how to enable Selfie to flash on the iPhone? Then Unluckily, still there isn't any Apple iPhone's model available in the market that comes with Screen side front flash camera. But yeah, you want to make your Selfie more lights up then here I will give you an outstanding option that enables you to create Selfie flash on your iPhone. The option is the best Selfie light case for iPhone 6S/6/7/7 Plus/iPhone 8/8 Plus. We promise that these cases are efficient to capture your nightlife Selfie photo into a shiny one.
we are happy to help you, submit this Form, if your solution is not covered in this article.
It is not only useful for Selfie but also valuable during nighttime video chat/ FaceTime flashlight, rooftop parties, Even you can apply beauty makeup brilliantly, Special occasions, Vacation memories, etc. So lets a look below and choose your dream best Selfie light case for iPhone. One of the Amazing gift ideas because this unique item you can also give as a gift to your friend, husband, wife, siblings, buddy, and that folks who are iPhone lovers and have. Use case with Selfie sticks iPhone 6S/6, iPhone 7/7 Plus, iPhone 8/8 Plus, iPhone X.
Get Also: Best Selfie Apps for iPhone
The Top Best Selfie Light Case for iPhone 6S/6/7/7 Plus/8 Plus: Announced So Far
#1. LuMee Brand Popular Selfie Case for iPhone
The LuMee case is a great quality high profile selfie flash case for iPhone 6S/6, iPhone 7/7 Plus, iPhone 8/8 Plus. Available in Six different colors, rechargeable battery and has a switch to control light dim and full. It's made from tough impact-resistant plastic materials. So ultimate, Lumee case will let you add an external flashlight camera for Selfie and FaceTime. Choose your favorite color and do starts to capture light up selfie by yourself. It does reduce the use of Selfie editing apps for iPhone.
#2. LED light-up Selfie case for iPhone 6S/ 6/7 Plus/ 8/ 8 Plus
It's a similar type of case like listed above but from the edge side little different look. It comes with Super LED lights that allow you to take lighting Selfies. The Dimmable case is useful for Movies, Lights up a Room, nighttime Selfie, and FaceTime. It's a battery case with a rechargeable facility. Choose a wonder color out of black, white, Red, Pink, and Green.
For the USA: Case For iPhone 6Plus/6SPlus/7Plus/8Plus || Case for iPhone 6S/6
#3. Slope iPhone Selfie Case for iPhone 6S/6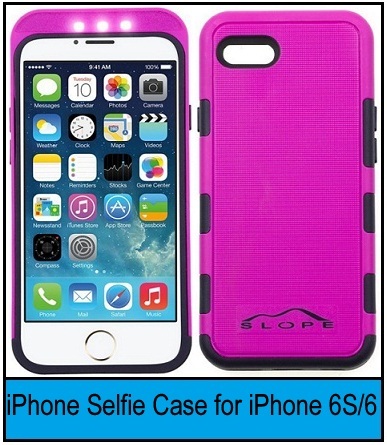 There are 3 LED lights fitted into the case for better selfie pose quality. It has a self-powered battery, you can easily out your iPhone in the case and handy access to all buttons and functions. It is cheap in price and durable hardback cover and rubberized secure grip life case.
⇒Check iPhone 6S/6/7/8 Price on Amazon
⇒Check iPhone 6SPlus/6Plus/7Plus/8Plus Price on Amazon
#4. Kimi: Selfie light Slim case for iPhone 6/6S/7/7 Plus/8/8 Plus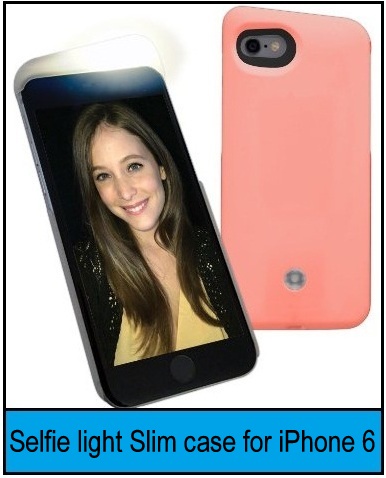 Features including front-facing LED light with dimmer control, the front light case helps you eliminate red-eye and skin imperfections. This protective slim case cover arrives with a Rechargeable battery and charger.
⇒Order Selfie Case for iPhone 6S/6/7/8 from Amazon
⇒Order Selfie Case for iPhone 6SPlus/6Plus/7Plus/8Plus from Amazon
Do you find or using above listed (Best Selfie light Case for iPhone 6S/6/7/7 Plus/8/8 Plus) kind of cases ever then please share in the comment box. We would like to hear from you.