Last Updated on Nov 10, 2020
Look here selected best solar Power charger for iPhone and iPad Pro. This you can buy. The power generated by Solar cells will give you extra battery life outdoor. Are you looking to go with the completely shockproof charging concept for iPhone? Then this one is a great destination for you and your iPhone and iPad Pro.
we are happy to help you, submit this Form, if your solution is not covered in this article.
Top review and Perfect for hiking, climbing, and other outdoor activity. In Addition, to power all Apple devices including iPads, MacBook Pro, MacBook Air, it is a helpful tool while in the Peace Corps with no electricity in your own village. Quickly charge your solar charger anywhere there is Sun. Alternatively, you can use the iPhone SE power bank.
Best Solar Power Charger for iPhone & iPad Pro: Top Review
#1. Anker Power port Solar for iPhone and Android 15W – Double USB port
It's a #1 brand Anker's high portable ultra-thin lightweight design for long treks. It detects your device and delivers the fast charge. It is build up from a rugged polyester canvas offer weather-resistant outdoor durability. There is sun power solar array is 21.5-23.5% efficient and allows charging two USB devices simultaneously.
Very compact in size and stainless-steel eyeholes on each corner allow easy attachment to backpacks, trees, or tents. Order today this Anker power charger, Micro USB cable, and get 1 and half-year hassle-free warranty. It is compatible with Apple and Samsung smartphones and tablets.
#2. ALLPOWERS 60W Solar Panel Foldable SunPower Solar Charger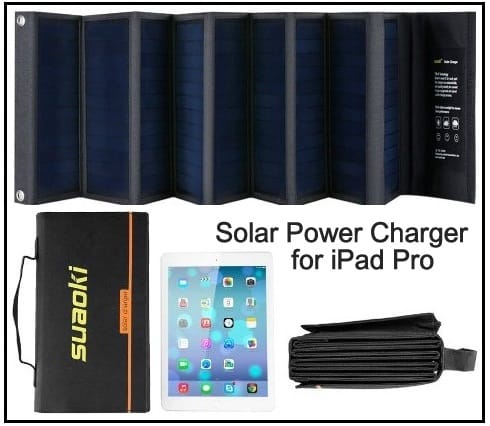 Would you like to iPhone SE + MacBook solar charger then allotment few more money for this solar charger that works with iPad and other tablets, notebook, and with the laptop? Waterproof out layer and solar paper too.
Where is useful this Solar charge? Long-distance travel time, Mountaineering, Filed adventure study, and Camping/outing. It comes in a waterproof layer of the pocket and the solar panel. So buy today and make a chargeable platform near the swimming pool or on the beach without the fear of getting your device wet. Get 70% discount on the selling price. Don't miss any photos on the beach and try this charger.
Check ALLPOWERS Price on Amazon
#3. 25000mAh Hiluckey Solar Power Bank for iPhone, iPad
Hiluckey is the great facility power bank that charges from solar energy. Store Up to 20000mAh in a single cycle and Charge any Device From Wireless Charging Pad or Lightning USB Cable. This Perfect Solar power bank with Flashlight, Water Resistance, shockproof Power bank, 3 to 5 times faster charger that can charge multiple devices simultaneously, Integrate ICs that prevent short circuit and over-discharging.
Pros:
25000aAh External Wireless Power Bank
Solar Battery
Durable & Safe LED light Charger
Longer Battery
Check Hiluckey Price on Amazon
#3. 20W Solar Charger for iPhone SE and iPad Pro
Keep your USB-powered gadgets running with this branded solar power charger. This is a highly durable and outdoor Smartphone charger constructed from the canvas. Looks foldable canvas Paper with Velcro closure and comes with built-in high-efficiency Sunpower panel.
It has an ultra-lightweight design so easily fits in your backpack, it also conversion rate increases up to 21%-24%. The Nekteck firm gives an 18-month warranty for quality-related.  Packaging included solar charger, Micro USB cable, user guide, and worry-free warranty.
Power input: 20W – Fast charging technology
Power output: 5V standard with 2 USB ports so you can charge two devices at a time.
Order NekTeck Now: Amazon Price Under $60
#4. Fojojo Solar Charger with Qi Wireless Charging – 10000mAh Solar Phone Charger
It is a double benefit portable solar charger, it full 2200 mAh battery 12 hrs in the sun. Completely charges an iPhone SE in 2 hrs. SOS emergency beacon comes with a compact and lightweight solar charger.
Get many other Best Solar power charger iPhone SE and iPad Pro. You have any top one and not mentioned? Please write us in the comments!