🗓️
September 14, 2023
By ✍️
Jaysukh patel
Get The best soundbar for Apple products and Special Soundbar for Apple TV. The Apple TV 4K and Apple tv 4th Gen is a precious setup box to watch streaming on HDMI-supported Smart TV. Big TV Apps Store offers many applications and games to enjoy entertainment with your family members and guests. ATV4 has beautiful features like Siri remote, impressive audio output support up to Dolby Digital 7.1, and a capable Apple dual-core A8 Chip processor. So I hope you already hold your new ATV 4 on the strong mount and now you're looking for the best soundbar for Apple TV. We noticed several standard audio-quality top-brand soundbars you can buy in 2023.
Good News, now Apple tvSO and later support Soundbar with Dolby Atmos. in this article, you can also get the best Soundbar with Dolby Atmos for Apple TV 4k.
Don't miss to check Best Apple TV 4K Accessories
Top Soundbars for ATV4k, Apple TV 4, ATV3
---
#1. Sonos Arc for HDTV (airplay compatibility)
Are you looking for a luxury soundbar for your HDTV run with Apple tv? You should think at least once about the Sonos soundbar. It's a wireless HiFi system that works as a wireless streaming music player. This same brand system also comes with w/ Sub + Surround Sound. You should have two cords for this soundbar system power cord and an Optical cable.
It offers all sources plugged into your HD television screens with richly textured HiFi sound. Including characteristics, it is effortless to set up, expand, and control. Also, understands and speaks most IR remotes can be controlled for free for your iPhone, iPad, or Android device.
Are you a Sonos bar fan but have a medium budget? Then I think Sonos beam is a perfect solution for you. Here's a guide to buying a SONOS beam.
This bose Soundbar work with Amazon Alexa
---
#2. Samsung's Bluetooth Soundbar
SONOS and JBL are well-known brands to craft good audio quality devices, but if you and your family loving Samsung consumer products. Here I try to show up an excellent sound bar which is manufactured by Samsung.
Samsung soundbar comes with an upgraded 3.1 channel to give dynamic sound effects and also with the ability to upgrade it to 5.1 by purchasing a speaker module. When it comes to connectivity, it is unbeatable because it is very easy to set up and takes minimum time to complete the installation.
Still, you are compromising with the sound system of television, then it is the perfect replacement to accomplish your dreams at an affordable price and make it worth remembering to buy. It is very portable to carry and to place anywhere safely like putting it under the tv on the table, or you can hang it on the wall using a wall mount to save more space, and it will look great on the wall.
The HDMI connectivity offers you an excellent Dolby HD format sound and Watching your favorite tv shows, music, movies, and songs makes every moment enjoyable.
Bluetooth connectivity will enable you to operate and play songs using a fingertip and also you can connect it with smart television or any other smart gadget. The Samsung bar speaker is the best alternative to any bar speaker with an efficient and precise sound system from the most trustworthy brand.
Connect your Apple TV with a brand new Samsung Soundbar !! Get here alternate Soundbar for Apple TV
See also,
---
#3. BOSE Soundbar Speakers to wirelessly stream music
BOSE soundbar is specifically focused on the bass to fulfill the demand of users. Eventually, one more option is given that you can add an extra bass module if you require deeper bass to enjoy your stuff. This particular soundbar is a composition of well-secured premium glass material and metal grill with the best finishing touch on top of the surface, and along with great looks, you will get excellent crystal clear sound.
Bose has crafted this particular soundbar with the extremely best technology which works flawlessly without any sub speakers or woofers and gives equivalent sound effects like other speakers, and it can compete with the rest of the speakers with its ability of sounding. Efficiently connect your television using HDMI and twist the experience of watching tv shows, movies, or listening to music.
Even you can plug it devices with modern techniques like wifi or Bluetooth with any device and stream your music on stations like Spotify or Pandora or original music. As it is a single piece, you can comfortably handle and place it on anything to fill the room with amazing-sounding effects.
---
#4. VIZIO Soundbar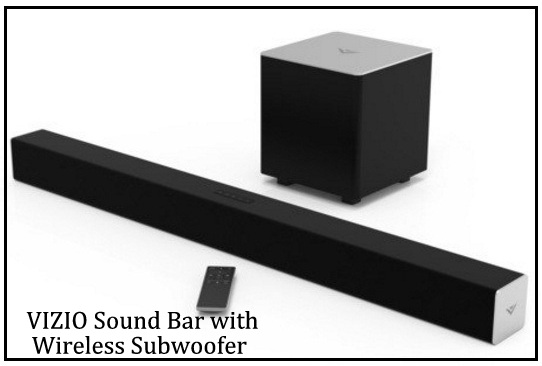 VIZIO presents amazing background music effects with its extraordinary set of speakers and turns your home into a theater. Bar speakers are specified with much more different and useful functions which will ease the use of the buyer.
The agreed speaker consists of one huge bar speaker of 38 inches, one wireless subwoofer, and two wired satellite speakers with remote which are built-in with the newest 5.1 channel to give enhanced crystal clear 3D surrounding sound effects even in a big hall or any room with much less distortion effect.
They are very easy to set up and connect to any device, and it has a Bluetooth connectivity option that will let you free from the tangling of wires, and you can play music on the tap of your fingers from anywhere. VIZIO Bluetooth speakers are compatible with Bluetooth-enabled devices like smart televisions and set-up boxes like Apple TV, Roku, iPhones, iPads, Andriod, and much more.
Along with secure connectivity, an excellent position to place these speakers is also required, and here you will get two options that, i.e., you can put them on a table or also wall mount option is available to fill your room with a great sound effect.
Get more:
---
#5. Bose Cinemate: A sleek Soundbar Speaker System
You may be familiar with the Bose Corporation, The world's flagship brand of audio equipment maker. Here it's the soundbar for HDTV; an important thing is a receiver is not required because you can easily connect directly to the TV.
Buy this large home theater system and get double entertainment than still in your home. It's made with a focus on Flex mount technology to ensure that optimal performance wherever you put the Bose soundbar. We recommended playing your iPhone and iPod music on this system.
#6. Nakamichi Shockwave Ultra 9.2.4
Nakamichi Shockwave is a package deal to turn your home into a home theatre, with a minimum investment. Not only one but you'll get two wireless subwoofers, while in total, it makes the set of 9.2.4 channels powered by 1000W Dolby Atmos Soundbar. You don't need to spread the speakers around the room, to make it look like theater, its multidimensional audio gushes around the hall of your house, to create a dynamic sounding.
Few other variants are also available, which are inexpensive compare to this, but in return, you may have to compromise with some features and hardware. Check them on Amazon.
Also, get:
#7. Sony ST5000 with Wireless Subwoofer
If you are fond of Sony, then check this deal. This Sony ST5000 is compatible with 4K HDR and HDCP 2.2 to widely work with any TV system including the Apple TV 4k. The combination of 4K high-resolution sound and classy design to decorate the closet and the TV stand. Plus, it has built-in Google Home, Chromecast support to ease the connection between devices and to extend the soundbar to other rooms too.
It features the three most common HDMI outputs to easily connect with any TV, including Apple TV, and the HDMI-ARC port.
#8. Onkyo Home Audio Speakers

Onkyo is one of the best but cheap alternatives to other mentioned speakers in this article. This set of two speakers are compact, not so heavy and hefty but compact, and Dolby-Atmos enabled for better audio results. You can integrate the speaker system with any other device or speaker itself to enhance the listening and experiencing the virtual surrounding environment in your room.
Use the included 3m speaker cable to power up the speaker, find the perfect place to put the speakers, or use the Wall Mount to attach these two speakers to the wall, nearby the TV.
#9. VIZIO 5.1.2 Channel Soundbar System
To make your weekend special, VIZIO speakers should be your first choice, once invested $500 in Vizio Smart Speakers, enjoy forever the amazing sound quality and seamless listening. It comes with 6-powerful speakers featuring the Dolby Atmos sound experience throughout the rooms. To customize the audio system, download the VIZIO SmartCast Mobile app on your device, to play the music on the speaker.
With all that, use your phone to stream Spotify, Pandora, and other music streaming services, over Chromecast-enabled devices. Besides, if you don't want to connect the speaker with the phone, then directly connect to the Wi-Fi to avoid interruptions due to calls, and messages.
#10. BYL Sound Bar 40-inch & 100W
The latest Bluetooth 5.0 creates a lossless transmission between the speakers and Apple TV, plus with other Bluetooth-enabled devices. Use Wired or Wireless Connectivity, it doesn't matter, what type of connection do you choose, it will play the same all the time. The DSP technology ensures you don't miss any single dialogue from the movie, as it covers the background noise, just you'll hear the perfect dialogue.
Place it on the desk, or create a separate space for the speaker, it will just work fine. Use the Optical, Bluetooth, USB, Aux, or RCA connection to use the speaker.
Frequently Asked Questions:
1. What surround sound system works with Apple TV?
The Sonos Beam is an outstanding, compact soundbar that works with Apple TV. It can wirelessly work via AirPlay 2. But if you prefer wires, you would have to plug anATV4K into the TV through HDMI and then plug the Sonos Beamis system into the HDMI-ARC port of your TV. Other sound systems that work with Apple TV are Sonos Arc for HDTV (supports airplay compatibility), Samsung's Bluetooth Soundbar, BOSE Soundbar Speakers, VIZIO Soundbar, Bose Cinemate Soundbar Speaker System, and Sony ST5000 with Wireless Subwoofer.

2. Can Apple TV connect to Bluetooth soundbar?
Yes, you can connect a soundbar to an Apple TV through Bluetooth if your device supports Bluetooth connection. The connection process is quite straightforward, and the time required is substantially less than the wired method. The sound quality will be inferior to that of wired headphones. To establish a Bluetooth connection, you must open Settings and the "Remote and Devices" menu. Now click on the "Bluetooth" option. Subsequently, you will notice the device's name to be connected.
3. What speakers work best with Apple TV? 
If you use an Apple TV that supports the latest sound formats, but your existing speaker system is old, you will have to rely on the TV's built-in speakers. The speakers that work best with Apple TV include Sonos beam, Sonos Playbar, LG SK10Y 5.1.2 Channel Hi-Res Audio Sound Bar, Sony ST5000 7.1.2ch 800W Dolby Atmos Sound Bar, and Onkyo SKH-410 Dolby Atmos-Enabled Speaker System.
4. Which soundbar works with Apple TV remote or Apple TV remote app?
Bose soundbar works well with Apple TV remote or Apple TV remote app. Pairing the soundbar with the Apple TV remote is automatic and completes instantly. You will use the HDMI-CEC (Consumer Electronics Control) technology. This technology allows various devices connected via HDMI to be controlled remotely. If you use the latest iPadOS or iOS, the Apple TV Remote automatically gets added to Control Center.
Get More Apple TV Essential Accessories